This is not my body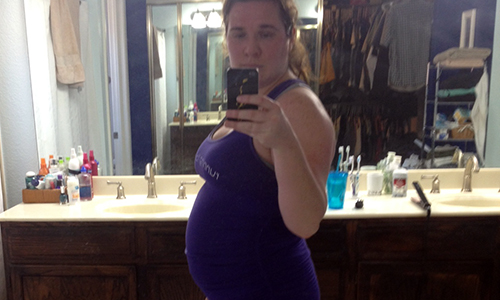 I don't want the title to sound like a complaint. My husband likes to remind me that WE WANTED to have a baby. We consider this little girl a huge blessing. And we are incredibly excited to welcome her in a couple months. (Also: I look like crap in that picture. I don't even care.)
What I didn't know, though, was how difficult it would be to see my body change so dramatically in such a short time. My "baby belly" didn't really show until December when I was a bridesmaid in a friend's wedding. But I started feeling "pregnant" nearly immediately.
Consider my last long run before I found out. I was exhausted. I could barely keep my pace. I kept stopping and sitting down. What was supposed to be a 15-mile run turned into a 12-mile run when I just couldn't go on anymore. I stopped my Garmin and walked back to my car, thinking, perhaps, I was just having an off day.
That weekend I took a pregnancy test and immediately suspended my marathon training. I had 15,18 and 20 milers on the schedule for my next three weekends after that. I took the test because I could barely get up in the morning. I was having problems staying awake during the day. I knew, only weeks into the first trimester, that there was NO WAY I would be able to run a marathon at the end of September.
The positive pregnancy test meant that I slowly started pulling away from the running world, and this blog, and retreat to my everyday life. Why? Because, despite signing up for a bunch of races in that first trimester, I kind of knew I wouldn't be running long distances for awhile. If I would have accepted it earlier, I likely would have been able to unload some of those race entries.
I'm finding, though, that at 30 weeks, my body is betraying me more than I ever thought it would. Health worries I thought I didn't have anymore and coming back. My body is changing daily now and I never know what to expect. It's exciting, because it means she's coming soon, but it's also so foreign to be in a body I don't feel like is mine anymore.
DIABETIC WORRIES
I haven't been on medication for four years, but the fact that I once was comes up in nearly EVERY appointment with my OB. At the beginning, it frustrated me. Now it's just part of life.
Early in my pregnancy, I was given a new glucose meter to measure my blood sugar. I hadn't owned one since right after my husband and I bought our house in 2010 and I purged a ton of stuff.
I was supposed to use it four times a day. But my hands started mildly swelling, and I couldn't get any blood out. None. I would massage my fingers, put a rubber band around the finger I was poking, run my hands under hot water, etc. Nothing worked. I would get more upset with it than was really good for me or the baby.
So I stopped. Instead I opted to get my blood drawn for regular average sugar tests. So far? All within normal. But I can't get past the fact that I've been on the medication before.
What irked me more than anything was the "you need to work out X amount of minutes a day." I was already. The fact that my doctors didn't seem to listen to me during my appointments when I told them I ran and did yoga was even more bothersome.
THE LEGS AREN'T WHAT THEY WERE
I lost 15 pounds when I first got pregnant. I didn't have morning sickness. Instead, I just couldn't eat anything. I picked apart my food for the first 14 weeks. I only ate small meals. I'd start eating something, then stop and give the rest to my dogs.
I was also too fatigued to run a lot at first.
The result of those two things was a decline in my leg muscles. It didn't take long, particularly because I went from running 100-plus miles a month to 20 or so. My husband always told me that I really wanted to lose weight, I'd have to stop running as much. Turns out he was right.
When I did get back into it, in the second trimester, there was a noticeable difference in my running. My legs felt tight, and weak. They haven't recovered.
EVERYTHING IS SWOLLEN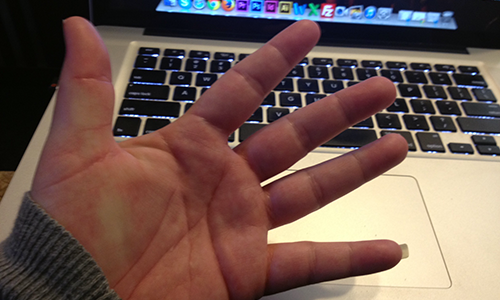 My feet, my hands, etc. Before anyone jumps to "that could be a sign of something bad," I know. My doctor and I have had numerous conversations about pre-eclampsia. We've talked about me going in for twice-weekly monitoring of baby girl's stress level. My blood pressure is checked regularly.
Swelling is part of pregnancy for some women. I'm one of those women.
My running shoes don't fit. Neither do any of my heels. In the past four weeks none of my flats have fit me well.
Worse even is that my wedding ring has been in our home safe for weeks because I haven't been able to wear it out of the house.
The swelling makes me very uncomfortable. When I clinch my hands, it hurts. Obviously walking around is painful after awhile as well.
BABY GIRL HATES RUNNING
Maybe she doesn't, but she sure seems to. My husband is concerned about pre-term labor (which is a real concern for us with my health history) and asked me to NOT run during the third trimester. Yoga is fine. Walking is fine. But no high impact. The funny thing is that I'm OK with it. I've been fine with it since I started getting Braxton Hicks contractions in the middle of two mile runs.
I also started responding to the baby when I feel as if she is sending me messages. Some runs were fine. I felt as if the movement had rocked her to sleep. Other days, I felt as if I was making her incredibly uncomfortable. She started kicking my bladder uncontrollably and then didn't calm down about an hour later.
She would kick me relentlessly after. I started feeling as if she wasn't all that comfortable when I was running, particularly in the past couple weeks of running.
So I stopped.
Now I'm sticking to yoga, but even that is becoming harder. I'm 30 weeks today. I'm going back and forth about registering for another few sessions of yoga. At this point I only am looking at five sessions at a time … because I had a couple weeks were I was too uncomfortable to go.
All of these things are making it hard to feel like "me" right now.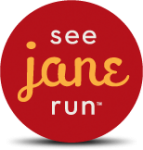 Run with me!
Save 25 percent all See Jane Run races, including the June 21 San Francisco Bay Area run, by using the code SJRAMB243. Use the code to also save 10 percent on online store discounts at seejanerun.com.