The 'after' plan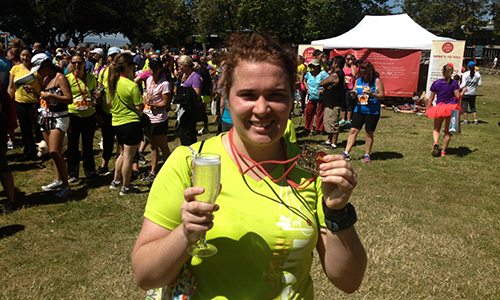 This was last year, after my course best at See Jane Run in Alameda. It was a ridiculously hot day to race, but one that was made much better by champagne and a nice medal, with shoe laces attached, at the end.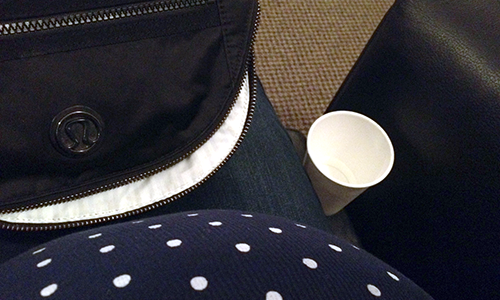 I'm looking at a completely different, incredibly exciting reality now. Looking down at, I should say. This photo is from my prenatal massage, thanks to a gift card from my mom, earlier this week. At nearly 31 weeks, I'm waking up multiple times during the night and feeling rather uncomfortable in everything I do.
I'm not going to talk about weight gain, outside of saying that I'm carrying baby girl mostly in the front. My shirts would fit if I didn't have a big baby bump in the way. My thighs are a little thicker, but I'm still wearing maternity jeans from the second trimester. Only now am I moving into larger shirts, just because the bump is growing more and more each week.
But overall, I'm not feeling a great urge to lose weight, yet. Maybe in the next nine weeks that will change.
I do, however, have a great want to get back to fitness. And running. And being able to actually do asanas at yoga without having to move my legs out to avoid my belly.
That's why I'm incredibly grateful to have been chosen, for a second year, as an ambassador for See Jane Run. The Oakland-based running store hosts its San Francisco Bay Area run in Alameda on June 22 this year.
Baby girl should be about two months old by then. Last year I ran 13.1 miles.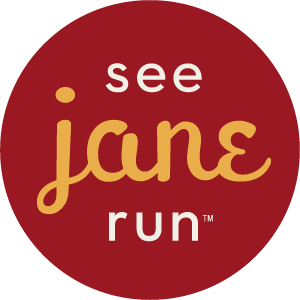 This year, I'm planning on doing the 5K. My first run "back" and my first 5K in a very long time. I'm considering it a "baby" step for myself. I know the route, I know the parking situation. I know nearly everything about the location. It will be comfortable and fun, even if I am uncomfortable doing it (who knows what shape I'll be in then).
I'd like to think I'll be running more than a 5K by then.
Part of my plan is to be able to run twice that far to be on track to run the 2nd Half Marathon of the San Francisco Marathon on July 29.
Two races signed up for already.
Today, though, I got an email about the bigger picture for 2014. Let me make it clear: Baby girl's arrival is going to be the biggest event of my year. My husband would agree.
But I want something else too: Another chance to earn a PR at California International Marathon in December.
Sign ups begin March 1. I'll likely deliberate it for awhile before actually signing up, but I really, really want to run 26.2 again this year. I don't know if that is even a feasible goal, but I'm hoping that it can and will happen.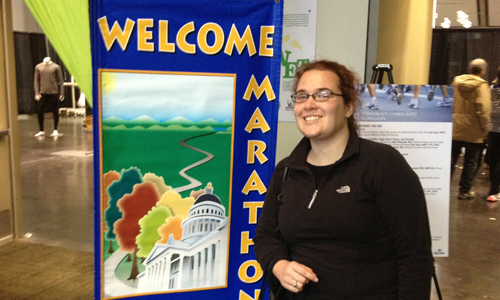 I'd like to be back in Sacramento with my husband and baby girl taking on this year's challenge.
To get there? Those baby steps I mentioned before. All starting with See Jane Run in June. It's perfect that I'll be surrounded by so many inspirational women my first race post birth. I can't think of a better way to introduce baby girl to racing than at an event like See Jane Run.
The good news is that I have a 10-percent off coupon code for See Jane Run Alameda's 5K and Half Marathon for my blog readers so that you can join the party to. Interested in signing? Use SJRAMB243 to secure the discount. Even better, the code is ALSO good for online or in-store purchases from See Jane Run and its website.
Plus, some of the Bay Area See Jane Run stores will be hosting kick off events on March 1 to celebrate the official start of race season and promotion of the awesome events.
The kickoff events begin at 8 a.m. at See Jane Run's San Francisco, Oakland and Danville stores. Representatives from Moving Comfort, Altra Running and 2XU will be on site at each store (for more details about which presentation will happen at which store, click here). Each kickoff starts with a run, also walker friendly, and includes a clinic about half marathon and 5K training.
It's time to get serious about training, or in my case start planning for the next step of training in my post-baby come back to running.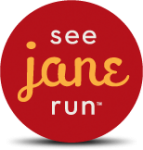 Run with me!
Save 25 percent all See Jane Run races, including the June 21 San Francisco Bay Area run, by using the code SJRAMB243. Use the code to also save 10 percent on online store discounts at seejanerun.com.