When anxiety rears its ugly head
Confession: Running, for me, has become more than just a way to stay fit. It's also away to keep anxiety at bay. A couple years ago, I didn't deal with it as much. Today? It has a tendency to rear its ugly head at the worst possible times.
Throughout my pregnancy, I've been trying to run two-milers where and when I could. I had a great maternity support belt and near the end of my second trimester, I felt really strong when I ran.
That was until a couple weeks ago when I suddenly started getting sharp pains in my abdomen where baby girl is currently taking up residence. I thought, maybe, she was starting to kick up in my ribs. I stopped running and took a shower, then sat down on the couch for awhile.
The pain didn't let up. I ended up calling the advice nurse. I've also had some foot swelling, which means my running shoes aren't fitting me as well, and other "symptoms" during the week. My husband and I were kind of freaking out. Turns out it was likely just Braxton Hicks contractions, which are painful and not really threatening.
I was told to keep my feet elevated. Drink a lot of fluids, as I normally do. And maybe ton it down on the workouts.
The downside is that the activity has been really helpful in keeping my weight in a "good place."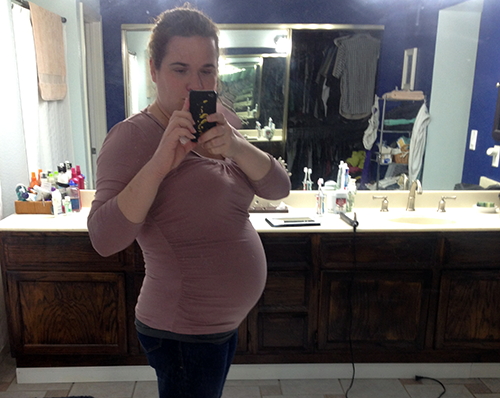 That's my bump at 27 weeks. I'll be 29 weeks tomorrow. I'm getting bigger and bigger each day. My center of gravity is WAY OFF what it typically is when I run marathons.
I'm also noting some atrophy of my leg muscles, which is making me a little sad. I'm gained about 15 pounds so far. The numbers keep inching up on the scale, closer to the 200 mark that I fought so hard to come down from four years ago. But this is a different kind of gain, obviously. I know that she's gaining if I am.
The bottom line of the pain? My pregnant running is likely over. I stopped yoga for a couple weeks too, just to be safe.
The problem, though, is that the anxiety is starting to creep up again. In horrible ways.
Someone asked me the other day if I was "worried" about anything leading up to baby girl's arrival.
I'M WORRIED ABOUT EVERYTHING.
The first trimester all I thought about was the risk of miscarriage. After regular bleeding the first eight weeks it was on my mind all the time. My husband, the optimist, kept telling me not to worry. But I had more ultrasounds in those early weeks than I want to admit. I kept going back to my OB just to make sure everything was going well. My blood pressure was high when I went in for those first appointments because my anxiety was through the roof. I just wanted to get in and make sure baby had a heartbeat.
The second trimester all I thought about was viability. Unsolicited advice often leads to worries, particularly when people who are trying to be helpful (I think), start talking about pre-term labor and preemie babies. I started to think to myself "I just have to make it to 26 weeks," which is when baby's chance of survival outside the womb increases dramatically. Every week after just adds to her chances.
I can't say it's not without cause that I'm worried. My doctor has noted my past diabetes diagnosis and those high blood pressure readings as reasons to worry. I've been told I likely will be induced if I don't go into labor by my May 4 due date. In fact, baby may come early if my OB becomes worried about her at all. But ALL of those things just adds to my anxiety.
The third trimester all I think about is stillbirth. Statistics put the number of stillbirth at 1/160. When I spend time on my Baby Center birth board, though, I'm confronted with the reality more and more. It's scary. It's more than scary, it's petrifying. My doctor and my husband told me to stop reading forums. I should know that myself after moderating forum comments for more than a year as an online editor.
If I distract myself during the day, I don't think about it as much. But every now and then, if I don't feel her wiggling around. Everyone keeps telling me that as much as I worry before she is born, I will worry more once she is here. I believe it.
Running kept all those ugly thoughts away. Now I'm relying on yoga to calm me. Baby girl isn't quite sure she likes the yoga anymore either though. She's been kicking up a storm when we do our last meditation exercise. And I've had to run to the bathroom more than I'd like. I'm thankful the yoga instructor has been very supportive of teaching a pregnant student.
On that note, we're very much preparing for her to arrive. Her room is done, one of the things I made sure I did before I went back to school. Last weekend, my husband treated me to an early Valentine's Day gift and we splurged on a 3D/4D ultrasound in a nearby city.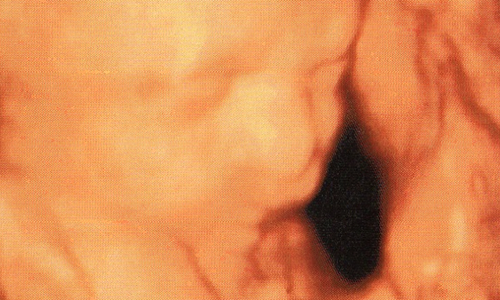 We found out that she really, really looks like him. I love the image above because she looks exactly like him when he's sleeping. He has a closely-shaved haircut and that same nose. I was excited to see her face. We also confirmed, definitely that she is a girl. I'd been worried since our anatomy ultrasound.
It's good she's a girl because her name is already up above her crib.
My baby shower date is set. My best friend Jennie and my sister are throwing it. I'm so thankful for that.
And my husband is getting nervous/excited. He bought her some baby leggings a couple weeks ago.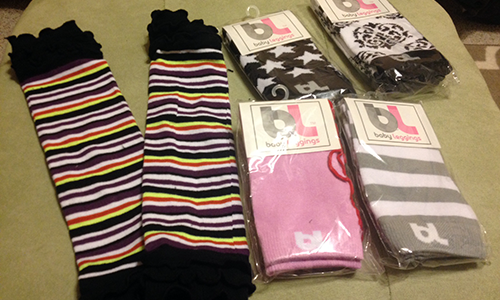 The green is the color of my glider rocking chair. Her room is a mixture of sage green, chocolate brown and pink accents. Nothing over the top girly.
I'm excited that I'm "almost there," but I'm also truly missing running and it's ability to keep the bad thoughts at bay. I am starting to put together a plan for after she comes. Today I found out that I will be a See Jane Run Ambassador into the 2014-15 year. So baby's first race will be the 5K in Alameda on June 22. I'm excited about the journey to get to the start.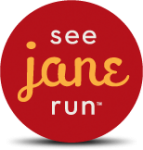 Run with me!
Save 25 percent all See Jane Run races, including the June 21 San Francisco Bay Area run, by using the code SJRAMB243. Use the code to also save 10 percent on online store discounts at seejanerun.com.