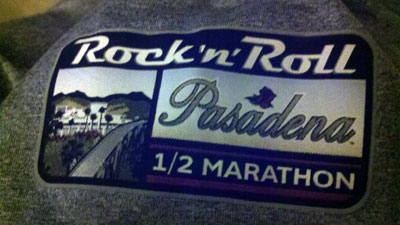 We left at 9:30 a.m. Saturday morning. We ran at 7:30 a.m. Sunday. We hit the road for home at 1 p.m. after the race.
It was a whirlwind trip from Tracy to Pasadena and back.
I finished the half marathon, an inaugural Rock 'n' Roll event, in 2:48:19.
It was definitely not a day for me to be racing. I was tired. Too much work in the past week, mixed in with a long drive and only about four hours of sleep because of noisy hotel neighbors made for a fairly lame race.
I was tired.
I'm planning a full recap tomorrow, since it's a holiday and I have some time. But despite the fact that it wasn't my best race ever, I had a good time away from home for a night.
I'm so tired now. So very tired.