One of the things I love about being an ambassador for See Jane Run is that I'm connected to an amazing group of women that share similar goals with me. I'm also given the opportunity to learn about new events throughout my area.
Since I've been a little MIA lately, I haven't been able to write about two events happening in the San Francisco Bay Area in October.
The first one scares me a little, as a Jane who is deathly afraid of her bicycle. But the more brave ladies out there will love this one.
SEE JANE RUN TRIATHLON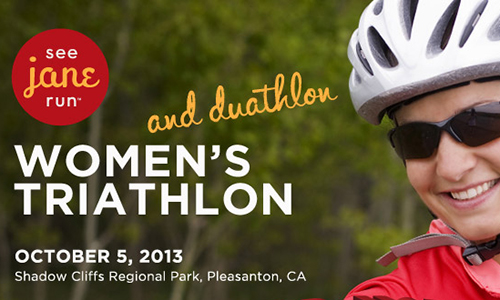 In addition to the many half marathons See Jane Run puts on, including the Alameda one I ran in June, but the store only puts on one triathlon and duathlon each year right over the hill from me in Pleasanton.
I have a confession: At some point, I really want to do this triathlon. I always thought a See Jane Run tri would be my first crack at the multi-sport challenge. But I'm still very much afraid of my bike … so I'm not quite ready for it yet.
I keep telling my husband that my road bike, which currently sits on its trainer, will get some use one day when I just get tired of it sitting there. But after several outdoor falls, usually having to do with clipping in, I decided during marathon training last fall that it wasn't worth the pain if I hurt myself and couldn't run.
The event is a sprint triathlon: 400-yard swim, 12-mile bike ride and three-mile run.
While I'm pretty sure I can handle the run, I haven't been in a pool for nearly a year (since I took lessons and my swim school closed) and I'm not comfortable riding more than a couple miles.
But, there's a good deal right now on the Oct. 5 event. If you sign up now you can save $10 by using the code TRIDU13.
Even better is that two of my fellow ambassadors are raffling off free entries for the event.
Aleksandra at Confessions of a Caffeinated Mother and Christine at ChristineCre8s are each offering up a free entry. So run over to their blogs (clicking on the bold blog title will take you to the appropriate post on each) and enter for your chance to win a free entry.
HONEY BADGER HALF MARATHON
One of the most random videos anyone showed me on the web last year was The Crazy Nastyass Honey Badger.
Haven't seen it? We need to fix that.
I laughed the entire way through this video. Then my husband fell in love with it when he watched it. I even bought him a "Honey Badger Don't Care" shirt for his birthday last week.
So when Kerina, our See Jane Run ambassador organizer and all-around social media guru, mentioned a new race in San Rafeal, I KNEW I had to run the race. It's called the Honey Badger Half Marathon. And it sounds awesome.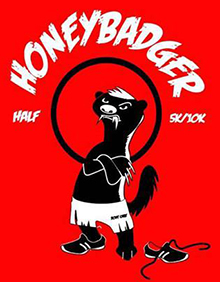 It will be my first trail half marathon. And it's one of a series of races put on by a still relatively new racing company.
The event takes place at China Camp State Park and features 10K and 5K alternatives for those not quite ready to run 13.1. I'm not even sure I'm ready to run 13.1, but I'm crazy enough to sign up for it.
The inclines are scaring me a little too.
But it's a race named after the Honey Badger. How can you go wrong?
A trail half marathon? In October? In a nice Bay Area regional park? To me it sounds perfect.
The ladies at See Jane Run are helping to promote the event, which means I get to pass another discount code on. If you want to save $5 off the already reasonable registration, you can enter the code JANE during registration.
To get the best rate, register now since prices tier up on Aug. 31.
You may even see me out there … at the half. And maybe, if I get a little more brave in the next year, at the tri in Fall 2014. If I can learn to love my bike.