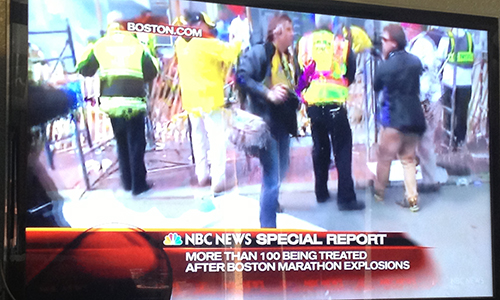 I know there will be a lot of posts about Boston this week. I know that I'm also behind on being relevant with this. It's amazing what happens when you are no longer tied to the day-to-day life of a journalist. I'm still in the mindset of a journalist, though. When I see a to-do list, I bust through it like there's no tomorrow. Because in news tomorrow is too late.
This week, I've been bogged down in catch-up projects that got pushed aside during my student's journalism conference.
But I've also been watching the news.
A lot of news. It's basically been on auto play behind me for four days.
On Monday, I told my husband that this hits close to home in more ways that I could even comprehend as I watched the events unfolding in front of me Monday. This was an attack of unspeakable horror. At a public event. At a marathon.
I run marathons.
Once upon a time I was accused, by a newspaper reader, as making a horrific event all about me. The problem with events like what happen in Boston, a lot of people start asking themselves questions about how it could impact them, or if it could.
What I knew before Monday: The start line used to be what caused massive anxiety for runners (especially me).
What I know now: Now the finish line takes on a completely different meaning.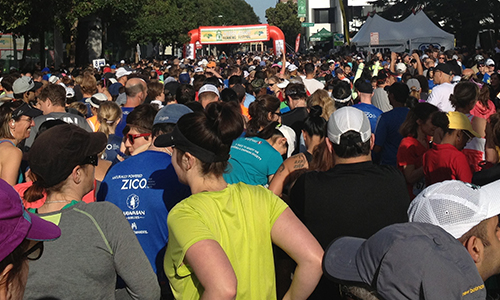 THE FINISH LINE
The start line has always been a source of fear and trepidation among runners (the photo above is the Oakland Half Marathon start in March). It's when your heart starts racing. When every doubt you can think of crosses your mind. If you're anything like me, the moment you get past the start is actually the minute you feel any sort of relief.
The finish? The finish brings mixed emotions, depending on how a runner does. The first marathon? The finish is the goal. The PR run? The finish is the moment to quit the push. The bad run? It's the moment it's finally over.
Consider what the Boston Marathon represents to those who run it. It's the crowing glory for the everyday runner. It's a tough race to get into. Runners have to qualify. I likely will never qualify for Boston. Many runners won't. For those who do, it's not just about those 26.2 miles. It's not about Heartbreak Hill. It's about the journey.
Seeing that finish line? It's the finish line of all finish lines.
Now it means something completely different. Joy and accomplishment have been replaced with sorrow.
'LARGE PUBLIC GATHERINGS' A CONCERN?

On Monday, one of the talking points that kept coming up was that of how to make "large public gatherings" safe.
Have you ever considered any marathon you run a "large public gathering?"
Think about it. Because until this week, I never did. Instead, I lumped running events into "you either have to be crazy enough to do this or love someone who is" to be here. I think about the smaller races I've run, where people not involved were annoyed at our presence when streets were closed down. The bigger races? Well, even those didn't really seem all that big.
Then I think about the Rock 'n' Roll San Diego Marathon. I ran the full 26.2 last year (it sucked, I cried, I'm over it).
According to Active.com, the "Epic Summer Run" is one of the top 10 runs, according to finishers, in the United States.
The ING New York Marathon (43,660), Bank of America Chicago Marathon (33,701), Boston Marathon (22,843) and the Marine Corps Marathon (21,405) are the top four. Rock 'n' Roll San Diego includes 13,361 finishers. I was among those finishers last year.
This year I'm signed up for the half marathon with my friend Sam. She's running all the Rock 'n' Roll events she can this year.
Yes, the suspects were apprehended (one died, the other was taken into custody earlier this evening). But there are so many twisted people in this world (what you learn from 10 years in the news industry is that humanity, while there are good moments, is full of bad people), that I wonder if this could happen somewhere else.
I'm running San Diego before I run the San Francisco Marathon this summer. Both are large events.
I'd be lying if I said thinking like this didn't trigger my anxiety.
TECHNOLOGY AND SOCIAL MEDIA ARE EVER PRESENT
This is kind of a given, but you don't see it really, truly in action until something like this happens. On Sept. 11, 2001, very few people had their smart phones out. Facebook wasn't invented. Those initial images we received on the attacks? More often than not, they were from news photographers. Not a lot of people were pulling out their smart phones.
Today? The finish line at the Boston Marathon was literally the most photographed public place that day. From the moments before (captured by a Boston Globe videographer), to the moment of (captured by an Instagrammer flanking the race path) to the aftereffects (including the YouTube video of people pilfering the Adidas booth).
I ask my students in my first lecture of every semester the same question: Where do you get your news?
Where did you find out about Boston?
I was knee deep in code and curriculum writing on Monday. A Facebook status post alerted me to Boston. It was from another runner friend. That's when I turned on the television. I tell my students all the time that the best ideas for stories come from Facebook. I can name about 10 ideas that I've found on Facebook in the past year.
Twitter is also good for that. This obviously was a breaking news event. Still, social media played a huge role in conveying messages to the masses. I teach mass communication. Unfortunately a really bad headache kept me from my class and more talk of the Boston Marathon on Thursday, but believe me, we'll be digesting this story for weeks to come.
Why? There is just so much more now out there. We are seeing every side of this story, good, bad and indifferent. Consider, too, that the photos also played a huge role in the identifying of the suspects. The FBI was asking for photos and video.
Say what you want about being in a wired society, in this case it helped crack the case.
RUNNERS ARE STRONGER THAN THIS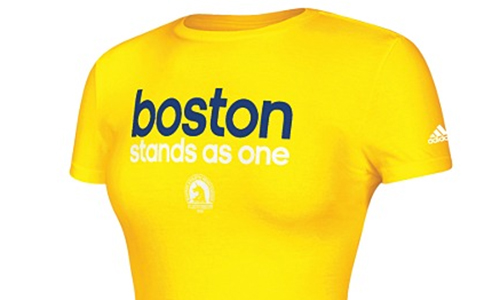 This may be the most obvious lesson from watching the bomb blasts in Boston. The videos show the dazed reality runners were heading into after the blasts. And 468 just kept running. That's right, nearly 500 people finished the 26.2 mile journey AFTER the bombs blew.
"They had no idea what was happening," one of my Facebook friends wrote.
True. But if you've ever run a marathon you know that in those last few miles, you are basically on autopilot. Your legs feel like they are going to collapse under you. You can't remember exactly why you signed up. You are tired.
The moment you see the finish line, you just run. I can't tell you how many times I've missed seeing my husband at the finish line because I'm just running and not thinking about anything else.
Runners are a tough bunch.
Runners are also part of a tight-knit community.
And we come to the aid of other runners in times of need. Members of my running club were posting links on how to help, whether it be racking up charity miles or donating to campaigns.
On Thursday, Adidas introduced Boston: Stand as One shirts. The first ones listed, including the yellow one above for women, sold out. I was able to grab up a yellow one before they were all gone. The $26.20 goes to One Fund Boston to support the victims of the attack.
Runs have been scheduled across the country for people to show support. This is an amazing community to belong to.
"You will run again," President Barack Obama said to attendees of a prayer service on Thursday. The truth, though, is that runners never stop running. Those 468 marathoners kept running. There were people running for Boston that evening. There have been all week. This weekend, the London Marathon will go on as planned, though with more security precautions.
SO WHAT DO WE TAKE FROM BOSTON?
Hours after the second suspect was apprehended alive, what we take, at least right now, is the realization that it only took law enforcement four days, less than 100 hours, to catch the the two allegedly responsible. That's fast.
We also take away a sense that we may not be as safe on the marathon route, that once exposed in those 13.1 or 26.2 miles, the finish line is not a guarantee.There's no promise we'll make it to the end. As runners we know that going in.
But we also take a sense of community, of knowing that we are not alone because there are people out there who want the good to outweigh the bad. And that's the real lesson in this week.