There are no words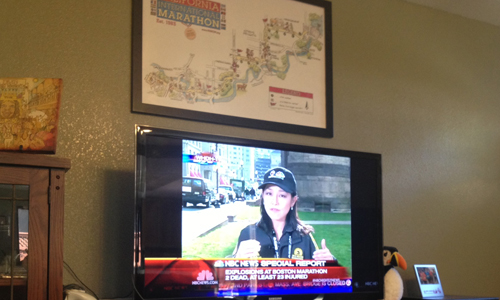 I've been watching the live coverage of the Boston Marathon explosions since I received the first update on my phone earlier today.
My television is surrounded by my California International Marathon poster and a Nike Women's Half Marathon picture frame. Marathons are part of my life. I watched the live coverage of the winners this morning online.
Then I shut off my television.
I've been watching the replay of the explosion at the 4:09 mark.
The photos are horrible and dramatic. An emergency room doctor earlier said there were several "traumatic amputations" of the victims. NBC is quoting that two are dead. The number injured is still in dispute, but it's somewhere around 100. A former soldier, who finished before the explosion, compared the explosions to an IED blast.
It's chilling to watch the videos over and over again.
These are details you can't forget.
It's painful to watch. The Boston Marathon is the top event in marathon running for mere mortals. There are stringent qualifying times and rules to get it. It's heartbreaking to see what's happening there.
It's heartbreaking to know that the marathoners there will never come to the start line of a marathon feeling the same way again. It's also heartbreaking to know that some of the rest of us, me included, won't feel the same either. This event changes everything.
My prayers are with those in Boston right now.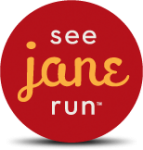 Run with me!
Save 25 percent all See Jane Run races, including the June 21 San Francisco Bay Area run, by using the code SJRAMB243. Use the code to also save 10 percent on online store discounts at seejanerun.com.