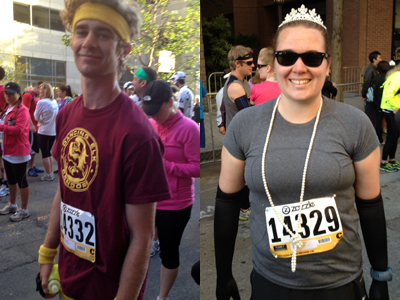 Last year, I ran Bay to Breakers. I really ran. I didn't wear fun clothes or spend my time along the course just having a good time. Nope. I ran and finished in 1:25:46.
This year, I decided to not go all out. But I asked my brother to join me. And he wanted to go all out. In costume, of course. But also in running. He trained.
I ran an 18-miler the weekend before. My legs were still a little tired.
And my 28th birthday happened to be on race day this week. So this would be the second year my brother ran a race with me on or near my birthday weekend.
The day didn't start out too well for my stomach. Instead of feeling as if I was ready to run, I rushed to the portable toilets immediately after getting to the Embarcadero. I ended up going to the bathroom twice before the start. And I still felt bad. My stomach hurt. I was getting cramps, likely from an empty stomach. But I couldn't eat either.
I should have known it would be a bad run. But I kind of didn't care.
In fact, I kind of figured I'd take it easy.
It was a warm morning. The tortillas were already flying.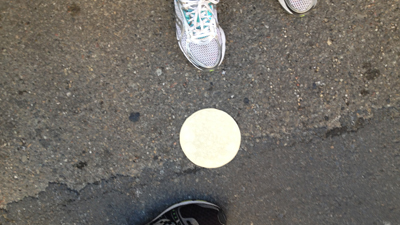 We were already seeing naked people too. My brother made some sort of sausage-fest reference saying he'd seen enough naked nasty dudes for a lifetime, and probably more. They started counting down quicker than last year it seemed. In fact the whole thing seemed to go by more quickly in general.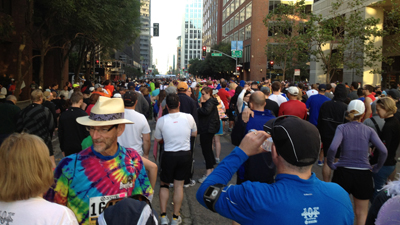 At a little after 7 a.m. race officials released Corral C and we were off. I immediately felt horrible. My stomach was really turning.
Then, just like that, we he a stall. People had begun to gather along the road making it nearly impossible for racers to get through. This happened at .26 mile into the race.
It wasn't all bad, but it was bad.
Mile 1: 11:17  — Started out strong, considering I had to stop and wait for the flow to get going again. I was likely running an 10:40 pace.
Mile 2: 12:29  —Legs are tried, uphills.
Mile 3: 14:16  — Hayes Street Hill and bathroom break. I kept thinking I was going to throw up.
Mile 4: 12:05  — Did a Gu, picked it up once over the hill and on the downhill.
Mile 5: 11:04  — Back in my normal groove, but it would be short lived. Toward the end of this mile, my legs felt better thanks to the Gu, but I was also starting to feel bad again.
Mile 6: 11:40  — Tried to hang in there, slowed a little.
Mile 7: 13:11  — Even though I had less than a mile, my stomach was cramping bad now. I kept considering stopping and slowing completely. I figured I'd walk it in. Finally picked it back up.
Mile .60: 9: 34  — Decided I needed to just be done. I just pushed it. I wanted the misery to end.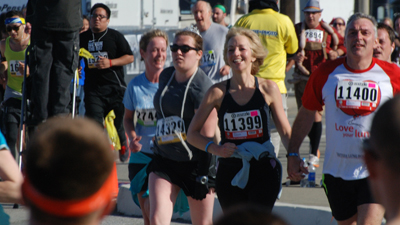 My husband got that great shot of me running it in. He complained that I wasn't smiling. I tried to tell him the kind of misery I was in. My stomach hurt. I hadn't fueled properly before the race. When I went for it, it was all I had at that moment.
Then it was over. It seemed quicker than last year. All around.
I crossed the finish and was handed my medal.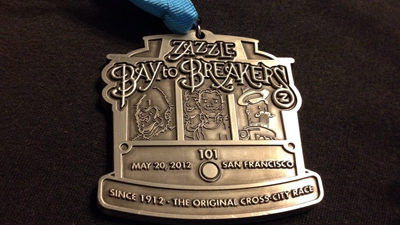 At the finish line, the announcer called it the "first ever" finishers' medal. We received commemorative medals. The medals are nice and heavy, definitely a plus.
Then we had to go wait in a ridiculous line for our shirts.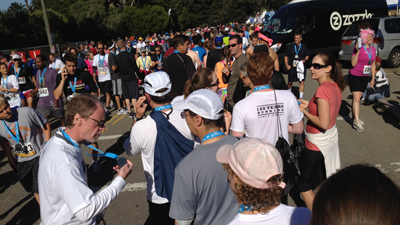 The shirts were way to big. And we couldn't trade. If we ever do this again, I won't opt for the shirt. The disorganization at the end was amazing. Last year we had to walk past Polo Fields to get the shirts in an organized fashion. This year there was a tiny tent with a long, long line of people. I would have walked away had I not been charged so much for the shirt.
I ended up giving my tech T-shirt, a size medium, to my brother.
By the way, my brother the racer finished in an amazing fast 59:05. He did great. He was really excited about it. (Notice, he dressed as Paulie Bleeker from Juno.)
My final time was 1:31:34. Not horrible. I probably could have done better had I had felt better or ate breakfast and done the Gu beforehand.
But I don't feel bad about it. I got to run with my little brother. And it was a fun run, even if it wasn't a good one.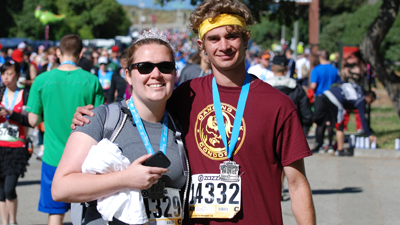 We did see lot of crazy stuff. And we made it to the breakers OK.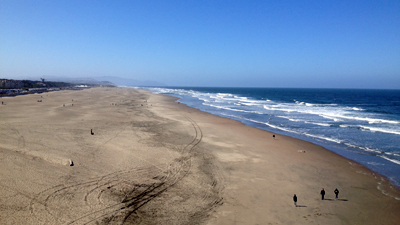 Then we headed away for an adventure to watch the eclipse. But that's for another blog post.