Still training
I hitting a two races in two weekend time of month starting this Saturday.
I have a trail 10K with a nasty elevation climb on Saturday. On March 25, I'm running the Oakland Half Marathon.
I ran two eight-mile runs on the treadmill this weekend.
I was supposed to run outside tonight, but that didn't happen. I wish it did.
Now I'm staring down this forecast:

Yikes.
Earlier today it said rain through Sunday.
That kind of makes my 10K, with its already scary terrain, a little more so. Wet weather. Mud.
Oh boy.
This should be fun.
I'm running a six-miler on Wednesday. Then taper until Saturday morning.
All next week is taper for the half marathon.
Then, officially, I start marathon training again. I want to be stronger for the June marathon. But I also know my limitations for training. I'm not 100 percent sure I can do it. I'm not 100 percent sure of my training plan, which includes 18 and 21 mile races.  No more half marathons until July, though.
I'm hoping to push hard at Oakland.
But I need to get through the wet weather of this week. And weekend.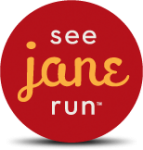 Run with me!
Save 25 percent all See Jane Run races, including the June 21 San Francisco Bay Area run, by using the code SJRAMB243. Use the code to also save 10 percent on online store discounts at seejanerun.com.