Meet me Monday: Fitness plans
I'm training for a marathon.
That's my biggest priority right now. I'm upping my mileage. I'm adding in resistance training. I'm pushing to make sure I have rest days.
I'm trying to be aggressive in my training for this 26.2 and hoping I can make it the whole way.
Part of that is my new foray into swimming, which began this week.
Part of it it also the purchase of some new wheels, and not the car kind.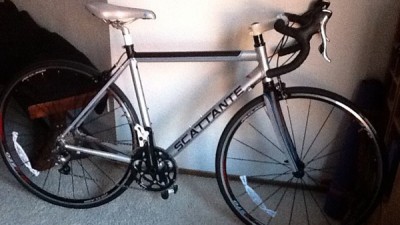 On Saturday, I ventured to Performance Bike in Dublin (about 25 minutes from my home in Tracy), just to "take a look." The problem with me is that once I see something I like, I tend to buy. This is especially true since I took my part-time teaching job. I paid off my car last year, put more money in our savings account and, every now and then, have some extra money to spend.
Two months ago I bought an iPad. I use it for all my long treadmill runs, like my 15-miler on Sunday.
I bought my bicycle, a rather hefty expense, this weekend. Outside of the fact that I literally haven't rode a bike in 10-plus years, it seems to be a good fit for me. I have to say, I'm a little scared of it, though. It's a nice bike. Nice as in there's no kick stand.
Maybe too nice for me. I couldn't remember how to shift. I still need to buy some shoes for it. It will be a learning process, definitely.
But I have a goal in mind here. My running buddy Sam ran her first half marathon last weekend. Now she is eager to tackle a triathlon.
I'm apparently doing it with her. (That's fine, I think she partially volunteered me and I partially volunteered myself.)
We're aiming for one in Napa at some point in April. So my goal after the marathon is to train for this triathlon. I only have the Oakland Running Festival booked for March so far, though I may look into some Rock 'n' Roll running events as well (again, prompted by Sam). But after the marathon, I'm going to take on triathlon training aggressively.
I picked the bike based on it's fit for me, which is good. I also picked it because it's lightweight. It's very agile. And it's a road bike, which is what everyone suggested I get. It's a far cry from the Magna bicycle I had throughout high school (the last time I road was sometime when we were vacationing at the beach in 2002, my husband confirms that he road it at some point and it was uncomfortable). And it's beautifully light.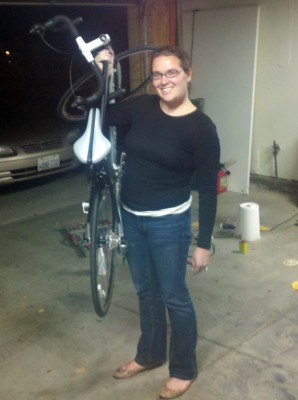 I can pick it up, as proved by this photo my husband took after we got home and he took it for it's maiden voyage. He has a tendency to want to test all my new fancy toys. I remember him taking the keys to my then brand new 2002 Camaro so many years ago to "break it in." He didn't realize I'd already done that.
So my fitness plans for the coming seasons are just that: run the marathon and then do a sprint triathlon.
I have the running down for the triathlon (it's only three miles). I doing the swimming lessons. Now I have the bike.
Let's go.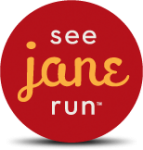 Run with me!
Save 25 percent all See Jane Run races, including the June 21 San Francisco Bay Area run, by using the code SJRAMB243. Use the code to also save 10 percent on online store discounts at seejanerun.com.