Finally 15
I was supposed to wake up this morning and head to Mountain House for a 15-mile run with Jennie. That didn't happen. Instead, I woke up at 2 a.m. with a bloody nose. I didn't think much of it outside of it being annoying. When I woke up again at 5:45 a.m. I sneezed and my nose started bleeding even more. Then it didn't stop.
Well, crap.
Sorry for the graphic nature, but the blood was running down my throat. I held my head back. I tried to make the nose bleed stop in the bathroom so that I'd still be able to run. Nope. I texted Jennie. We were a no go on the run.
I got the nose bleed to stop, temporarily, and went back to bed. I didn't wake up again until after 10 a.m. and the nose bleed came back, a little. Great. It was turning out to be a not-so-great morning.
I put away my hopes for a 15-mile run. I decided to just relax.
By 2 p.m. I was feeling A LOT better. But it was past the point I like to run outside. If I venture out at 3 or 4 p.m. I usually end up being held up by traffic lights and not-so-nice motorists who refuse to wait for me to cross.
So I opted for a treadmill run.
Yikes. I've done 10-mile treadmill runs. Never 15.
So I prepared.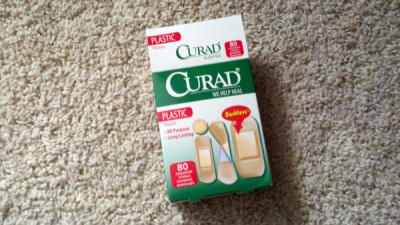 First, I found the non Band-Aid brand band-aids. I know there's another term for them, but it escapes me. I still have a bad blister injury from last week's half marathon. So I wrapped my toe.
I prepared for a slowish run because I wanted to make sure I could last the whole 15 miles. I aimed at 12-minute pacing. I started quick, though, under a 10-minute pace.
I loaded up my 20-ounce Amphipod water bottles with a mix of 50/50 water and Gatorade.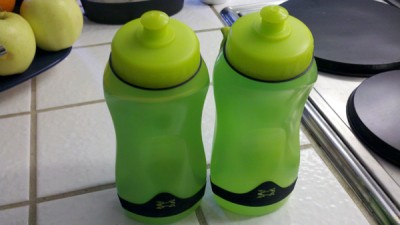 I have two because one typically has a sleeve to keep the water colder. I use the sleeve more during the winter so that my hand doesn't get as cold. I took it off today so it was easier to hold on to mid-way through my run.
I kept one bottle in the refrigerator. During my long treadmill runs I usually get off the treadmill a couple times. I do that for necessity rather than a real want to get off and start over.
My treadmill maxes out at 99 minutes or 999 calories. After 99 minutes the treadmill shuts down. Everything stops.
That's part of the reason I invested in a Garmin foot pod for my Garmin 405CX.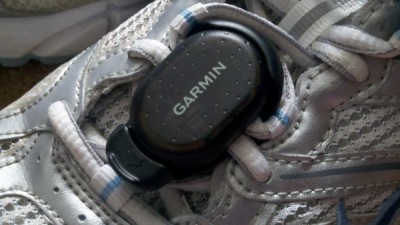 This way I can use my Garmin to accurately reflect how far I've gone. It's funny, though, even though I have the Garmin calibrated with the foot pod, my 12-minute miles were coming up short in the beginning and long at the end. It's likely because I slow down as I run longer distances.
So I use the Garmin and have to get off the treadmill about 7.5 miles in just to reset the treadmill. I usually take this time to also grab the second water bottle, go to the bathroom, give my dog a hug, etc.
It's always the time I want to stop as well.
I finally didn't today. I just kept pacing through, usually doing miles under 12 minutes. I just kept moving along.
By mile 14, I was starting to get tired. This is why training runs are so important. I'm not convinced it's about the mileage I am racking up, but rather about the time I am running. I need to be able to run 4-plus hours in order to run the marathon in less than two months. Whether it was a good idea in between two half marathons is another question.
Either way, I finally hit the 15-mile mark in slightly under three hours.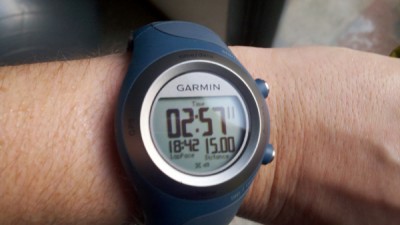 I know treadmill training isn't the best for marathon training, but I know it can be done. I've read a lot about busy people who only train on treadmills, so I never feel bad running on mine. In fact, it helps my joints and is really better for me in general. So I'm slightly more back on track for this marathon.
It was really starting to worry me, not  getting in the 15-mile run. Now that I have it's a huge weight off my chest.
On to the Nike Women's Half Marathon next week. I've decided, particularly with the running of three half marathons this month, that I'm going to approach this race as a good opportunity to pace myself and really enjoy the whole 13.1 experience. I'll be with two friends and my Team Somersaults teammates and I just really want to finish strong and have an awesome time.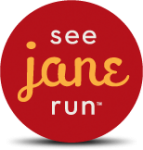 Run with me!
Save 25 percent all See Jane Run races, including the June 21 San Francisco Bay Area run, by using the code SJRAMB243. Use the code to also save 10 percent on online store discounts at seejanerun.com.