Going the distance (at any distance)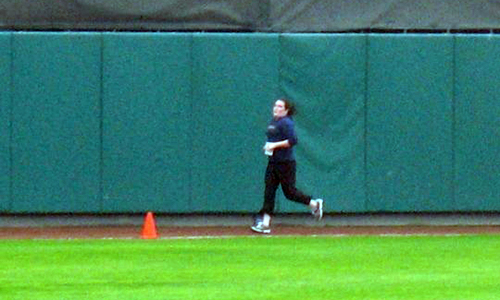 Horrible reproduction, right? Pixelated photos are so 2008. I normally wouldn't post a photo this grainy on my blog, but it's one of only about three I have from my first 5K. I wasn't "into" running then. I hop on the treadmill from time to time, usually only when I was feeling really heavy or unsatisfied with myself.
Running didn't become part of my life for good until 2010.
But that first 5K was a monumental stepping stone for me. It was the first time I'd run that distance. I trained hard for that race, but not nearly as hard as I should have. I hurt afterwards. I felt miserable at parts during the run itself. But I also felt victorious when I finished it.
I felt on top of the world.
As spring winds down, there are races nearly every weekend now in my area. A lot of people are out running their first 5K, 10K, half marathon or marathons right now.
There are training plans all over the Internet to get runners to that next pivotal step in their running journey. But many of them don't cover what to do to prepare for the day you walk up to the start line and get ready to go on that first run.
Here are some tips to make it through a race, whether it's 3.1 miles or 26.2.
HYDRATE PROPERLY THE DAYS BEFORE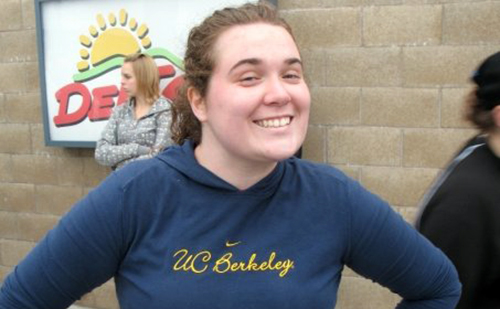 That happy face? By the end of my first 5K I was panting and my legs were cramping up with a pain I had never experienced before. I didn't know why until another runner mentioned to me, when I was complaining to my husband about how bad I felt ("…like I was hit by a truck…"), that I likely needed to be more hydrated.
I'm always worried about multiple trips to the portable toilet before a race. So in the beginning my strategy was to not drink anything so I could avoid those trips.
Don't do that. Ever.
In fact, as a runner you should regularly be hydrating. I carry around a 25-ounce bottle of water and usually refill it once or twice a day. This is especially true now that it's warmer outside. Keep drinking water.
Now that hydration is a regular part of my life, I don't worry so much about those morning of bathroom trips. I'm not drinking a ridiculous amount of water in the morning to catch up now.
Hydration helps you avoid injury and cramps. It will also help you get through a new distance feeling better at the end. Take it from someone who learned the hard way.
SET REALISTIC GOALS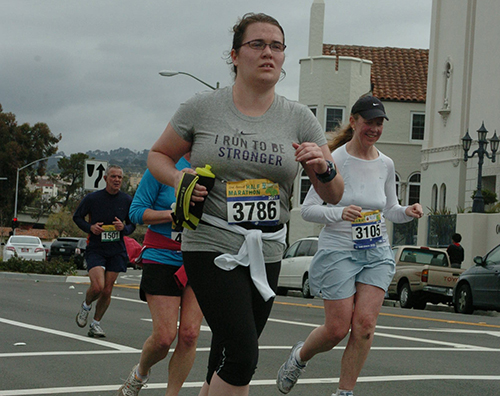 That typically means being less concerned about time and more concerned about finishing.
I hate to tell people to "aim low." But in reality, the first time you run a new distance, you should really train yourself to focus on making it through. I'm one of those people who went out way too fast in my first half marathon. Then, by the end, I looked like the above photo. I was exhausted.
I just wanted to be done.
Then at mile 10, I hit "the wall" and I'll never forget it. My chest felt tight. My body felt like it was shutting down.
But I went into that race with one goal: finish it.
My second goal was to finish in under three hours. I figured I'd factor in some extra time as padding.
When I finished in 2:35:36 I accomplished both those goals.
I know people who make grand plans for finishing races, saying they want to have an instant PR or qualify for Boston during their first marathon. Some people do. More mortal types like me don't. And that's not a reason to throw in the towel.
DON'T THROW IN THE TOWEL WHEN IT GOES BAD
I've seen it happen. In fact, at a recent race, I recognized the symptoms of a Did Not Finish (DNF) happening right next to me as I hit mile 8 in the Oakland Half Marathon.
A woman next to me was making pretty good time. But that was my perception of it. Not hers.
She was running at a conversational pace with a friend. And she starting talking about dropping out of the race.
"I'm not going to make my 2:10 goal," she said. "I wanted my first half to be a decent one."
OK. A 2:10 would be a PR for me. If I could get myself to a 2:10 half marathon, I'd be over the moon happy.
Not her. She wasn't. I ran ahead, setting my own personal PR. I waited around at the finish to see if that woman and her friend came through the chute. I saw her friend only a couple minutes after me. I never saw the women. That's not to say she didn't finish, but it kind of stuck with me.
I know a person who had two DNF in half marathons before she could finish one. She gave up halfway through the first two times because, in her words, she "couldn't complete the distance." She had run the 10-milers. She'd trained for 14 weeks. But she couldn't do it come race morning.
The moment you start to doubt is the moment it can all go bad. Don't let a couple bad miles ruin a race, especially if it's the first time you've run the distance. I promise, you'll feel better when you finish. And you'll likely want to sign up for another one.
NOTHING NEW ON RACE DAY
Gear is important. You will likely carry something with you during a run, even if it's just your car keys. I carry more stuff the longer the distance. But the key is knowing what works for you and just how little or how much you need to get through your run. Here's a breakdown of what I carry with me over the four distances:
5K — Phone, usually in the pocket of my capris.
10K — iFitness belt, phone, two packs of Vanilla Bean Gu, small 12-ounce water bottle
Half marathon — iFitness belt, phone, five packs of Gu, 20-ounce water bottle
Marathon — iFitness belt, phone, $5 (never know when you'll need money), 9 packs of Gu, 20-ounce water bottle
I also plan out what I am going to wear and test it at least twice on a longer run. For my half marathon, I wore a nice Dri-Fit shirt that I had worn on numerous eight and 10-mile runs during training. I also wore a pair of capris that I had run quite a few times too.
There's a reason a lot of people don't wear the race shirt on race day. It's not because it's "lame" as some people think. It's actually because untested race wear is definitely not recommended. You could chafe. You could also be incredibly uncomfortable the entire race.
Just avoid the new things. And make sure you have tested and prepared to use the gear you are bringing.
PREP YOUR RACE GEAR THE NIGHT BEFORE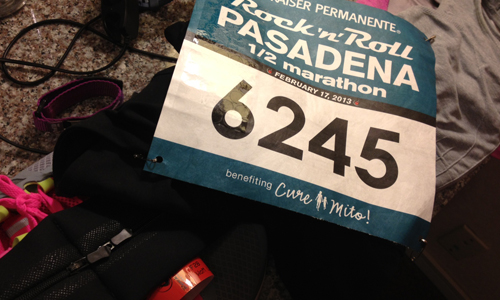 I post photos of my race gear all the time. I also have a really bad anxiety problem. So if I don't have everything perfectly ready the night before, I usually freak out a little in the morning.
I lay all of my gear out the night before just to make sure everything is there. It honestly saves time in the morning when I'm not rushing to find things, like my Garmin or my Body Glide.
I've done it so often that I just kind of go through the motions now. I also back my "after" bag with everything I need for after the race.
GET A GOOD NIGHT'S SLEEP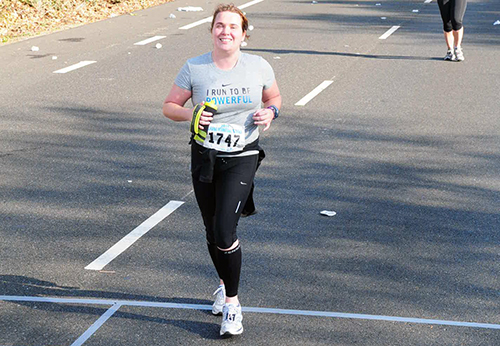 I can't stress this enough. But this is also one of the hardest things to do.
Why? Race day nerves often keep you up longer than you'd like to be. I know. I've been there. I'd like to say it gets better after you do a couple races of your "new" distance, but the reality is I'm still nervous before every race I run. I've just learned to cope better with the nerves (sometimes).
I prepare the day before a race by not sleeping in too late, which could keep me up at night, and generally staying off my feet as much as possible. I also try to settle down and watch television for an hour or so before I'm supposed to go to bed. It helps me relax and take my mind off of everything. I almost always in bed by 11 p.m.
JUST HAVE FUN
Another hard one when it's your first time. You train hard. You put a ton of pressure on yourself to make it happen. Just go out and have a good time on race day. Don't second guess your training (because by then you can't do anything about it), just go out and run. You'll be relieved once you shake the nerves out. But you'll also be incredibly excited when it's over.
Have a good time. Enjoy your day, because you never forget your first.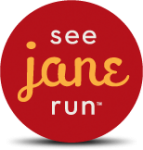 Run with me!
Save 25 percent all See Jane Run races, including the June 21 San Francisco Bay Area run, by using the code SJRAMB243. Use the code to also save 10 percent on online store discounts at seejanerun.com.