Beat
I have a lot to blog about, but no time to do it.
This week: Garmin came back, but not Gertrude. My students put out issue six of their newspaper. I have a front-page story in the newspaper (rare, since I'm often at my desk coding or behind a video camera). I got a new pair of lululemon shorts. Received my beautiful new "I was born to do this" necklace.
Started taper for Big Sur Half Marathon.
Packing up for that one tomorrow. Heading down with my mom on Saturday morning/afternoon-ish.
Long week. Exciting weekend ahead.
My goal? Not to break a leg or hurt myself. The marathon is less than three weeks away.
Yikes.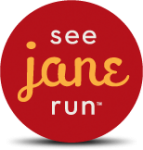 Run with me!
Save 25 percent all See Jane Run races, including the June 21 San Francisco Bay Area run, by using the code SJRAMB243. Use the code to also save 10 percent on online store discounts at seejanerun.com.