A very soggy Easter
We've had a hell of a storm over the past 24 hours in Northern California. It let up for a little while today, while I hosted a small Easter gathering, but nearly 30 minutes after my family left, it started pouring again.
While I was making dinner, it was already coming down pretty good.
Then the clouds parted. The sun came out. I figured it was over. But I haven't been watching the news religiously about the storm. My husband has. He knew another round, with thunder and lightning, was on the way.
When the next downpour started, he went outside right in the middle of it to unclog our drains in the backyard. Our ducks were having a fun time running through the big puddles, but the water was coming up to the house and on the concrete porch.
He then went and checked the front of our house, where the drainage from our backyard flows underground to the sidewalk in the front. He ran back in yelling: "You have to come see this!"
He was really, really excited.
Right down the street from us, not even 100 yard, the entire street was completely flooded.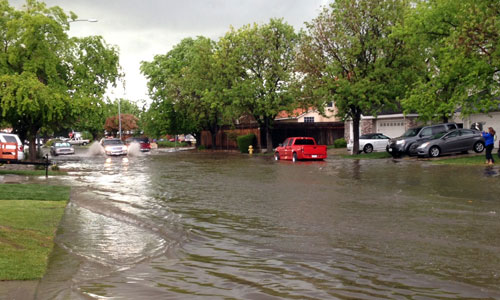 So, of course, he wants to take our new-to-us Jeep for a spin around the block and right through the puddle. We drove around the block a couple times, going through some pretty big puddles. Then we joined our neighbors and watched people hit the flood on our street. The compact and sports cars mostly turned around. There was no trying for them.
We did see one Mustang go through it.
We saw big, lifted trucks gun it through the flooded area.
Some cars got halfway through, stopped, and turned around. It wasn't too deep, but the neighbor children were getting our wake boards and putting on bathing suits to play in it. I don't think I'd want to play in it, it's all runoff, but they were having a good time.
Our neighbors were laughing. We joked about having lakefront property.
I even shot some video.
It's still pretty damp outside.
When my husband and I drove around the neighborhood, we went by my running paths. The paths are designed around drainage ditches in the neighborhoods, probably the nicest drainage system I've seen in a city in a long time.
The runoff areas were flooded as well. I don't think I've ever seen them like that. And we've lived here for nearly three years. It was pretty amazing.
I'm glad I did my eight-mile run yesterday when it was still nice and sunny too.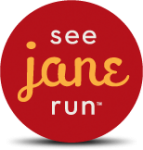 Run with me!
Save 25 percent all See Jane Run races, including the June 21 San Francisco Bay Area run, by using the code SJRAMB243. Use the code to also save 10 percent on online store discounts at seejanerun.com.