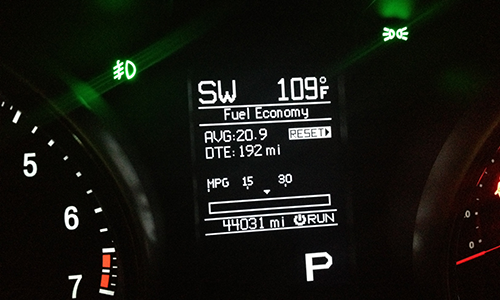 I woke up too late to get in a decent run (over four miles) today, so I just kind of said no to any distance. Instead, I decided that I'd burn off enough calories helping out with a baking/pie contest and walking around in the heat. It's only 5:23 p.m. and I'm already exhausted…but we're having friends over for dinner and fireworks.
I don't think I've ever voluntarily gone for a run on July 4. It's one of those holidays I tend to skip when it comes to putting on the running shoes and heading out the door.
For one, it's really, really hot where I live (see photo). It's also just not one of my "overindulgent" holidays. Not typically, at least. Today, I made a cake and a Smore treat from Pinterest, though. That may change.
I usually got a six to eight mile run for Thanksgiving. For longer holiday weekends, I try to fit my long run in on the actual holiday (which usually gives me my weekend, always nice). I don't really consider holidays rest days.
Except for July 4.
Maybe it's because it's been mid-way through the week over the past couple years. Maybe it's because I overbook myself.
Either way, there's no run today. I have 11 miles down for the month already, so I'm fine with that.
Happy Independence Day!