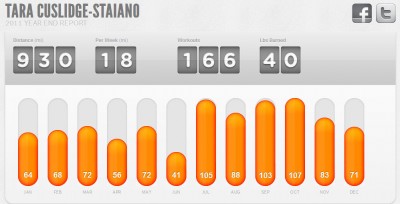 I've been avoiding writing a "year-end wrap up" report. I kind of don't feel a need to on many levels. I've only been blogging for about four months. I've only been running for a little more than two years. Last year wasn't a huge year for me, but it was a banner year for my running.
Still, why write a sentimental "all the things I did this year defined me" report?
Of all things, though, my dailymile account has been one of the most consistent things about 2011 for me. Prior to Jan. 2011, I never bothered to track my runs.
I didn't care about weekly mileage. I didn't care about fitting a run in here or there to make a quota.
But I knew I'd be running my first half marathon in 2011. So I signed up to track my mileage on dailymile. I was immediately hooked. The website is easy to use. It sent me weekly mileage reports. And knowing about many miles I had ran during the week helped me gauge my training.
A positive end result was I also knew how many miles I ran in 2011: 930.
And, so far, in 2012, I've run 60 miles.
That puts me on track for a month over 100 miles. I hope that turns out to be the case.
Dailymile last week sent me a link to my 2011 report. I've been staring at the data for months, so nothing was surprising.
I had a very low month when I went on vacation to New York City for a week. I only ran 38 miles in June.
I had three over 100 months leading into the marathon. I want to run further in November, but taper for the marathon killed it for me. I only logged 68 miles in December because I sincerely underestimated my recovery time from the marathon. Now that my "legs are back" I've been running my heart out to start logging some major mileage going into a Feb. 18 half marathon.
I have a trail 10K, a prep run for the half, coming up on Jan. 29 too.
So…about 2011.
How do I feel about it? Blah, blah…blah.
Great. I probably ran half of the 930 the year before as I prepped for 5Ks and 10Ks. With an increase in distance came an increase in mileage. That was a given. This year, with the fact I'm registered for another marathon in June, I'll be running even more at the beginning of the year. I'm not sure yet what the end of the year holds, but we'll see if a winter marathon is in the cards for me.
So, hopefully, 2012 will see me cut back on the number of races (21) and entry into longer races. And a mileage increase. And more running.