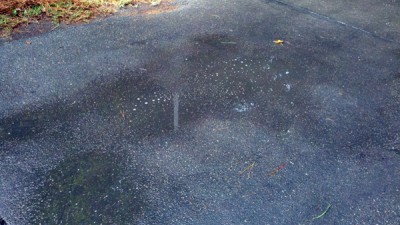 I love the cold. The seasons of fall and winter are my favorite times of the year. The leaves start to change. People start to decorate for the holidays. And my runs get better, if only because it's no longer scorching hot. I love wearing longer-sleeved shirts and venturing out in the crisp morning.
With a cold snap also typically comes rain.
We got a little in the area this week. It came during a recovery week and I was spending more time on the treadmill anyway. But I know soon I'll have to run outside in damp, wet and cold conditions. And that always worries me a little.
I don't mind running the rain. I've done it before. I've learned that sometimes it's better to wear my contacts out instead of my glasses (fog, water drops and basic annoyance are the reasons) and make sure I bring a towel if for the car ride home if I'm in Mountain House or racing.
I mind the hidden mud. I'll explain.
The picture at the top of this post is from the college campus I work on. It's a puddle. It just looks like a puddle. But it's also a mud puddle. It doesn't look like a mud puddle. Not at all.
During the first rains of the year this sort of thing happens a lot. I'll be out running and suddenly come across a puddle that just looks like a puddle. Every now and then, there's actually mud underneath.
The mud can take an ankle out. It can cause a runner (or anyone for that matter) to slip and maybe even break an arm. This happened to me during a 10-mile run earlier this year.
I was running through a puddle and slid pretty good on the street. I didn't hurt myself too bad. I had some scratches. One of my fingers was a little beat up as well. But, for the most part, I was OK. It caused me to think twice about running outside for some time. I switched up my training to the treadmill during the wet season.
That's not really an option as I prepare for the marathon I'm hoping to run on Dec. 4. I need to run outside.
So the headlamp will come out at nights and I'll likely slow down, despite feeling good on my cool morning runs, just to prevent slipping and sliding across nasty mud puddles.