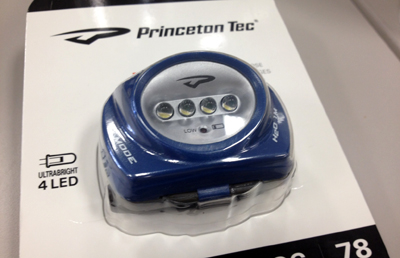 It may not yet be fall, but it's starting to get darker earlier again. My regular evening runs begin at 7:30 p.m. In June, it was still light, though a little dim, when we finished with our six miles about an hour later or so.
I'm not new to this. When I first started running in Mountain House, it was dark. It's dark most of the year when we run out there, sometimes even early morning darkness.
So last year at about this time, I bought a headlamp. Not just a cheap little headlamp, a nice one. I purchased it from REI for $32. It's a Princeton Tec lamp, with four modes and a study band for my head. It doesn't slip. And it's always lit my way.
Until last week.
As Jennie and I were running Mountain House, we noticed the darkness was setting in sooner. So the next time we ran, I wore it on my iFitness belt until it got too dark, then I popped it on about three miles into our run.
The next time we ran, I went to put it on again and it wouldn't stay lit.
I thought, maybe, it was cycling through modes since it also has a flash mode. I kept trying to turn it on and it wouldn't stay on. I tried holding the "on" button down, but it was a no go.
I asked Jennie if she wanted to run five miles instead of six. But we figured we'd ran before without the headlamp, so we would keep going and just be careful. We finished our six miles fine, just in a lot of darkness.
When I got home I messed around with the light to see if it needed new batteries or something else. I put three new AAA batteries in and it came on. And stayed on. It wouldn't turn off.
Well, crap.
I realized my light was broken. My first thought: "I'm going to need a new light."
I did a quick Google search about warranties, since I knew I'd had it only a little more than a year. I told myself I'd likely go pick up a new light to run with on our next outdoor run and, if I ended up getting  new light, I'd give it to my husband. He tends to steal my headlamp on a regular basis anyway.
I just happened to visit REI the next day to pick up some Kind bars. I happened to ask the woman ringing me up if they had any sort of warranties on gear. She mentioned the 100-percent guarantee. She told me next time I was around I should bring it in. I actually had it in my purse because I wanted to purchase a similar to one to what I had.
Within five minutes, a tech guy from the gear area came out, tried to cycle through the light and realized it was indeed broken. He then walked me over to where the headlamps were and asked me if blue would work instead of the back one I had. Sure. I don't care too much about the headlamp's color as long as it lights my way.
A quick exchange, even a year later it was easy to bring up my info because I'm an REI member, and I was out the door with a new headlamp (pictured above).
I'll miss my old headlamp.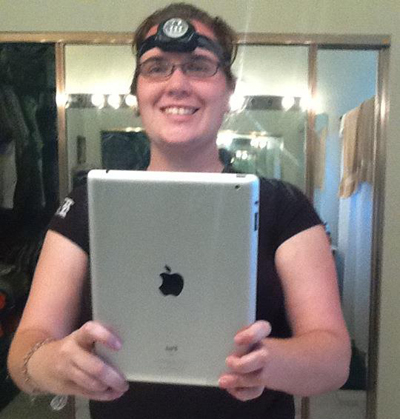 Don't mind the photo showing the gigantic iPad. This was before I had my iPhone. I know, it looks dumb. But that's my headlamp right after I first bought it.
And it works just like my previous one. It illuminates the path far in front of Jennie and I. It definitely makes running a lot easier at night.
What should you take from this post? Get an REI membership and buy your gear there. I was astounded by the quality of service and ease to return an item.
My husband once told me I paid too much for the light when I first got it. Now I know it was definitely worth the money.