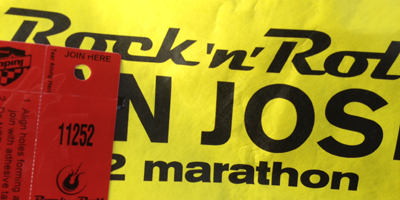 This morning, my husband and I ventured to San Jose about 60-miles away to pick up my race packet for the Rock 'n' Roll Half Marathon. I'm usually pretty accepting of picking up my bib number and race shirt far away, then returning home, but today I was annoyed for several reasons.
The first is that gas is ridiculously priced right now. The second is that I felt completely underwhelmed by the experience. So this isn't an expo review. Not at all. This is a post about how I've increasingly become against expos in recent months.
The Rock 'n' Roll expos aren't the entire reason. Competitor actually does a good job of moving people through the lines and then corraling them into an area where you can purchase more race stuff. And then you walk around and looked at all things running related.
Except I didn't want to stay.
We only had an hour on the meter anyway. I had already made a corral change. I had my bib and my shirt. I had my "swag" bag that wasn't full of all that much swag. We walked around for about 20 minutes and I looked at my husband and said I was done.
"I'm over it," I said.
And with that we walked back to the car and drove five miles to the nearest Lululemon. I'm not even joking.
I was disappointed for several reasons, all of which have been hallmarks of many expos I've been to lately.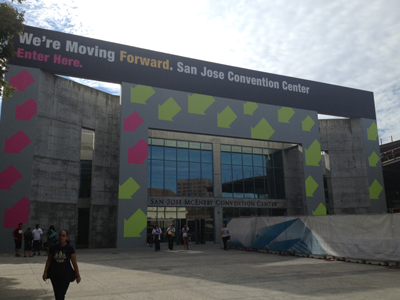 The first was the location. In San Jose, the expo was at the local convention center, right near/in the middle of the downtown area. Not bad. But the building was torn up last year when I went to this expo. And then torn up again this year. We had to walk much further than we wanted to. Petty complaint? Yes.
But consider we're in a metropolitan location and working against a meter and you'll realize our dilemma.
The next was organization and a tad bit of misinformation provided at check in.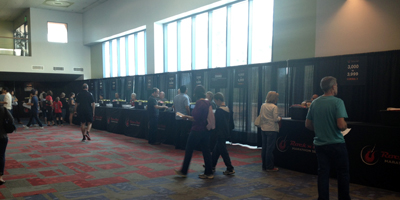 Check in was easy enough, but see that line at the end. That was the line for my initial corral. Above each of those signs was another sign that said
"corral changes." So I asked a guy if we made corral changes at the desks. Seems simple enough, right?
He said: "Do you know how this works?"
Then he proceeded to tell me where I needed to go to pick up my bib. I already knew that. I was asking a separate question. He wasn't listening, or didn't want to. I know this happens. But I've noticed a lot more lately that volunteers aren't exactly helpful at expos. Often they have no idea how to answer a question.
It's because they're volunteers. It's because they have very little training before being sent out to do their jobs for the day. In many cases I've seen teenagers leading people the wrong way at expos. They're probably working for community service credit, but still.
Again, working against a clock here.
The T-shirt pick up was a breeze, as was the "goodie" bag grab.
Except all these races that promise "goodie" bags have one sample and then a bunch of pieces of paper. The Rock 'n' Roll series is notorious for that. Other races (the Oakland Marathon and San Francisco Marathons included) have online options for this. I'm always appreciative of that, even though it likely requires more work.
Why? Because all but one of those papers from the expo I went to this morning went into the recycling bin when I came home.
I think next time I'll bring my own bag and skip the reusable backpack.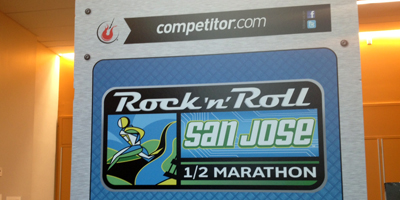 Another peeve is that there are very few deals to be found at expos anymore. Only a year ago, you'd see signs for compression sleeves marked down to $25 from $40 or $5 off on purchases at another booth. I rarely see that these days. I didn't see that at all today, outside of Competitor offering discounts on signing up for next year's event.
The size of the event was also smaller, likely due to the ongoing construction, so there wasn't as much to see.
I'm jaded, I think. I have all my "racing essentials" already. I don't need last-minute compression socks, or a sports bra, etc. I have running gloves that are packed in my gym bag every day. I have Glide. And sunscreen. I have, basically, all my goods with me. I've never purchased shoes at an expo. And I'm saving my money for the Nike Women's Half Marathon next week.
So we made quick work of it. For a 120-mile round-trip drive, with gas pushing the $5 range, it just wasn't worth it.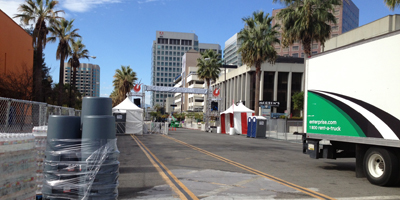 Even if I got to walk past the finish line, where I'll be, all things going fine, will cross the finish line and receive a pretty blingy little medal tomorrow morning.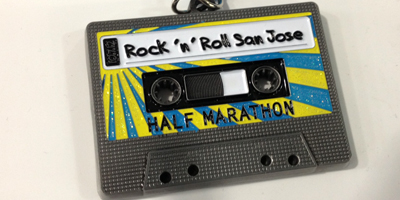 But instead of spending any money at the expo, we went and shopped elsewhere.
Race organizers often promise cities when they book events that the runners will bring money in and stimulate the economy. I don't have qualms with that. I think most races are money boons to cities. But I hate being forced to traverse miles and miles, only to have to come back the next morning.
We decided to venture to Lululemon and stimulate the economy there instead of at the expo, which kind of fails in the purpose of the expo too. It was there I picked up a pair of capris I've been eying and new ear guard for colder weather. And then we made out way back to Tracy, via a stop for lunch in Livermore.
The one good thing today? The race T-shirt.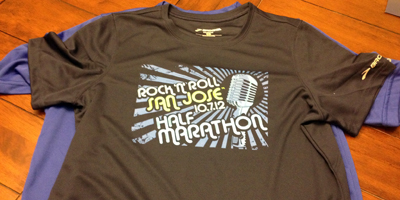 This year, organizers switched to gender-specific shirts. I have last year's shirt from the same race underneath. It's a unisex medium. The gender-specific one is a women's large, big difference.
GETTING TO THE POINT
This post seems rambling. I'm sorry for that, but there's a lot on my mind as I write it (including what I'll be making for dinner tonight). But I have a point.
Many races have strict "no race day" pickup policies to avoid confusion and disarray on race mornings. I'm totally fine with that. What annoys me is when I'm forced to drive long distances to spend 20-minutes at an expo and pick up a race packet when there's very little to offer me otherwise.
So, as much as I try to make a day out of it and add on some extras to make it "worth the drive," it usually isn't. The one exception to this is when I head to San Francisco for a race there, because I can often spend the entire day finding things to do.
Moreover, expos don't offer all that much to entice a more seasoned runner. (Yes, I'm calling myself a more seasoned runner.) For newbies and people still building a base stock on supplies, expos are great.
But most the time, expos offer very little in the way of useful items. This is the case for many of the expos I've been to in recent months. I just want to be out and done.
Jaded? Yes, definitely.
But I'm also saving a lot of money by not dropping money on every little thing at an expo.
I'd just like them to be more worth my time and not just a destination to pick up a race bib.
ON ANOTHER NOTE
I have a goal for tomorrow's race, but I don't want to write it or say it because I think that makes it too real. This race held my PR for nearly a year. It was one of my last good races before I hit a really bad slump at the beginning of the year.
So I have a goal. But I never know until I'm actually running if I'll make that goal, or if I'm trained enough. There are lots of variables. I'm definitely leaning on my time for this being faster than my projected time for the Nike Women's Half Marathon.
I don't want to have too high of expectations, because I'll be disappointed if I don't make my first goal, or even second or third goals. But I'm anxious to try.