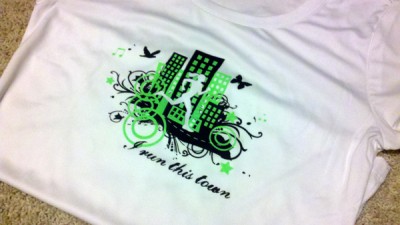 I got a new shirt in the mail yesterday. It came to my parent's house in Stockton, so I went and picked it up. I bought it from another runner who has a clothing site.
And I love it. I'm not sure if it's because it literally took two months to get so I've been patiently waiting or because it's unique and made specifically for me. But I love it.
When I took it out of the package I didn't think it would fit. But I put it on and it's awesome! I'm so excited to get to wear it at some point in the next week for a run. Probably not for the half marathon, but definitely for another run next week.
Speaking of running, I've been taking a couple days off. I ran the Nike Women's Half Marathon last Sunday. I'm running another half marathon this Sunday. I'm trying not to burn out. So I've only done swimming for the past three days. Tonight the swim instructor worked me hard. I'm tired.
Of note: I also came home to a second orange long-sleeved running shirt from the San Francisco Marathon. I love the one I got at my half on July 31 so much that when I saw they were only charging $15 for another one, I ordered. That makes only two races I've scored second shirts at. I have a second one from Oakland too because I love that one so much too.
And I'm waiting for another shirt from Saucony as well. I probably don't need a ton of running clothes anymore, but I love getting new running swag to sport. It gets me excited for the next run. Hopefully that's a recovery 5-miler in between my two jobs on Friday.