I'm going to say I'm disappointed. I was consistent for nine miles of this race. My aim was to run a 11:30 mile or under. In fact, I was moving along so well, I actually ran seven miles under an 11-minute mile.
I'm actually not disappointed by that. Not at all. In fact, it got me a new half marathon PR by 14 seconds. Yes, only 14 seconds, but still a new PR.
I'm a little upset because I think I could have ran EVERY mile under 11 minutes. I probably could have. But I was getting tired later in the race. My body wanted to keep going. My feet kind of hurt, though.
It wasn't a total disaster. Quite the opposite actually.
Four weeks ago I couldn't run at all. I've spent a good deal of time reinventing my training plan. I added in rest days. I'll be adding in cross training this week. I did good today. Only two miles were horrible. And they were under 12:30. And I paced with the 2:15 finisher group for about five miles of the course.
I did well today. I'm allowed to have some regrets, though. I do.
My day started out at 4:45 a.m. I rolled out of bed, took a quick shower and got dressed. I woke Thomas up as I finished packing my gear in the swag bag I got my the Saturday expo.
I grabbed a small bottle of Gatorade and did a 50/50 mix of it and water in my bottle.
We left around 5:45 a.m. to pick up Sam. We were on the road by 6:08 a.m. Moving along. Today's trip to San Jose went by much faster than yesterdays. No traffic. We were there by 6:50 a.m. We looked around and saw few people. Within 10 minutes thousands were embarking on downtown San Jose.
One of the first sites we see as we make our way to the start line was a huge pack of ambulances. I'm not kidding.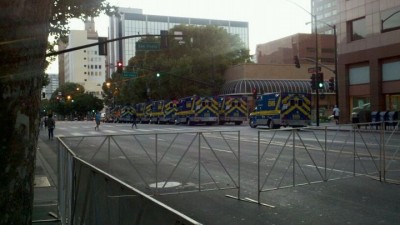 That didn't sit too well with Sam. She's a first-time half marathoner. I could understand. No one wants to end up on one of those during a run. (Later in the race she saw a guy go down near mile 12, I've been watching the Rock 'n' Roll San Jose Half Marathon Facebook page to see if anyone has information on him, but there is very little confirmed yet).
We checked out the finish line and grabbed some photos before it got too hectic at the main area.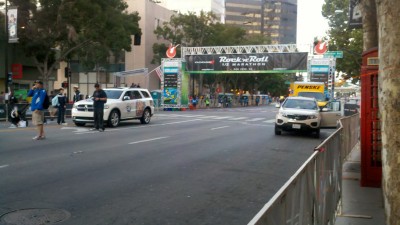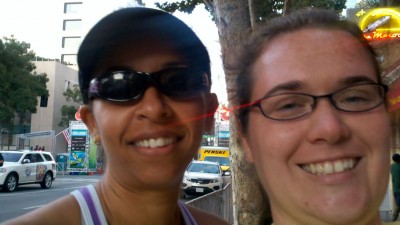 We made or way to the portable commodes (not nearly as cute as the Brooks dressing rooms during the expo) and started warming up. Lots of people were running up and down the street. We kept moving until we had to make our way to Corral 10 for the 2:30 time finishers. I could see 16 corrals in total with about 1,000 each. That's a lot of runners to get moving that early in the morning.
The race started promptly at 8 a.m. Our corral was projected to move across the start line at 8:07 a.m. We actually went at 8:04 a.m.
My Garmin was under four minutes off race time the entire run. That was nice. I've been in races where the clocks are way off, which causes a bit of panic when looking at the Garmin.
Mile 1: 10:14 — Well good morning legs, you are used to the Sunday long runs so lets get you moving.
Mile 2: 10:23 — Not bad timing here. I can see the 2:15 finisher sign.
Mile 3: 10:39 — Bands! We have music.
Mile 4: 10:39 — Lots of cheerleaders out here. Love the cheers about runners.
Mile 5: 10:18 — This pace feels good. Keep moving along.
Mile 6: 10:47 — Ugh oh, getting a little tired. Better have some Gatorade.
Mile 7: 11:38 — Walked one minute when my heart rate did a strange peak.
Mile 8: 11:29 — Moving along, slower now.
Mile 9: 12:26 — Walked through a rather congested water stop AND had a guy step on the back of my shoe and nearly pull it off. Seriously dude, walk much?
Mile 10: 11:47 — That's a little better, but suddenly feel tired again. More Gatorade.
Mile 11: 11:04 — Yay Gatorade!
Mile 12: 12:25 — That small hill near the end just seems like cruel and unusual punishment. I slowed, but didn't walk.
Mile 13: Look at Garmin. I'm coming in under 2:30. RUN! RUN! RUN!
Mile .3: 2.42 (average pace of 8:58) — Yeah, I ran 13.3 miles. I wasn't watching the tangents well with this.
I crossed the finish with an official time of 2:27:20, a new PR by 14 seconds. My Garmin reflected 2:27:27 but I always forget to turn if off exactly as I cross (my husband even asked if I had remembered to turn it off this time, I once drove five miles down the freeway with it still on, that REALLY messed up my time).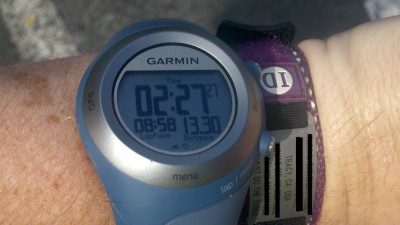 Woo for a new PR!
I called Thomas to find out where he was. Turns out he wasn't too far away. I was handed my medal (which was heavy) and started to figured out if I could wait through the crowd for Sam.
She came in at 2:32:59. She rocked it too even if her initial thought was "finish in under three hours." She did so, no problem.
We had to make our way out a huge horseshoe-shaped area to the crowd. We were handed water, bananas, oranges and some Snickers Marathon bars. They taste like candy bars, so I keep wondering if they are really good for me.
Sam opted to get her knees wrapped in ice. She tells me if felt really good.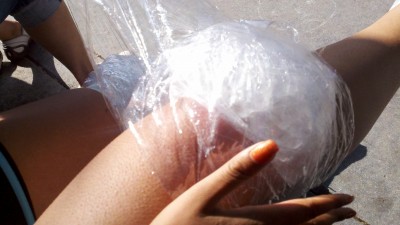 To me it just looked REALLY, REALLY cold.
We sat down for a little bit, just to cool off and decompress. I think both of us needed it. And then we did the obligatory photo opp thanks to Thomas. He was patient enough with us to take our photo and wait while we complained mostly about random stuff and how bad we were hurting.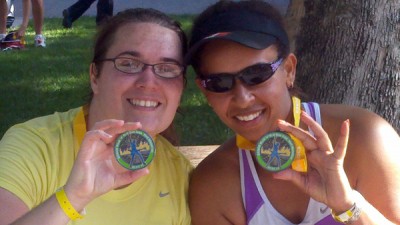 We headed to the merchandise tent to purchase a new shirt for me. I usually prize my PR shirts and I wasn't too hot on the unisex size medium I got at the expo. I got a "finisher" size small shirt. I also bought two pint glasses with the race logo (because they were cool) and a pin. All that got me a free shirt, which I gave to Sam (we joked later that it's because I'm a Dri-Fit snob, I only like clothes I can run in).
Then we hobbled over to P.F. Chang's for a second day in a row (Sam and I ate there in Plesanton on our way back from the Expo). Our race bibs got us $10 off, so we had lunch for three for only $21. And that included a beer. Good deal.
Overall a successful first half marathon for Sam and a great PR race for me, even if I was a little inconsistent.