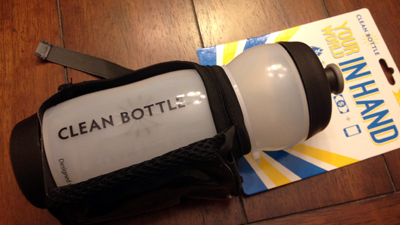 About a month ago, I read a review for the Clean Bottle on another runner's blog. She, too, favors the Amphipod Hydraform Handheld Pocket. But she was pleasantly surprised with how the Clean Bottle worked for her too. An even better bonus is that this bottle is much easier to clean.
A fun fact about running water bottles: No matter how hard I try, my bottles always seem to get some sort of "film" or "fungus" inside. It's nothing a little scalding hot water and some wash brush action can't take on, but it's annoying nonetheless.
So I was tempted to check out the Clean Bottle when I saw that it was getting positive reviews.
I was thrilled when I saw Clean Bottle had a booth at the San Francisco Marathon expo. I was more thrilled with the "buy three, get one free" price. On the table, the representatives had both the regular version and something called "The Runner."
I picked up four bottles, one of "The Runner" and three regular, for $20. That's as much as one Amphipod costs, so I figured even if it didn't work out for outdoor running, I could use them on the treadmill. (I usually take the bands off my Amphipods and use those on the treadmill.)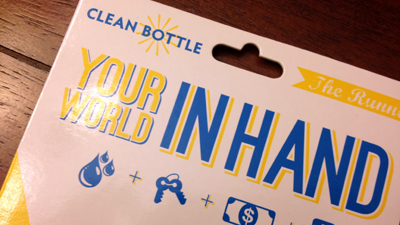 It basically operates on the same premise as my Amphipod bottle, with a couple notable exceptions.
The first is size. The Clean Bottle carries two more ounces than my Amphipod handheld. That's not a lot, you could argue, but on a long run over the weekend as it was warming up in the morning, it was enough for me to notice.
The second is that the band that wraps the bottle for the runner to hold is connected to both the bottom and the top. My Amphipod one wraps tightly around the bottom of the bottom, but sometimes comes off during races. That actually happened during the California International Marathon in 2011 and was really annoying.
I took the bottle on it's maiden run with me during my vacation a couple weeks ago. I was initially nervous about the shape and size. It's round, whereas the Amphipod is lean and made to fir the curve of your hand.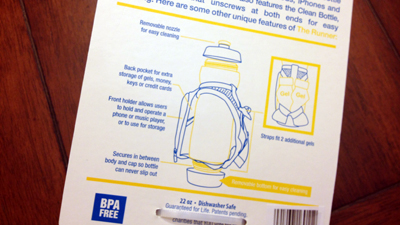 It fits an iPhone in the clear pocket and also has a place to carry Gu. I run with an iFitness band in order to keep everything I need close at hand, so my phone goes in there. I did, however, put my keys in the carry space. It worked perfectly for me. (I know some people like to run with their phones in sight. I'm not one of them. I'd rather not be targeted for a robbery because someone can clearly see my iPhone. Most the time, I keep my keys hidden too.)
I started running and basically forgot it was a different bottle.
It wasn't heavy. It wasn't bothersome.
Even better, the tip on it is more rubbery, so it was easier to grasp with my teeth and open mid run.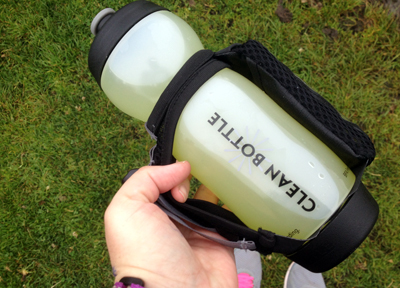 And when I got home, it literally too seconds to clean. All I did was unscrew the top and bottom, rinse and then set aside for it to dry. No using paper towels to get out any slim or any other gross stuff.
I'm happy to say I've run with this four or five times since then and it's been just as effective. It works just as well as the Amphipod bottles AND makes cleaning up a breeze. It's kind of perfect.
My only qualm is that I'd like a model that doesn't have the pocket for the iPhone. I'd rather just have a little area to keep my keys or a Gu or two. I see this area being especially annoying for people who don't have iPhones.
I gave my running buddy Jennie a bottle to try as well and she uses it near daily at work now. She, too, loves the simple design and ease of it to disassemble.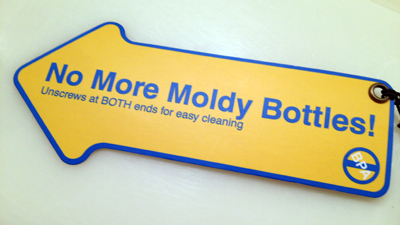 Plus, it's BPA free. A win-win.
I don't think I'll run out and buy 10 or so of these. I like that I can use the same strap for all three of my Clean Bottles. I also like than, unlike Amphipod, you can buy extra bottles without buying the pockets. I have bought the bottles only on the Amphipod website, but last I checked they didn't sale the 20-ounce model like that.
And I'm not ready to replace my Amphipod runners yet either. I still love those for racing. I still will likely use them all the time. But if you know a runner in the market for a new water bottle, I think the Clean Bottle should definitely be on a recommendation list.