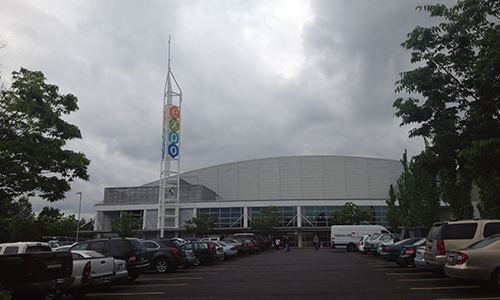 So I mentioned how Sam and I made our way to the expo with a very expensive cab ride. We wanted to get out of the cab so bad, as to not incur any more charges, that when the cabbie asked us where we wanted to be dropped off we said "here!" the moment we could get out of the car. That's how we ended up in a different expo hall that we should have been.
A gun and knife expo. This was definitely uncharted territory for me.
I was confused. Sam was interested. But it cost $10 to attend. If it hadn't of cost anything and if we had not just taken a $40 cab ride, I bet we would have gone. I could have at least taken a lot of photos for my husband.
"Where is the runner's expo?" Sam asked a very nice security guard. He smiled, because he'd obviously been asked the question numerous times during the day. He pointed us out another door and through the parking lot.
The hall for the Rock 'n' Roll Portland Half Marathon's expo was far larger than the smaller one we'd walked into. We were greeted by cheerleaders. Very happy, jumping-up-and-down-type cheerleaders. The good thing about Rock 'n' Roll expos is that they are well-oiled machines. There is little or no deviation from one to the next, outside of the addition of one of two things here and there.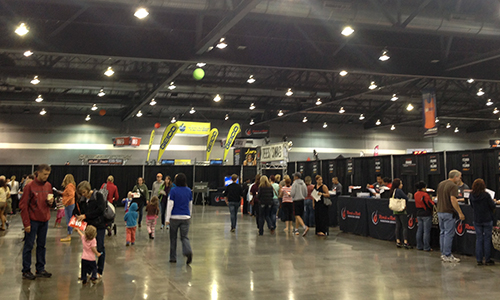 The nice thing is that it means you can usually get through the main check-in area pretty quickly. Sam and I were done picking up our numbers in about five minutes. We were also given "Run Now" bracelets in honor of the Boston Marathon. We headed over and grabbed our race shirts, which were a nice gray color that kind of matched the weather conditions.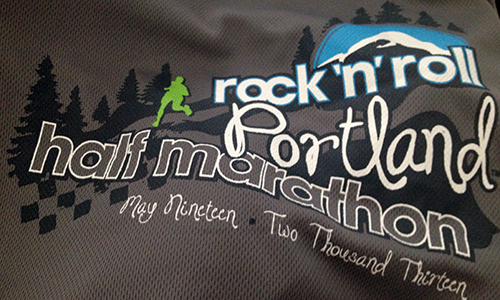 I've noticed that the race shirts for the Rock 'n' Roll series races have started to be a lot nicer. I actually want to wear them now as opposed to the first Rock 'n' Roll race I ran where I was handed a unisex shirt that was basically way to big for me to even bother taking out of my closet.
I particularly like this one and one from the Rock 'n' Roll San Jose Half Marathon last year. My Pasadena one is kind of so-so in terms of design, but it's red so I like wearing it when I run in the evenings.
As with all the Rock 'n' Roll expos, you exit the main check in area and then go right into the Brooks-sponsored merchandise. Sam normally HATES this part. It's all overpriced and, since we already got a race shirt, it's usually full of things we absolutely don't need.
That said, something was different about this race expo.
The moment we walked in, we noticed a strange carnival-style set up.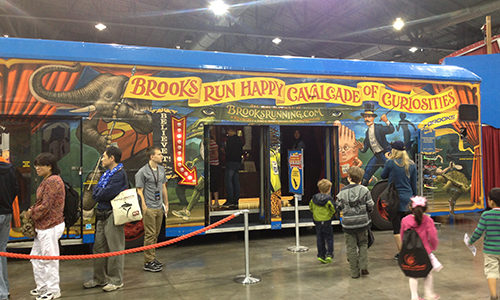 Brooks had a huge area dedicated to its "Cavalcade of Curiosities." To say we were curious would be an understatement. We kind of stopped right in the middle of the expo and tried to figure out exactly what we were looking at. In all our previous Rock 'n' Roll experiences, we'd never stumbled upon anything this grand in the merchandise area.
A guy handed us two cards to fill out, which we did, and then told us to head to the prize area and see if we won something. Everyone was guaranteed a prize, he added. Plus, after the noon "show" we could stick around to see if we'd won a pair of Brooks shoes.
Sure enough, we walked over to the booth and handed our tickets over to a Brooks representative, and were each given a prize. Sam won a red T-shirt. I got a Brooks Run Happy bandana.
It was nearing noon, so we stuck around for the "show" not really knowing what it was.
It was pretty amazing.
That's my edited version of the 15-minute show that was part fun, part marketing pull for Brooks shoes. My trail shoes are Brooks. I run, primarily, in Nikes. The one time I switched to something else, I tore up my feet. I never broke my pair of Saucony Hurricane 14 shoes in. I ended up giving them to my mom instead.
So I wasn't convinced. Sam wanted to check out the Brooks, though. So we did.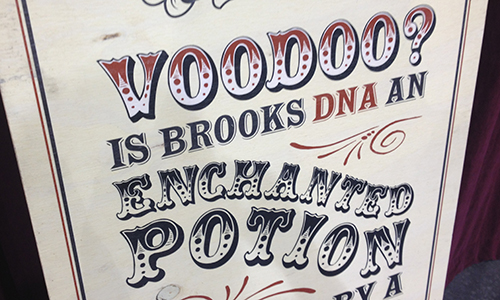 It was around this point Sam declared this the "best race expo ever." She even looked up where the "Cavalcade of Curiosities" traveled to. Not one stop was in California. That was surprising if only because California hosts a lot of races, including many Rock 'n' Roll races.
One thing we both had done was a gait analysis. I wish the video that was sent to my email worked, but it doesn't. The Brooks representative had be run barefoot on a treadmill. I'm a overpronator. That's why I've always run in stability shoes. My stability shoes started out exactly as they sound, kind of clunky with a big sole. When Nike moved into the Lunarlon padding and discontinued my Nike Equalon's, they also moved into prettier shoes.
All that said, I now see how I overpronate thanks to the analysis. My right ankle bows out a little when I run. It's not severe, but it's noticeable.
See how jam-packed this expo was? We weren't even out of the Brooks main merchandise area yet!
When we decided to leave the area, we came across the the Brooks fortune teller. She told our running fortunes for the next day.
In total, we spent more than an hour in that one area alone. When we finally got out to the main merchandise floor, Sam and I even purchased lightweight running tank-tops with the race name on them.
The rest of the expo was just as filled. Our stops included numerous food vendors, including getting free regular-sized Chobani yogurt samples, and finding other runner knick-knacks along the way. Sam recently got a new phone that doesn't fit inside her Nike water belt. So she found a new belt that expands to probably 10 times its size from the Hippie Runner booth.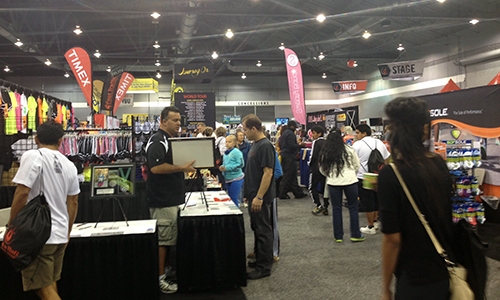 This was also a more densely-packed expo than we were used to as well. Sam always tries to get in the tape line, to get her knee taped, but it's usually ridiculously long. Even with only 10 people or so, it ALWAYS takes forever. Sam, like me, is impatient when it comes to that stuff. So she got out of line.
While she was in that line, I was in another one. But mine went by quickly because I was waiting for Kara Goucher to sign my race bib. You know how fast she is when she runs? She's also that fast signing bibs. And that's not to say she didn't spend time with me. She signed bibs or other race items, then took photos with nearly everyone.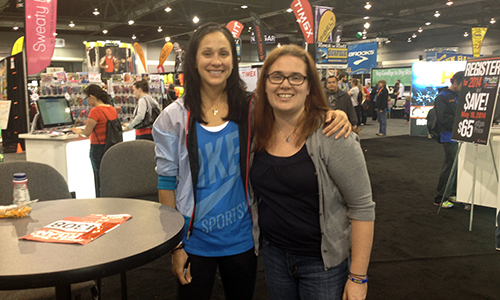 Because Kara Goucher is amazing. And I'm pretty sure her signing my bib made me a better runner during the race. At least it propelled me to do my best.
After more than two hours at the expo, we decided to call it a day and hit the train into downtown Portland where Sam had booked a hotel for herself when she registered. I'm thankful she let me crash with her and I didn't have to get my own hotel room.
Our trip on the Tri-Met was about 30 minutes. We got off at a street called "Couch" but pronouced "Cooch." I'm pretty sure I nearly died laughing when I heard the train's automated voice say that. (I know, pretty juvenile of me, but whatever. It WAS funny.)
We checked in and then headed down to Voodoo Doughnut for our first of three stops there where only one ended in us getting doughnuts. That will get its own blog post later on. By then, it was raining. And the rain just kept getting worse. And worse.
It was about that time we realized we were also very hungry, so we walked back up to the area near our hotel called the Pearl District (or at least that's what many of the signs said). There we stopped first at a fun place called Lardo, but the menu was all sandwiches. Instead, we found ourselves in the bar area at Jake's Grill Seafood Restaurant.
And we were starving, so much so that we both ordered an appetizer.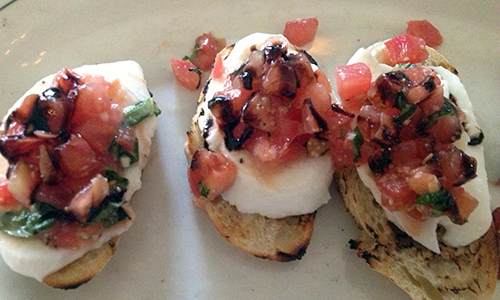 The bruschetta was just what I needed, despite the fact that the cheese didn't really have any taste. I then ordered a $4.95 cheeseburger and fries. I have to say it was the best $5 meal I'd had in a long time, exactly what I needed.
I also had a margarita. And a mango mojito. Before a race. I was living dangerously.
After dinner, I made Sam head to a fancy cupcake shop. Because I'm all about the fancy cupcakes.
Outside of the fact that the staff completely ignored Sam when she was hoping to order to, the cupcakes were pretty good.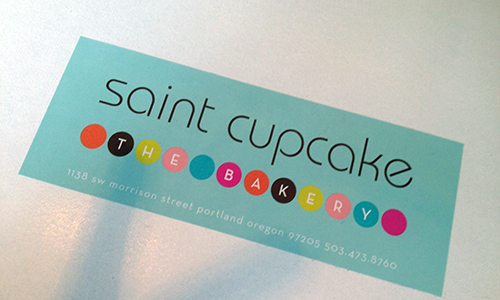 I ordered six cupcakes. Six. Probably because I'd had a couple drinks and was convinced it was a good idea at the time. It was, actually. But I kind of regretted it the next day when I had to take four of those cupcakes home to California. I was literally stuffing cupcakes in my Voodoo Doughnut box so I could limit my number of carry-on bags.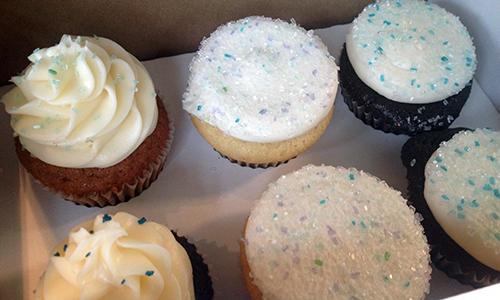 Confession: I was not a fan of the cupcakes with cream cheese frosting. But the butter cream frosted ones with sprinkles on them were amazing. I ate the last one yesterday. I tried to savor every bite.
Once we got back to our hotel, Sam was exhausted. She had an ear ache from the plane. The moment we got to downtown Portland we had to find her some antihistamines. By the time we were done with dinner, the pills were really starting to work.
That means we actually got into bed at an early hour. So early it was still light outside, which my husband said is because we were in the Pacific Northwest. It was about 9 p.m. when I decided to turn in too, because I was feeling the impacts of a long travel day too.
Surprisingly, we both slept well. And were ready to wake up at 6 a.m. the next morning to Rock 'n' Roll our way through Portland.