I ran to be empowered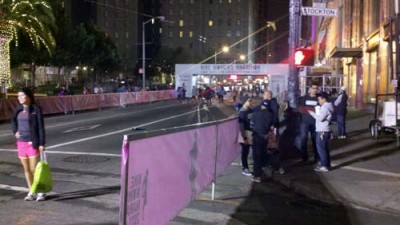 Words can't describe how it felt to get to a rather warm San Francisco morning with two of my closest friends for the Nike Women's Half Marathon on Sunday. I was excited. I was nervous. I was elated. I had a moment or two where it just really felt unreal.
It should of.
Six weeks ago I wasn't running this race. I hadn't made it into the lottery in April. Neither had my two running buddies. There was little to no chance of us running this well-known, women-centered, ridiculously huge race.
Then I gained entry thanks to Somersault Snack Co. in Sausalito. Jennie and Sam were happy for me, but I was saddened by the fact that they weren't running with me.
Then someone posted a Nike+ code on our running group's Facebook page. I called Sam. She called Jennie. Within 10 minutes they were both signed up to run with me. It was meant to be. I'd gone the entire year thinking there was NO WAY I'd run this race.
We didn't train for hills. Instead, we ran flat surfaces more than anything. We didn't even have enough time to train for the massive hills in San Francisco. But we knew we wanted to run this.
And so we did.
My husband dropped us off near Union Square. There were a ton of people. And spectators everywhere. It was a madhouse in every respect.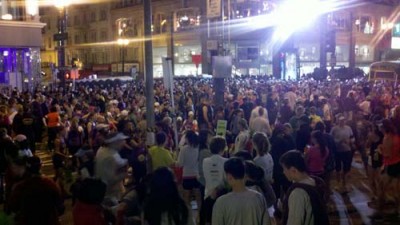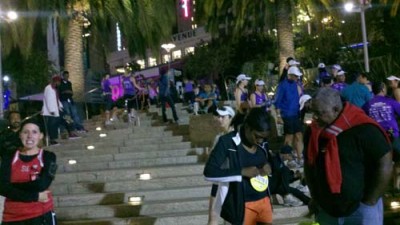 There were people everywhere. I was to meet the Team Somersaults runners on the corner of Geary and Powell at 6:15 a.m. for a photo opportunity. I got lost in a sea of people. The Safeway team had the same shirts we did. I kept seeing people wearing our colors and trying to follow them. I should have known better, as Team Somersaults also had cool yellow sweat bands and sunflower clips for our hair.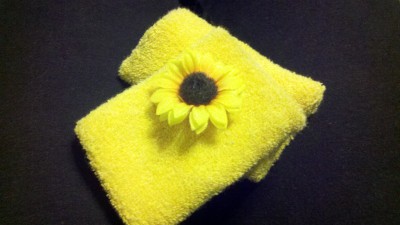 That's my swag, post race and washed. Those sweat bands come in really handy during a run, let me tell you.
So we gathered on the corner for a quick snapshot. I was able to meet a couple more of the team members. It was crazy hectic. People were walking in front and behind us. But we got a couple snapshots for the Somersaults Facebook page.
Sam also snapped one, despite holding two water bottles for me.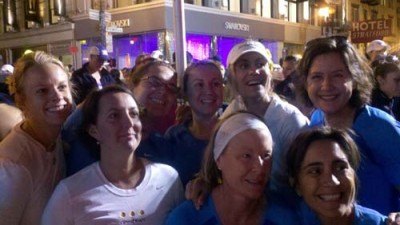 These are a group of awesome ladies who represent such a great company. It was wonderful to get to know them. Shout out especially to Jamie, I found first this morning and who I ran with two weeks ago. She has an awesome blog too. She'll be running a race I'm also running in the near future, so I hope I get to see more of Jamie.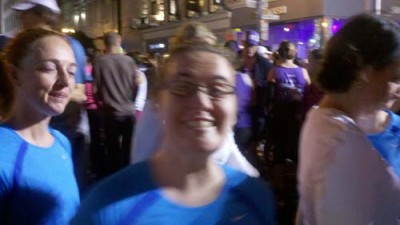 Sam also snapped a slightly blurry and unflattering photo of me while I walked back to her. We started walking to the bathrooms and literally turned around and lost all the Team Somersaults members. That's how crowded it was.
I put my phone away shortly after this. We waited in a bathroom line until the start. And then, when we didn't move for 15 minutes, we ended up all taking over an empty stall near our corral. There were too many people in the bathroom line for anyone to see three or four of the portable toliets were open.
Then we started running and, for only the second time ever and the first time during a race, my Garmin malfunctioned. It refused to pick up the satellite. Lame. I waited nearly 10 minutes as we were corralled to the start. Nothing.
I'm assuming it was because there were likely 5,000 other devices also trying to pick up signals.
I started with my 405CX just keeping time. It finally picked up and kept a signal a mile in. But, by then, the damage had been done. My "first lap" was 26 minutes according to Garmin. The mileage was way off. I took this as a signal from someone or something out there to not take this one as seriously as I have been recently.
Have a good run, I thought. Don't think about it.
Miles 1-3 were relatively flat.
Miles 5-9 were hilly. But we hung together.
Miles 10-13 were recovery, with one very need bathroom stop.
And we all stayed together until mile 11 when Jennie (who is faster than she thinks) decided to move ahead. She finished 3 minutes ahead of Sam and I.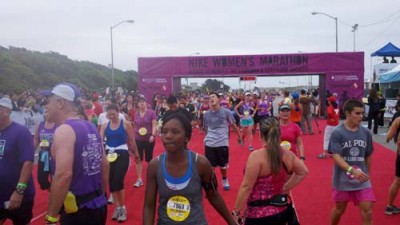 Jennie was waiting for Sam and I to cross and hug us. We then walked to the shoots to get the coveted Tiffany finishers necklace. I can't tell you how beautiful it is. You have to see it to understand. It's just amazing. Everybody was stopping to take photos of the fireman handing them out.
Including me.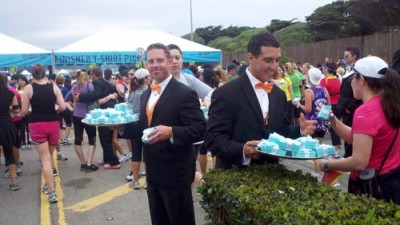 On a silver platter, nonetheless. Love. After making my way up massive hills and pounding my way down them, these men were a sight to behold. That said, I was more interested in picking up my finisher's shirt and getting something to eat than checking out my necklace. I didn't open the box until about 20 minutes later AFTER Sam had showed me her necklace.
And it was as awesome as I imagined.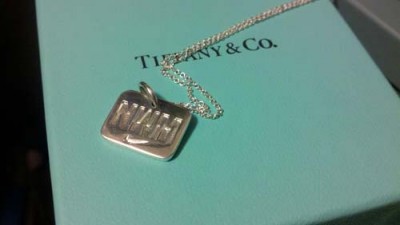 I own one other Tiffany & Co. item. It's a scarf. This will be a treasured item for years to come, believe me.
The finishers shirt was an awesome yellow one too. I'm considering wearing it for the half I am running next weekend. Why? Well, if I'm slow it will show people that I'm crazy enough to do two half marathons in two weekends. Plus, let's face it, it's pretty awesome too.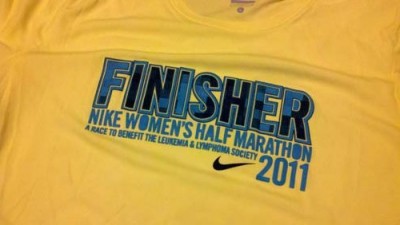 Once we settled down and caught our breaths, I had time to reflect on how awesome the experience was. My husband (who lost me, or I lost him, I don't know, but we miscommunicated) brought me my bag and a change of clothes. Thank goodness too. It was a warm day in San Francisco. I smelled. I was sweaty. I changed into a new shirt I bought at Niketown on Thursday. And we celebrated with a photo.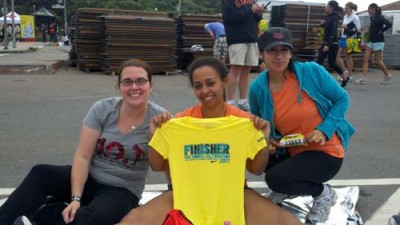 The photo above is really what his race was about. Friends. Love. Happiness.
I walked away from the Nike Women's Half with my slowest half marathon time to date. My time was 2:53:30. But it was my best race ever.
I ran with my friends. I ran representing an awesome company that gave me a gracious free entry. I ran to be empowered. I was empowered by the 20,000 women (and men) who ran with me. Even as I was weaving in and out of people and waiting in ridiculously long bathroom lines, I enjoyed nearly every moment of it.
I'm on a runner's high. I can't describe it other than that. My high is as tall as the Golden Gate Bridge, no kidding. We, by the way, ventured that way to head back to the East Bay and home to the valley. We even stopped by In-and-Out Burger in Sausalito for a post race meal.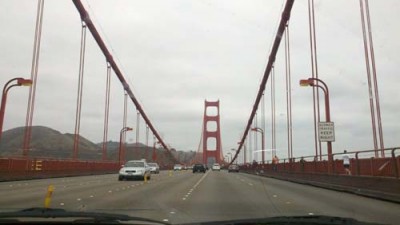 It was an amazing day filled with amazing happenings. I can't say much more about how awesome it was. I consider myself a very lucky girl to have such great opportunities (again, thank you Somersault Snack Co.!!) and good people around me. Because that's what it is about really. I have friends who help me navigate the marathon that is life and also help push me through a 13.1 road race.
That's love. And it's a nice metaphor for life in general.
That said, it's also a little about this: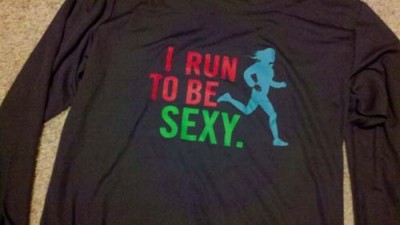 I also picked that shirt up at Niketown on last Thursday. There's fun involved too.
We all have our reasons to run. I ran my first half to be stronger. I do my training runs to be powerful.
I run, sometimes, to be sexy and fit into my slim jeans. (I don't call them "skinny" because I've never actually been "skinny.")
Sunday, though, was proof that bad runs can be good runs. And good friends and good company are the reason why.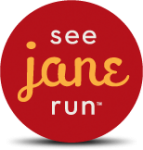 Run with me!
Save 25 percent all See Jane Run races, including the June 21 San Francisco Bay Area run, by using the code SJRAMB243. Use the code to also save 10 percent on online store discounts at seejanerun.com.