The signs are everywhere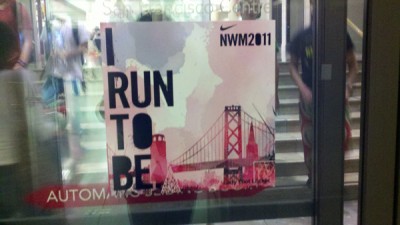 I haven't had much time in the last 48 hours to run let alone blog. I worked late on Wednesday and came home and ran 6 miles. Thursday, my rest day, I worked part of the day before venturing via BART to San Francisco from Dublin to pick up my Nike Women's Half Marathon race packet (really just the number) and check out the offerings.
I'll be blogging a full race report after I present at a journalism conference in Sacramento on Saturday (the main reason I had to go to San Francisco on a Thursday). But I thought I'd add this because it kind of sums up my excitement for this weekend.
I literally was off BART for 3 minutes when I saw this sticker on the window at the mall in San Francisco.
The signs for the NWM event were everywhere.
Counting down now…two days.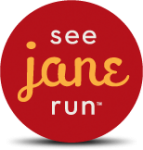 Run with me!
Save 25 percent all See Jane Run races, including the June 21 San Francisco Bay Area run, by using the code SJRAMB243. Use the code to also save 10 percent on online store discounts at seejanerun.com.