It's not an expo, it's an Expotique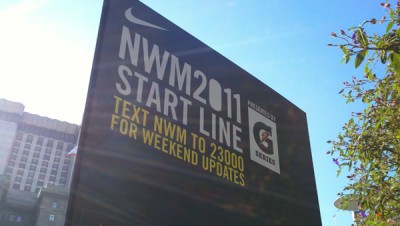 I'm going to try to temper my excitement with this post, I swear. But it's going to be hard for a couple reasons. One is that this is the race I've wanted to run all year. Another is that I'm doing so for free as part of Team Somersaults!
I had commitments both Friday and Saturday, so I was glad Nike started the expo – or Expotique as it's called – on Thursday. A bonus to that was that my brother-in-law was playing a show right down the street in the same area. So I took BART in from the East Bay and left my car where my husband, who was meeting me for the show, could drop me off later.
I literally jumped off the BART and headed immediately to Union Square.
If you know anything about that area of San Francisco, you know it's a huge tourist spot. The sidewalks, which are all under construction around Union Square – making me wonder how all of this is going to go down on Sunday – were full of people. I tried to wait patiently at the light.
When I finally got across the street, I was greeted by a little confusion and a huge tent.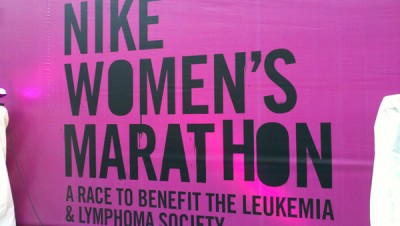 I went to one side and was told by a guard that the line for checking in was there. I waited there for 10 minutes when I realized it was the wrong check in line. Another guard told me to go to the middle of the tent. Wrong again. I finally saw where check in was, only to have another guard – really rude this time – tell me I had to yet again go around the tent. Signs would have been nice, but I digress.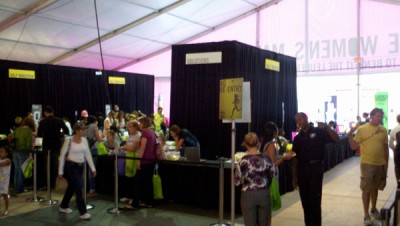 I found the yellow-marked half marathon line. Check in was quick. I was handed my number – a circular bib with a really low number, apparently numbers are assigned when we get there, which is easy for volunteers – and a bag full of coupons and samples, including Somersaults Snacks new flavor cinnamon.
I then proceeded to the rest of the tent where there were a good deal of vendors. Even on a Thursday, it was a big of a mad house.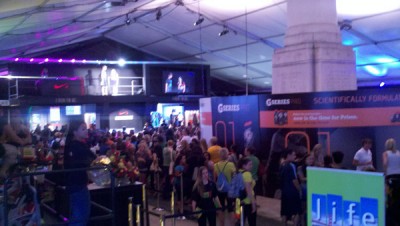 There were samples of Gatorade, Pom and Neutrogena. Some women were getting their hair done. Others were getting foot massages. I honestly wasn't interested in either of those things. I'm not just into really girly stuff.
Safeway had an awesome setup to ride a treadmill and power a smoothie.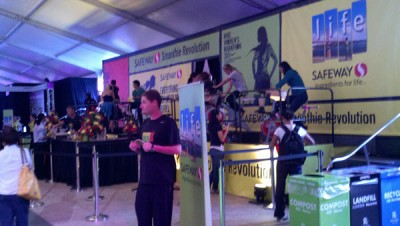 The tent was a little stuffy, despite huge fans. It was a relatively warm day in San Francisco. I took off my jacket (I didn't need it at all, even at 9:30 p.m. when I finally left) and stuffed it in my black pull string backpack. I ventured outside and found that Safeway had more samples of an Asian noodle salad, fruit and cookies. They were also pouring Italian soda.
Awesome! I'd been hungry my way over and didn't stop to eat before I came to Union Square.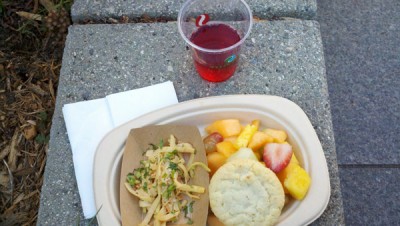 I went back into the tent for a little while and checked out the different offerings. I also noticed that there was a deejay! I'd never been to a expo with a deejay! That was kind of a nice addition.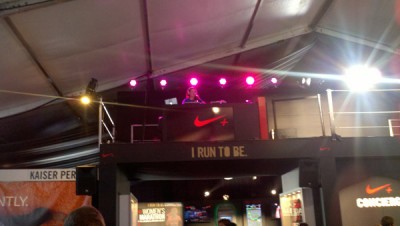 I followed another crowd outside where there was a booth selling runner must-haves (forgot Glide? They had it). I also noticed a really crazy line forming at another booth. I went over to check it out. It was the Somersaults Snack Co. booth! The demand was huge! I tried to squeeze in, but a group of about 15 women went by me as I was taking this photo.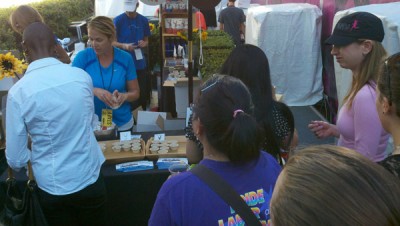 "Try some of the cinnamon ones!" one of them said to the others. By the time I backed up, they were surrounding the booth. Somersaults Snacks were definitely one of the highlights of the expo. And see the team jersey? Love! The ladies at Somersaults also gave me a sunflower clip to wear in my hair for the race.
And, because I didn't want to cover my team jersey, I bought arm warmers to wear. This will be my first race with arm warmers.
So the expo got a little crazy after that as more and more people came.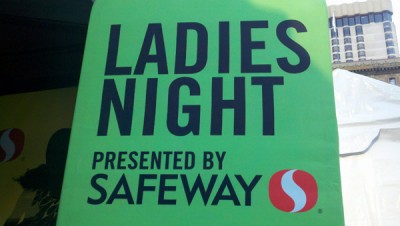 Safeway was hosting a "ladies night," so there was a lot going on. I decided to take leave and head over to the Niketown store where I knew the crowds would also be. One entire floor is dedicated to Nike Women's Marathon goods. I walked in and there were people everywhere!
I went looking for half-marathon specific apparel. I'm a stickler for that. I don't want to wear a shirt that says "marathon" typically unless I've run the distance. That said, there were a lot of people running the half buying the apparel. So I grabbed up two half-specific shirts. And I got a bag. And a poster (even though I registered late so my name isn't on it). I bought an awesome jacket. It says NWM, so I think I'm going to take it to a local embroidery guy to add "13.1" to it. I'm weird like that. I also grabbed a water bottle.
I found one specific shirt that I absolutely love, though.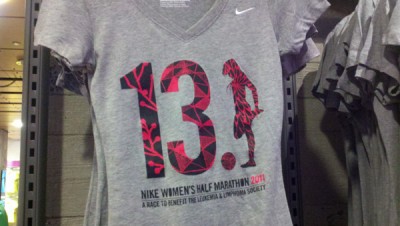 I bought enough to get me a free photo frame. It also flagged fraud alert on my American Express. Nice. I had to try to remember my pin number. Awkward when you can't even remember setting up your credit card. Not sure what the lady at AmEx or the guy behind the counter thought of me. But the purchase went through.
By the way, the Nike store is decorated in all NWM. It's inspirational. I kept trying to take photos of the huge sign as I went up the escalator. They all came out blurry. So this is my best effort from the line.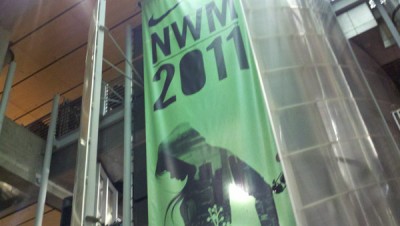 After calling my husband to make sure he knew the card was being used lawfully by me, I went back to Union Square where part of the crowd had thinned out in some areas, or so I thought.Everyone was actually inside the tent as they drew names for a Cole Haan bag. I found my way around, checking out more booths.
At one, I was offered frozen strawberries. The guy manning the booth also told me not to be afraid of the first hill in this one. That kind of put me at ease, but not really. I grabbed the strawberries and found a stand-up table to eat at.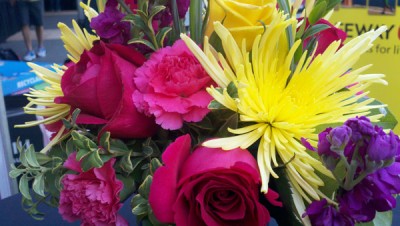 Safeway also provided the decor for the tables. Beautiful flowers. Nice setup.
By then, it was getting to be time for me to head out. I tried, again, to stop by the Somersaults booth. They were so busy! Every time one person left, another person came over. Those cinnamon-flavored snacks are kind of addictive.
I passed by a couple more vendors. The Google Wallet people gave me a free Diet Coke. The technology was pretty awesome, but not available on my Droid X. And I received some samples from the Meyer's Soap folks too. Good stuff too.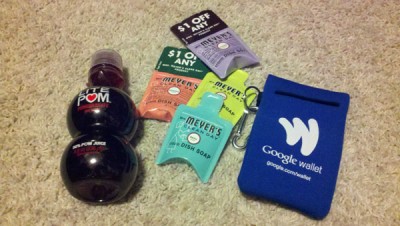 That's my spread at home later. I also "liked" Neutrogena on Facebook at the booth to receive a small bag with face wash and sunscreen. That will come in handy tomorrow. I'm hoping it's a nice, yet cold, day.
After all was said and done, I headed over to the Westfield Shopping Center to look around and wait for my husband. I walked past even more signs proclaiming it Nike Women's Marathon weekend. It was awesome.
The one hanging from Macy's was, by far, my favorite.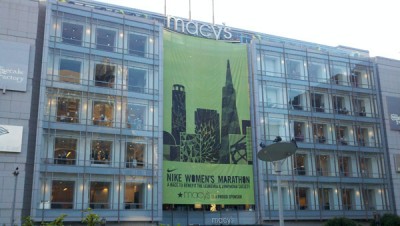 Also among my favorite is the shirt I bought that says "I run to be sexy." It's a long-sleeve shirt, perfect for the soon-to-be-cooling weather. I bought it after seeing what I consider a huge sign telling me to do so at the Expotique.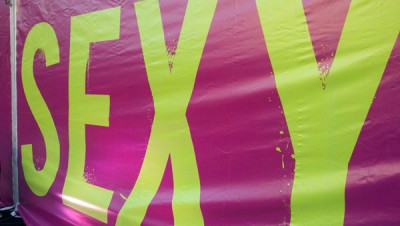 So my visit to the Expotique went really well. I chatted with some folks, spent way too much money at Niketown, got my bib and I think I'm almost ready for the Sunday run.
I can't say it enough: I'm excited to run this race. I'll be more excited when I get to San Francisco tomorrow at 6:15 a.m. and meet with with Team Somersaults for our photo beforehand. I'll be excited when I run, even if the hills turn out to be not so wonderful.
To me, it's not about the Tiffany necklace at the end. It's not about the swag. It's about the cause this is for. It's about what it represents. Thousands upon thousands of women running together for a cause. It's about empowerment. In the past two years I've run to be a lot of things.
I run to be stronger. I run to be powerful. I run to be healthy. I run to be sane. I run to be me.
On Sunday, I run to be empowered.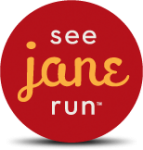 Run with me!
Save 25 percent all See Jane Run races, including the June 21 San Francisco Bay Area run, by using the code SJRAMB243. Use the code to also save 10 percent on online store discounts at seejanerun.com.