Problems afoot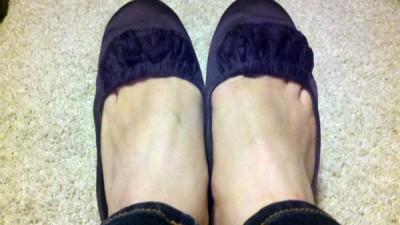 When I lost 30+ pounds more than a year ago, the first thing I did was run out and buy an amazing pair of Steve Madden patent black pumps. They are still one of my favorite pairs of shoes. And they changed my life.
Because I wasn't carrying around extra baggage, I could pull off a pair of awesome heels. I did so, frequently. I even had matching pairs of flats for nearly every pair I had, just in case I had to run out and shoot video for my job.
My heels made me taller, more confident. Wearing them was a reward for losing the weight.
Flash forward to March when I ran my first half marathon. Three days before my run, I was rushing up some stairs at the local community college I work at part time. My heel got stuck in a crack and nearly pulled me down. Even worse, it skinned up my foot pretty bad. It's no wonder I had such bad foot pain during and after the run. I was walking wounded.
I realized after I made the decision to run more half marathons (and eventually a marathon) that, perhaps, heels weren't such a good idea when it came to running. So I gradually started not wearing them.
I didn't realize how much I'd changed until today when I was talking to a coworker about it. My shoes today (above) are a basic pair of purple flats from Gap. They are about 2-years-old. They have a little ruffle. They are functional, and yes, even cute. But they aren't heels.
These are heels.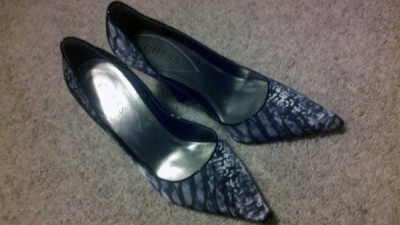 They are a marked down $90 pair of Guess satin pumps from Dillard's. They are amazing shoes. I feel like a goddess in them. But I've never worn them out in public. I can't muster up the courage to do so when I may or may not injure myself or make my legs more tired than they already are after 10+ weeks of marathon training.
So I don't get to wear beauties like these either: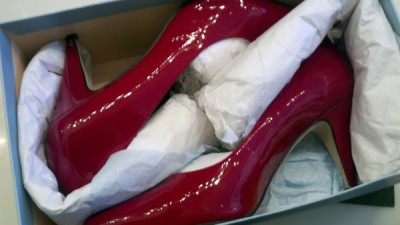 Could I, technically, go out and wear them anytime? Yes. Of course I can.
But I can't seem to do so because I can't convince myself it would be good for my feet. My poor feet take a pounding with long runs four times a week. The last thing I want to do is aggravate them more. So I defer. I don't wear the heels.
I have pulled them out for special occasions. But not for my 10 to 12 hour work days between both jobs.
Instead, I've worn down my now vast collection of flats.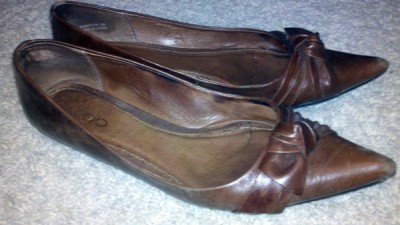 The cognac-colored pair from Aldo has a tiny little heel, enough to make a big noise when I walk down the hall (I'm still, after all, a pretty heavy girl). The bottoms are looking incredibly worn and tired.
Or there is this pair from American Eagle: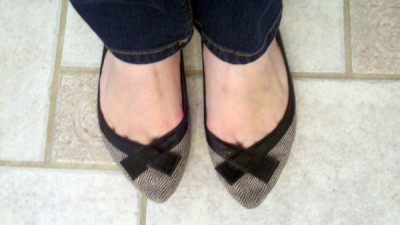 (I think I should have called this post: "The one in which all my photos are blurry." Sorry about that, bad lighting at home.
I use this pair after long runs when my feet are more wide then they should be.
Unfortunately I don't think this is only symptomatic of marathon training. I like wearing flats, particularly because I have flat feet. And I move faster in them and have less pain at the end of the day.
But I miss the heels. I miss feeling invincible in them. (Oh and there's a great deal of compliments that come with having amazing shoes, really. I miss that as well.) But I'm protecting my feet from injury and unnecessary wear and tear.
I think this is the point I know I'm a runner, actually. I'm more comfortable in my Nike Equalons than any other shoe. I never thought I'd get to this point.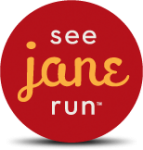 Run with me!
Save 25 percent all See Jane Run races, including the June 21 San Francisco Bay Area run, by using the code SJRAMB243. Use the code to also save 10 percent on online store discounts at seejanerun.com.