A DNS on the half
Today I didn't bonk because I didn't even start.
I stayed up late watching the website I work for update. I napped during the day so I could get more sleep. It was all to no avail.
I woke up exhausted. My body rebelled at every step.
My third half in a month, the one in my hometown, was a definite no go.
And, despite feeling guilty about all the nice Facebook and text messages encouraging me this morning (thanks everyone), I knew it was the right choice.
My body wants no part in 13.1 this morning. And I need to listen to that.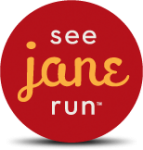 Run with me!
Save 25 percent all See Jane Run races, including the June 21 San Francisco Bay Area run, by using the code SJRAMB243. Use the code to also save 10 percent on online store discounts at seejanerun.com.