Staying warm and being cautious
It's been a little crazy here with the weather in the past couple days.

I've been relegated to the treadmill as of last night and this morning. I don't mind running in the rain, usually. However, the wind is a little annoying and I woke up this morning with a killer headache.
I went out for a five-mile run around Mountain House on Wednesday with Jennie. And I was cold. Really cold. I'm used to running at night. I tend to warm up a little later than I want, usually at about the end of my shorter runs. But on Wednesday, my body didn't seem to want to warm up. I got to mile four of the run and was still a little cold.
I was wearing a pair of long Nike tech running tights and my newish Lululemon Run: Your Heart Out long sleeve pullover. I had a short-sleeve Nike Dri-Fit shirt on underneath the long sleeve.
None of the gear had a thermal layer.
I thought a lot about this, especially since I knew there would be bad weather this weekend.
On Wednesday, I also noticed that, despite the headlamp I wear, sometimes people driving ridiculously fast through Mountain House don't see us. I saw lights before I saw the car on one intersection, but I knew to slow down. We had the right of way in the cross walk, but that never means I should trust that a car will stop.
In many cases they don't.
So I ventured to my local Fleet Feet store in Stockton with some goals in mind: I needed better layering for the cold and I needed to find something to make me more visible to cars, other people, etc.
The worker at the store directed me to some standard Nike pants, but the first thing he grabbed was a pair of Mizuno Breath Thermo tights. I was looking around a little more. The store had all jackets on sale for the rain, but I have a couple nice running jackets for rainy conditions.
I came across a beautiful purple Nike pullover with a weave design on it. The worker came over and told me that was an excellent choice, especially considering the Nike pullover was made of wool. Wool is a natural insulator. It's incredibly thin, but really warm. I'm wearing it right now as I type this, if only because it is really, really comfortable.
I bought a size medium, which will be great for runs because I like my clothes skin tight as to not get in my way.
Plus, did I mention it's gorgeous? The purple is beautiful.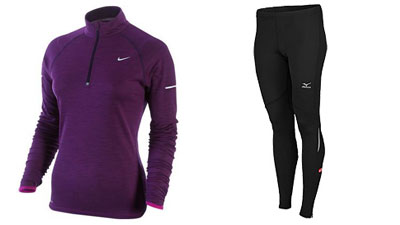 Here are product screen shots from online retailers. I wore the pants on my treadmill run this morning because my legs were feeling a little fatigued. The Mizuno Breath Thermo material responds to sweat (does that sound gross? Maybe a little?) and warm in return. By the end of my five-mile run my legs were feeling rather toasty.
I think these will be a nice combination when I run a trail 10K next week in Fremont. I'm hoping, though, that I get an outdoor run or two next week in Mountain House as well.
So warmth was taken care of. I nearly forgot about the safety aspect of my visit until I saw a gift basket behind the worker who was cashing me out. In it was a pair of Brooks Nightlife Arm and Leg Bands.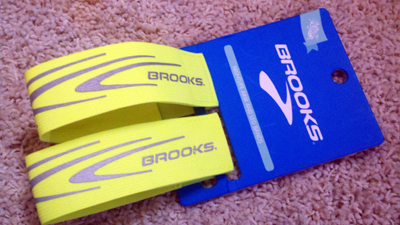 I hate that when people take pictures of florescent items, they always seem to leave a little something to be desired. These bands are bright. The reflective tape is awesome. I'm really looking forward to trying them out.
As I was trying to finish the one purchase, the worker asked me if I'd seen the flashing strobe lights they had for runners to. I hadn't. He brought one over. For $7 it was a steal, so I picked one of those up too.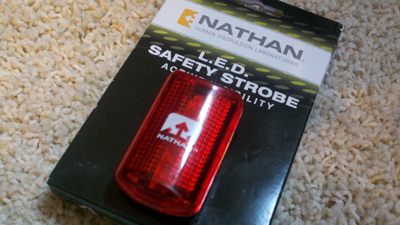 The regular lighted mode is really bright. But the strobes will make people notice us more as we run. I shot a quick video of the strobe types, which didn't exactly show up very well, but you get the idea. (And I apologize for the background sound, I was watching an episode of Cheers on Netflix. Don't ask me why, I just decided to turn it on.)
So now I'm cold weather and safety ready. I'm excited for more bad weather runs, just not the wind-prone type.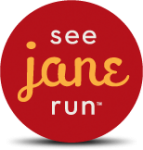 Run with me!
Save 25 percent all See Jane Run races, including the June 21 San Francisco Bay Area run, by using the code SJRAMB243. Use the code to also save 10 percent on online store discounts at seejanerun.com.