Guess who got cleared to run?
That would be ME!
Today marked two things: I was released from medical leave, thereby could officially end my employment. I'm relieved. I felt like I was waiting to bury someone. Those of you who know what it's like between a death and the funeral know what I mean.
And I was told I can resume all normal athletic or exercise activities, which means I'm going to be busting my butt for the next three weeks to train for the Rock 'n' Roll Pasadena Half Marathon.
To be fair, I've run nine miles in the past two days, but always slow and always against medical advice. Now that I know I've "healed nicely" I can beat my little legs into the ground again. Words cannot describe how incredibly excited I am to run again.
Stupid gallbladder removal. No more delaying my training.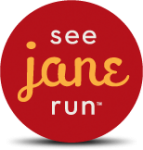 Run with me!
Save 25 percent all See Jane Run races, including the June 21 San Francisco Bay Area run, by using the code SJRAMB243. Use the code to also save 10 percent on online store discounts at seejanerun.com.