My new glass slippers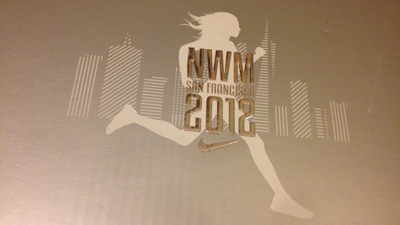 I'm not typically into girly girl stuff. Not at all. I don't wear a lot of dresses, or do my hair all fancy or anything. But early last week when Nike posted a photo of the Tiffany blue LunarGlide's that would be made special for the Nike Women's Marathon, I didn't hesitate to try and reserve a pair.
And, surprisingly, I secured them. The confirmation process took little more than five minutes. And I was set.
All I had to do was show up and pick them up at 5 p.m. today. I knew I'd be in San Francisco today to pick up my race packet. So I reserved my time for when I'd be around.
After waiting and waiting in anticipation (again, I'm never typically like this), today was finally the day.
I went through the expo earlier in the day, but I headed over around 4 p.m. on the off chance I'd be able to get my pair early.
They did.
I showed my identification and the store employee checked my confirmation number against a long roster, then I was directed toward the counter where a man dressed in a fancy tuxedo handed me my pair of shoes.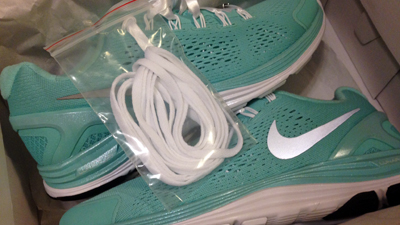 The man showed me my shoes, checked the sizes and then handed them off to me so I could purchase them. The price was steep, yes. But it's not more than I would have paid for a new pair of running shoes.Plus, the LunarGlides are within my range for stability.
I fell in love at first site.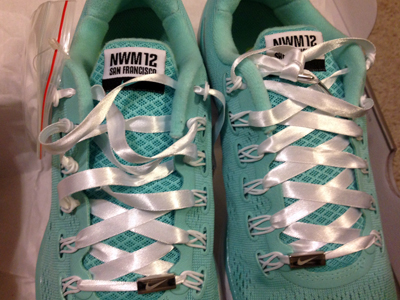 The shoelaces are a delicate satin, but the shoes also came with regular Nike white laces to switch out. I'm not sure the pretty laces are even practical, but they are cute. The little Nike swoosh at the bottom of the laces is shiny and adds a nice touch.
I've never had "bling" on my shoes before. This definitely qualifies.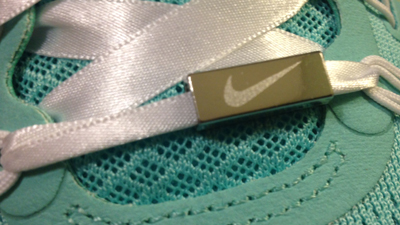 The shoes are incredibly detailed. Each time I look at them, I see something unique. It may be cheesy, but I kind of feel like these are my glass slippers, especially after the week I've had with technology fails and my car overheating on the way home from the Expotique (more sigh).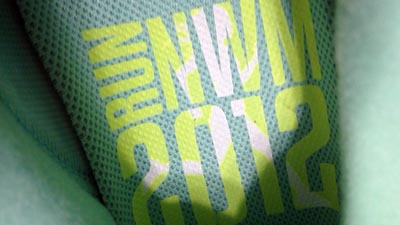 That's the insole. When the nice tuxedo-clad man showcase the shoe for me, he made sure to give me a peak of the inside to let me know there was something special there too. The shoes are that Tiffany blue color everywhere.
That includes the Lunarlon padding, which actually is more pearl-toned than I thought it would be.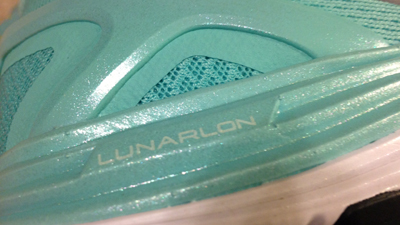 I've talked before about how I didn't have a "pretty" pair of running shoes until I bought my LunarEclipses a few months ago. Then, finally, I had some color and different texture on my shoes. I felt, dare I say it, stylish when I ran.
These make me feel like a running princess. And I'm not inclined to ever feel like a princess. Ever. That's just not my style. It kind of changes my perspective on running shoes (which have, always, been about function as opposed to style for me).
The downside? I don't get to wear them during the actual run. I never, ever try anything new on race day. It's taboo in general, but I think on a course like the 13.1 I'll be running for Nike it would definitely be a big mistake. I'd love to wear these to run, but I'm sticking to my LunarEclipses because I know the shoes and how they'll react on the course.
I'll do a more throughout report from the Expotique a little later, but I wanted to share these photos and some giddy about these awesome add-ons to my race experience this weekend.
For those venturing out in the next few days, Nike Town is also giving away a free gift with a $150 purchase. It's really, really easy to rack up that kind of damage at the store. There's too much awesome stuff to choose from. I'll admit, this is the one race where I actually do go a little crazy with gear.
The shoes come with a reusable bag.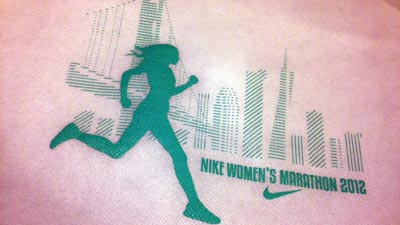 Other purchases that exceed the limit come with a very practical cosmetic-style bag. Last year the gift was a brushed metal picture frame. I like this year's freebie, particularly because it also came with pony tail ties and an elastic headband.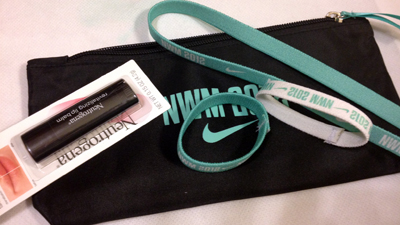 Definitely useful.
I may go a bit crazy about this race over the next few days. I've been fortunate enough to secure a spot in it for the past two years, which is really, really special in itself.
When I started running, my ultimate goal was never 26.2. It was "one day, I'll run the Nike race." I accomplished that last year. This year I'd like to beat last year's time. With tired legs and a stressful week, though, I'm not sure that will happen.
One thing is already for sure: My shoes are an amazing treat.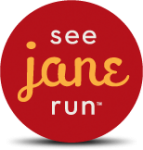 Run with me!
Save 25 percent all See Jane Run races, including the June 21 San Francisco Bay Area run, by using the code SJRAMB243. Use the code to also save 10 percent on online store discounts at seejanerun.com.