I'm stepping away from training, running and other talk to write a homage to something I held very dear: the cherry tree in my front yard. Why? It's my blog and I can write what I want to.
Deal.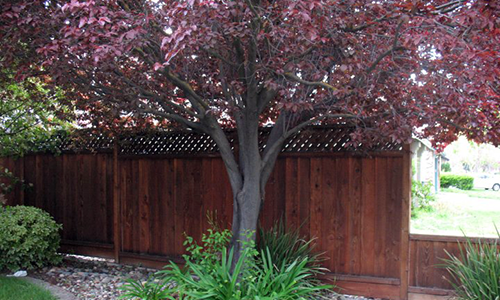 More than three years ago when my husband and I signed our lives and incomes away on a 30-year mortgage, we did so when a beautiful house became available thanks to short sale. I was conflicted by the notion that we were getting our dream house because someone was losing theirs. But I was so very much in love with my four bedroom, three bath home.
We closed on it three days before my 26th birthday. The moment was the result of two years worth of saving our pennies while paying $1,450 in rent at a three bedroom, two bath house on the other side of town. That rental was the first home we shared together. While we were sad to see it go, we were happy to have a place where we could 1) Paint the walls whatever color we damn well chose and 2) Tend to the property how we saw fit.
I'll back up to 2008.
We moved into the rental house two days before we got married. My husband and I had never lived together before then. It wasn't for a religious reason or anything like that. It was because finances told us it would be cheaper to pay for our wedding while he lived with his parents for a couple months and I lived with my grandmother.
We were one of more than 20 people who applied for the rental, the only one we looked at. And we got it.
Fast forward to move in day when we discovered two unsettling things.
The first was that the house, unlike advertised, didn't come with a washer or dryer. Great.
The second was the glaring dead tree in the front yard.
"Do you have any other questions?" the property manager asked us.
"Is that tree dead?" I responded, apparently when we walked through the property a month before I didn't realize that there were no spring blossoms or leaves or any other sort of indication that stupid tree was dead.
"I'm not sure," she responded. "If it is, let me know."
I JUST MOVED INTO A HOUSE WITH A DEAD FREAKING TREE IN THE FRONT YARD.
I knew it. My husband knew it. Neither of us wanted to say it.
Then fall came. No foilage. Then winter. At least then it looked normal. When spring rolled back around and the stump started attracting unsavory bugs, I knew it was long past resuscitation.
"We have to do something about the goddamn tree!" I said about six months into our two-year stay at that house.
Finally, as it got colder outside at the beginning of year two, my husband cut off the dead branches. Then, with approval from the landlord, he rented a chainsaw and took that sucker down.
Words cannot describe my excitement about getting rid of that dead tree. I would stare at it everyday while I ran on my treadmill. EVERY. DAMN. DAY.
Too bad Google maps has been updated, otherwise I would have been able to show the monstrosity of a the dead tree. Instead, here's what it looked like, without the tree in the planter in the center of the yard, the day we moved out.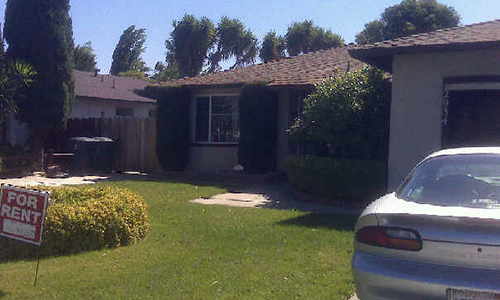 Grainy photo courtesy of my old school BlackBerry Curve. Well manicured front lawn by me (after I fired the teenage gardeners, but that's a completely different story). Camaro by Chevrolet.
The day we moved into our new home, I remember saying to my husband: "LOOK, NO DEAD TREE!"
Except my husband decided that at the new house, he would take over the gardening and landscaping duties.
He had "grand plans."
Those plans included landscaping the backyard, which he has done a beautiful job with. But he also ripped out a set of bushes near the front door because they smelled like "tree sperm" and has threatened, repeatedly, to tear out a massively amazing Juniper bush right at the front of our yard.
We bought a 20-year-old home, with beautiful landscaping, folks.
The curb appeal sold me first. I grew up without sidewalks in front of my house. WITHOUT SIDEWALKS. I didn't even live in the country.
Not only did I have sidewalks at my house, I had bushes and plants and pretty flowers and trees! Wee!!! Exciting.
A year in, my husband decided the trees needed pruning. Fine. Cut them back a little, I said. I didn't realize he'd hired professionals who wouldn't just cut my trees back, but would take away the privacy that I so loved about my house. I'm not kidding. I couldn't see my neighbor's backyard from my bedroom window when I moved in. Then my husband went and had the trees cut and NOW I SEE EVERYTHING.
It was a Friday when he had it done. I wasn't home. I was at school in the morning for newspaper distribution for my students. Then I went and worked a 10-hour day at the newspaper. By the time I got home, after 8 p.m. I drove up to both my apricot and my beautiful cherry tree looking like nude models. And not artistic ones.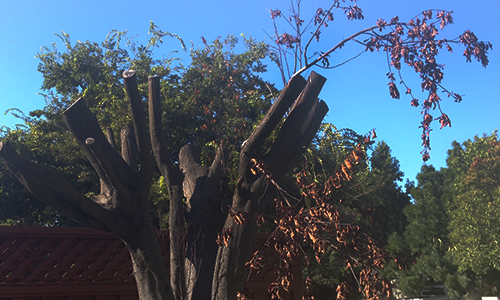 That's what it's looked like for two years.
I'm not one to hold my tongue when I'm upset. I try, but it's not in my nature. In fact, I'm told it's better for me to let it out then to let it build up. My neighbor caught the tail end of my tirade. I was pissed.
"YOU F&*#ING KILLED THE TREE! I HAVE A DEAD TREE IN MY FRONT YARD FOR THE SECOND TIME IN FOUR YEARS. YOU KILLED THE GODDAMN TREE!"
That's the tame version.
And you know what? For two years I've told him repeatedly that the tree is dead. That one act of eco-violence killed it. I knew it then.
He had denied it every chance he gets. Nope, the tree isn't dead. It's "getting there." He told me to "give it time."
Now, I'm not a "tree hugger." I went to Berkeley. I own Birkenstocks. I even bring reusable bags to the stores on occasion and when I travel. I have a can in my kitchen solely devoted to recycling even. I once floated a lavaliere microphone up a 50-foot Redwood tree near Cal Memorial Stadium, much to the dismay of my master's project adviser, to interview a "tree hugger."
But that's about as far as I go. I wouldn't chain myself to my cherry tree.
I did love it though. I loved the privacy it gave my yard. I loved it so much I once threatened a teenager who I caught up in it (seriously) with police action if she didn't get her butt down and "get off my lawn."
It was only THIS WEEKEND, after my half marathon in San Leandro, that my husband confessed what he did two years ago had finally taken its toll. Those little leaves you see? Those sprouts were the only remnants of the tree "coming back." And now those little leaves, the only signs of life, are dead.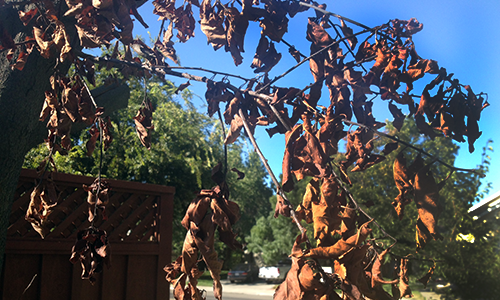 DEAD.
I have words. None of them are good. But I also know the dead tree isn't staying in my yard.
My husband was surprised I was more upset about this than some other bad news I received lately. I felt more vindication when he admitted the tree was dead, though, than anger. I KNEW THE TREE WAS DEAD. I'VE COME TO TERMS WITH IT.
After I did the "I told you it was dead!" dance about 10 times, I calmly (calm for me, I raise my voice when I get excited) said: "You will cut down the dead tree. You will take out the stump. And you will replace it. But not with a stupid, small ass tree that you can get for cheap at the nursery. No, you will find a well-established cherry tree or something comparable and you will plant it there. And there will be shade. And it will be beautiful again. But I will not live with another dead tree in my front yard."
You wouldn't know by that assertion that my husband and I operated on an even keel around our house. I'm thankful that even know he's been the "breadwinner" in our relationship since we got married, we both have equal say. But the tree leaves little room for negotiating.
Kill my tree, I also get to keep my Juniper bush.
The bright spot in all of this is that our front lawn, which had been neglected for months when we moved in because it was a short sale property, is thriving with more sun. I also don't have to look it while on the treadmill anymore. Instead, my treadmill faces the nicely landscaped backyard where a newly planted Japanese maple is thriving next to a hand-laid cobblestone porch. But really, that doesn't make it any better.