The morning 10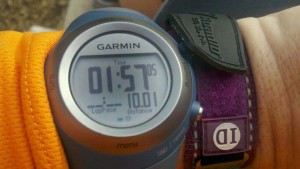 My long runs are on Sunday. Right now "long" means 10 miles. Soon it will mean more as I ramp up for marathon training and a Dec. 4 date with 26.2 miles. I run with friends who still haven't kicked me to the curb, despite the fact that I am slightly faster and often get ahead of myself and them.
We haven't done these 10 mile runs forever, though.
We started training in January to run Bay to Breakers in San Francisco on May 15. We ramped up our mileage together (I was already running 10 miles on weekends). We had some runs that were painful 3 miles in. Then we moved up to four. Then five.
Now our weekly "short run" together is usually six miles. I say usually because we have some weeks where we can't make it that far. Sometimes it's just better to stop at four and call it a night.
And then we have nights like the one last Wednesday when it was blazing hot (hotter than it has been on our recent runs) and we just kept pushing through despite it. We got to six, but it wasn't our best time ever.
I made that comment and my friend Jennie, who I think tends to the more pragmatic among the three of us who run together, pointed out that we always break some sort of record when we run together. We add mileage, she said. More mileage than last year. More hours run.
My friend Sam always says she doesn't care about the distance, just the time and the quality of the run.
It's funny though. We've been running together nine months and the quality of the running has increased. So have the conversations. And the distance.
It's kind of redefined what a "good run" means to me.
It used to be a good time.
I had that today (see photo above from end of the run on my Garmin 405CX) but I never have a bad run with my friends. Even if we are dogging rain and running against horrible wind, it's a "good run" because I did it with them.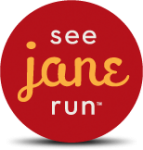 Run with me!
Save 25 percent all See Jane Run races, including the June 21 San Francisco Bay Area run, by using the code SJRAMB243. Use the code to also save 10 percent on online store discounts at seejanerun.com.