The good news …
… is that my left IT band/thigh/butt is not as cranky as it has been.
I dare say that I think running has actually done it some good. I'm walking up the stairs a little better now too. I've run two six-milers in two days. So far, so good. No residual effects. No lingering pain.
Maybe the pain was a knot? Or maybe the two weeks of rest, minus a marathon in between, was just what I needed?
Either way, it's good to be back to running pain free. Now I just need to workout a training plan for the Half Moon Bay International Marathon. It's going to come quicker than I realize.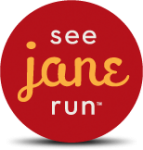 Run with me!
Save 25 percent all See Jane Run races, including the June 21 San Francisco Bay Area run, by using the code SJRAMB243. Use the code to also save 10 percent on online store discounts at seejanerun.com.