Rockin' to a course best in Pasadena: Part I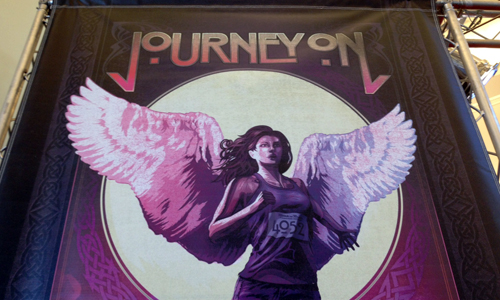 There's always a little bit of anxiety when you start toward a race expo, especially one that's more than 300 miles away. Why? A lot can happen in three hours. Between traffic and other things, it's always best to start out a little earlier than normal and hope that there are no snags along the way.
On Saturday, there were no snags. None whatsoever. Everything seemed a bit too easy.
My running buddy Sam and I hit the road at about 10 a.m. from Mountain House, which is west of Tracy. It's also the place I do a lot of my runs.
We hopped on Interstate 5 and just kept on going. We only had to stop once, about 50 miles before The Grapevine, the stretch of road that takes drivers from the valley floor over the Tehachapi Mountains. On one side, there's an expanse of land before you, on the other a metropolis.
We made the long journey on one tank of gas plus some. And we arrived in Pasadena around 3 p.m., which gave us ample time to scope out the expo.
Pasadena is only in its second year as a "tour stop" for Rock 'n' Roll, so the expo is still relatively small in comparison to the flagship San Diego run. It didn't take us long to work out way through the bib pickup, even with a small wait for our $10 parking pass for the Rose Bowl.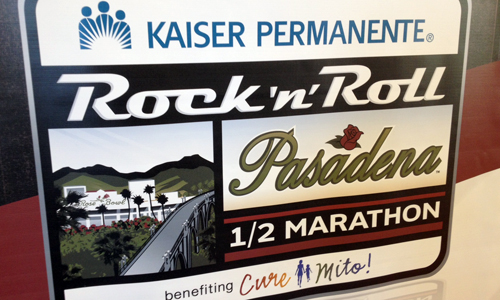 Speaking of which, a lot of people were really upset about the whole "pay-to-park" thing. Most of the other races don't required it. I've been in a lot of races that actually make concessions and find people places to park. Apparently other Rose Bowl-hosted races don't require this. Because we had paid last year, waited in the traffic and hung out in the morning, Sam and I were prepared for all this crazy.
I purchased the pass ahead of time.
We picked up our red Brooks event shirts and our swag bags and headed into the expo where we quickly bypassed the Brooks area, outside of checking out a very interesting display with fake beer.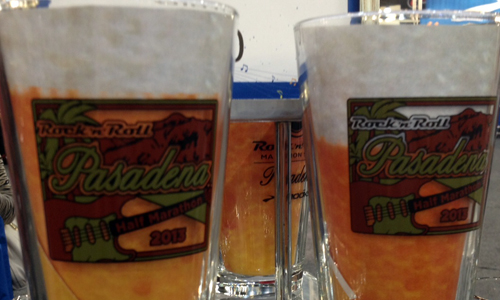 Fake beer is the way to sell pint glasses, I must say. But I didn't buy one. We kind of just ran through that area because I'm on a "no new clothes" kick right now. I didn't even look.
Sam and I checked out all the booths and she picked up some new running equipment. A fire at her house late last year means she has absolutely no gear. We picked up a new bottle set for her, which was a discounted $15 and had four small bottles and a place to stash stuff. Plus, it was Nike, so she got a deal.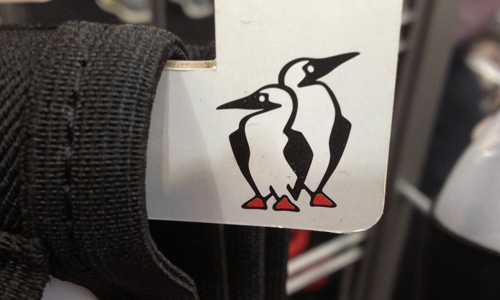 I loved this label on another belt she looked at. Penguins. For penguin runners? I don't know. I kind of consider myself a penguin.
The sad part of the expo was that we didn't find the "cake booth." It's some sort of organic, healthy cake that we've seen at multiple Rock 'n' Roll expos. The reps at the booth gave out these amazing slices of cake, with frosting even, that were incredibly delicious and apparently good for you as well.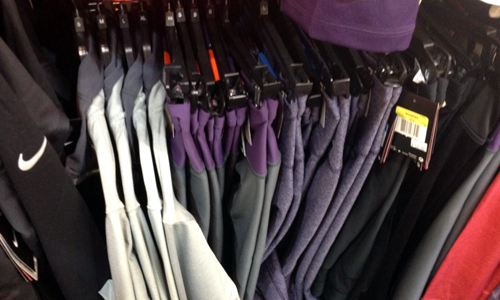 See all those awesome running clothes? I didn't buy any at the expo. I was so proud of myself.
The real purpose, though, of our expo visit outside of picking up our stuff was to hit up the main Rock 'n' Roll booth. Sam has a Tour Pass for this year, meaning she pays a flat amount and can run as many races as possible. I'm really noncommittal about races going into the later part of the year after I run two marathons in the first six months, so I didn't go that route.
Sam wants to run San Diego again.
After last year's disastrous run there, I was reluctant. I kept waiting for the course map to be posted online. By the time it was, the price had gone up. So my only chance to register at a lower price was to do so at the expo.
So we ventured to the booth to do so.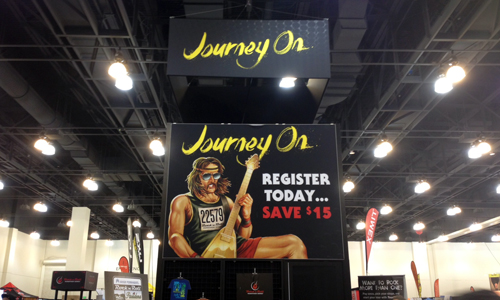 I saved $15. The downside? We didn't register for the 2014 Pasadena run for $70, which will be the lowest price all year. But I really hate making a decision on something like that this far in advance.
For registering, I also got a Rock 'n' Roll San Diego T-shirt, which was pretty rocking.
After those few things, we were kind of done at the expo.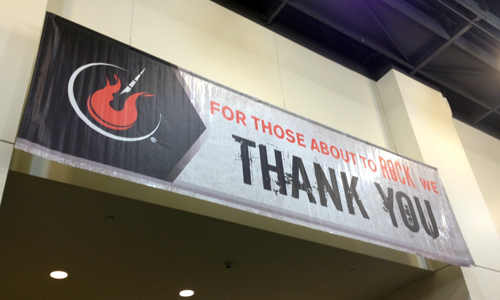 So we left. By then it was later than it was last year when we finished. We had planned on meeting one of my friends for dinner. But we saw that the Macy's across the street from the expo was having a closing sale.
So we went.
Because we needed shoes and all.
Not really. But we bought shoes.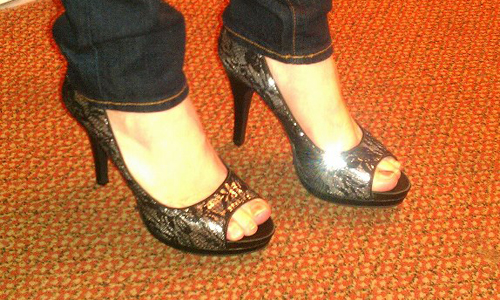 We were starting to get a little hungry though, so I sent my friend a text message. We hadn't yet checked in our hotel room. But both of us were more tired than we thought we would be anyway. My friend was caught up with something, which was a bummer, but we figured since we were already out, we'd find a place to eat.
Last year we ate at this ridiculously bad seafood place right down the street from where we stayed. We both still laugh at how bad the service was and how bad the food was.
This time, we found a great Mexican place. Both of us ordered fajitas.
The food totally made up for last year's horrible fare.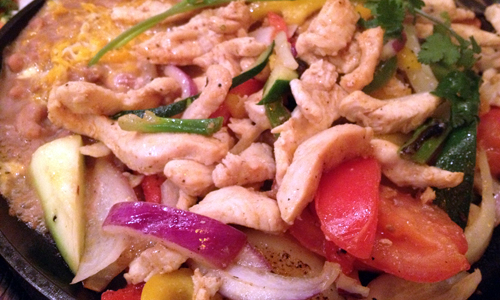 It was amazing. Plus, we had a ton of leftovers that we both of us ate when we got all the way home the next day. The food was just as good as leftovers.
We finally checked in to our hotel room around 7 p.m. Saturday. The room was nice, toasty and, we thought, would be a little more quiet than last year when we heard people above us making loud noises all night long.
We were so wrong.
Another one of my friend's stopped by for about an hour to catch up (I know a lot of people in the Los Angeles area, more than I ever think I do). Then it was off to bed for a 4:30 a.m. wake up even though we were only four miles away from the race start.
Why so early? The parking lot closes at 6:15 a.m. for the 7:30 a.m. start.
Unfortunately we didn't fall asleep all that well. Instead, we heard people screaming in the parking lot and on E. Colorado Blvd. at midnight. It was ridiculous. Both of us woke up numerous times. It seemed our hotel management did nothing to make it stop. In fact, unlike most the hotels I've been to, this one's lobby wasn't even open at 5 a.m. when we headed down to my car.
It was still dark when we ventured to the Rose Bowl.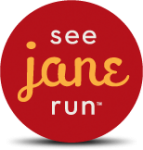 Run with me!
Save 25 percent all See Jane Run races, including the June 21 San Francisco Bay Area run, by using the code SJRAMB243. Use the code to also save 10 percent on online store discounts at seejanerun.com.