Making everyday recipes low fat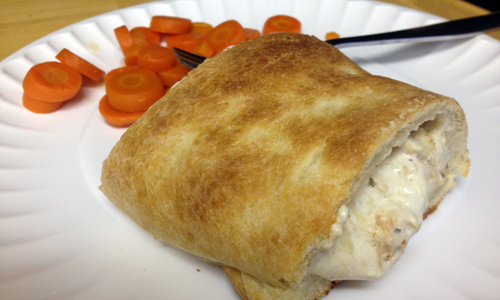 I'm trying to really make better choices since my gallbladder removal, especially when it comes to consumption of many of my favorite foods. One that I love more than anything else? Cheese.
Cheese is always one of the things I told to consider cutting out completely.
The problem is that my husband can eat whatever he wants to. But I'm the one who cooks. So I have to make things for dinner that we both like.
As I was recuperating from surgery, I spent a lot of time on Pinterest. I don't think I ever let my iPad go unless I was sleeping, which happened quite often as well. It was there I came across a recipe for a rolled chicken-bake like creation.
If you live near a Costco, you know the allure of a chicken bake. My husband loves them. I forgot to pin it, though, after I found it. So I tried to recreate it from memory, but with some low fat and fat free substitutes.
Ingredients
Two chicken breasts
1 packet Hidden Valley Ranch dry mix
1 cup low fat mozzarella cheese
1 package fat free cream cheese
1 cylinder pre-made pizza dough
Fat free cooking oil
Instructions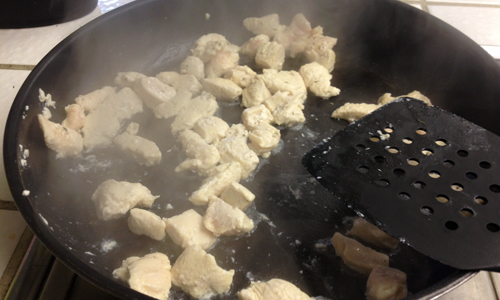 1. Start by frying the chicken with a fat free cooking oil. Add 1/4 of the ranch mix for seasoning. Move the chicken off the stove, let cool down.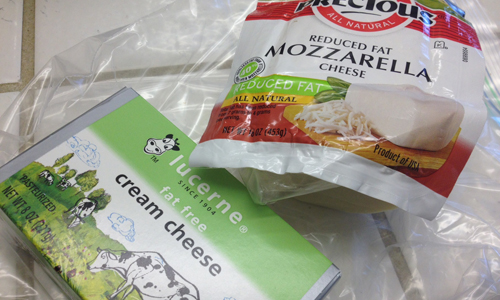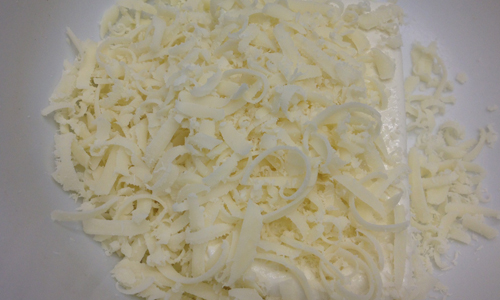 2. Put the cream cheese and mozzarella into a bowl, mix in with 1/2 pack of the ranch dry mix. Set aside. Preheat oven at 400 degrees.
3. Open dough, spread out on a 13-by-9-inch pan in the shape of a rectangle.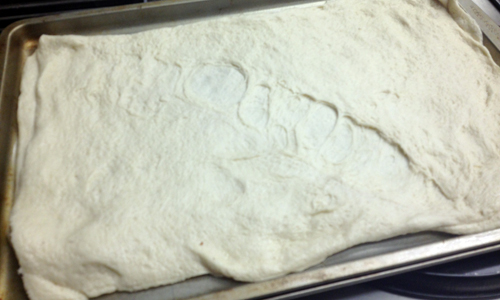 4. Mix the chicken into the cream cheese and mozzarella.
5. Spread the chicken mixture along the center of the dough.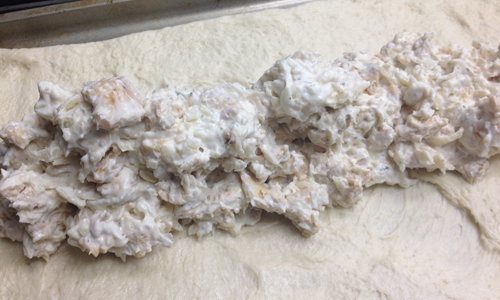 6. Roll the dough over the chicken mixture, making sure to pinch the ends so that the chicken mixture doesn't come out.
7. Put roll in the oven for 20 minutes (this may change depending on the oven, my oven runs hot so it didn't take 20 minutes).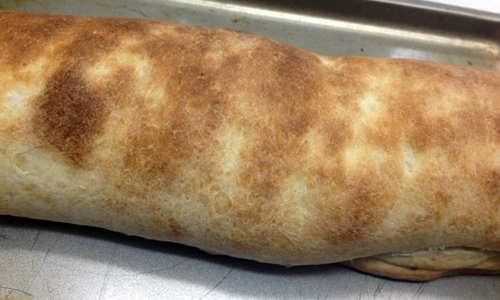 8. Let cool. Cut in slices and serve. The ends will likely be a little more bulked up, so you can either cut the loaf in half and split the two separate  pieces or cut in smaller slices, serving the two end pieces a little larger than the rest.
The verdict? My husband loved it. He's planning on taking the rest of it to work tomorrow for lunch.
Plus, he didn't really notice the difference in taste from regular to low fat.
I have a great recipe for homemade pizza crust that I have from a recipe book from one of our favorite wineries, I'm hoping to try it with as well. I think next time I won't put so much of the dry ranch dressing into the cream cheese mixture (which is why I said only about 1/2 the packet), so that it doesn't taste as "ranchy" as I thought it did.
I don't know exact calories, but I know it doesn't taste as dense as the Costco chicken bakes. In fact, it actually isn't all that bad on my newly sensitive stomach.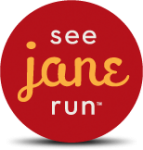 Run with me!
Save 25 percent all See Jane Run races, including the June 21 San Francisco Bay Area run, by using the code SJRAMB243. Use the code to also save 10 percent on online store discounts at seejanerun.com.