About that clothing fast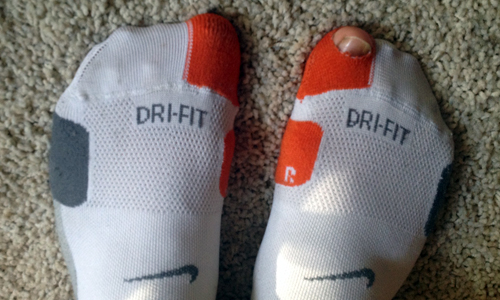 About that clothing fast? I'm really glad I made an exception for socks. This is now the second pair of socks my big toes have demolished in a three week period.
You see the little nail popping out there? It's a little black still. Actually it's more than a little black. It looks better than it did a couple weeks ago, but it's not pretty either.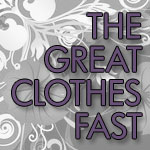 To be fair, these socks are about a year old. I don't replace them as regularly as they tell me to at my local running store, but at $12 a pair they are really expensive. I only spend about $1 a pair on my regular socks at Target. I'm nowhere near fancy.
I'm now used to the questions I get asked about why I buy "special" clothes for running. Why the socks? Why the capris? Why the shirts? Why bother at all?
After a disastrous half marathon where my feet were rubbed raw from a bad pair of non-running socks, I decided it wasn't worth the pain anymore. I had never owned running socks prior to that. I figured my $1 Target socks were decent enough to push me through a run. Nope.
Now I need a new pair. These ones will get stitched up and used for everyday wear. (I can't use them for running once I sew them. They tend to bunch up in the toe and can cause more pain, especially in feet prone to black toenails, like me.)
It looks like I'll be in the market for some running socks.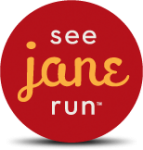 Run with me!
Save 25 percent all See Jane Run races, including the June 21 San Francisco Bay Area run, by using the code SJRAMB243. Use the code to also save 10 percent on online store discounts at seejanerun.com.