Hello, I'm Cecilia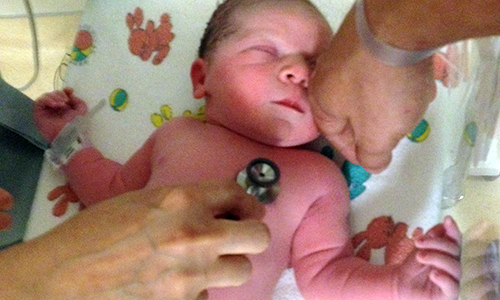 Born three weeks early via emergency Caesarean section, our little girl arrived at 3:46 p.m. on April 15 weighing a hefty 8 pounds and measuring 19 3/4 inches.
Her birth wasn't what we had planned it to be, but she came into the world healthy with a head of brown hair, blue/gray eyes and a love of her daddy's voice. She's keeping us up and on our toes.
My body is recovering as good as if can be for having my gut cut open to pull he out and deliver her to the world. My back is sore and my core is thrashed. But I keep staring at her and realizing how very lucky we are to have made such an amazing little person.
My husband and I are both very much in love.
So far we've already ventured out for a walk with the jogging stroller with her infant car seat attached. She's a fan of the soothing movement. The unplanned C-section is making me rethink some of my running goals for the year. Right now I'm content just staring at her, kissing her little head and calling her "Snort Snort."
Her name is Cecilia Carine. And we love her more than we ever thought we could.
That hand on her face in the photo above? That's her daddy's hand. I had to be put under for the C-section, also unplanned, so neither of us were "there" when she was born. Immediately after she came into the world, my husband's voice soothed her like it did when she was in the womb. He also did Kangaroo time with her when I was trying to recover.
Her birth story is to come.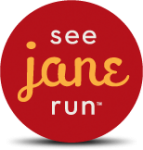 Run with me!
Save 25 percent all See Jane Run races, including the June 21 San Francisco Bay Area run, by using the code SJRAMB243. Use the code to also save 10 percent on online store discounts at seejanerun.com.