When a good run changes everything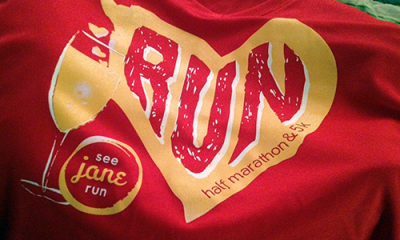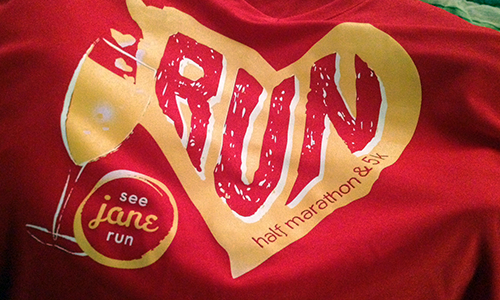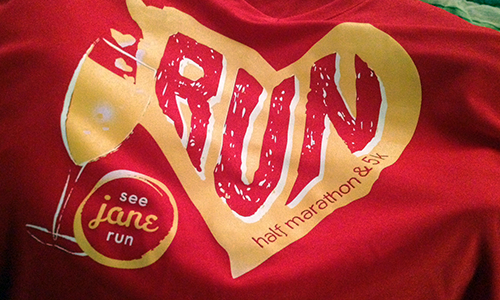 Pregnancy does a number on a woman's body. I say that, now 11 weeks postpartum, only minutes after trying to find professional clothes to wear to a formal event. It, obviously, changes the abdomen. Even though everyone swore I was "all tummy," my legs and arms feel deflated.
The day before I was induced, I weighed 205 pounds. I've never weighed that much in my life. I hit 200 right before I started running and vowed to never do that again. Pregnancy was a different circumstance, though, so I allowed myself to gain without looking at the scale as long as I felt good.
My problem was that the high-blood pressure that led to Cecilia arriving three weeks early caused me to massively retain water. Within two days of her arrival, I was down nearly 30 pounds. As much as I'm ashamed to admit I gained 10 pounds back AFTER she was born, I also know I've been working to rebuild my muscle bulk that I lost when I stopped running at 30 weeks.
But my body is no doubt different.
And I'm incredibly insecure about it.
That's what I took into the See Jane Run 5K on June 22. I came out of it, though, with a renewed confidence.
I had two goals for this race:
Finish strong
Preferably finish under 45 minutes
I'm happy to report I did both. My 5K time wasn't my slowest to date by any means. I ran a comfortable 32:49. I didn't push myself too hard. I didn't give up. I just ran. When I got to the end of the first mile and felt good, I reset my thinking and wanted to finish each mile with a 10 in front of it.
I did that.
Mile 1: 10:33 — I paced myself behind two women who I overheard say they were "taking it easy."
Mile 2: 10:56 — This included a water stop and walk break because I still can't drink and run at the same time.
Mile 3: 10:36 — My legs were burning a little, but I also feel like I was coming alive.
Mile .11: 1.26 — Also, I forgot to turn off my Garmin right at the finish. Amateur mistake, but one that was easy to make since I haven't raced since October.
I ran the 5K so fast that my husband hadn't even unloaded our daughter from the car and brought her to the finish line yet. So I ended up wandering around for a bit.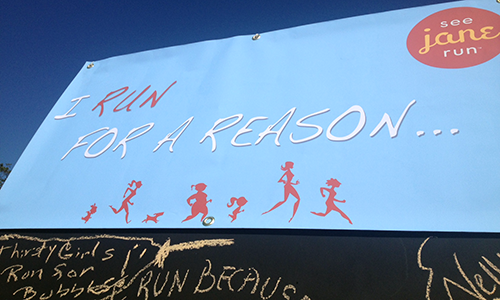 That led me to the "I run for a reason …" chalkboard put up by race organizers. I used to run to be a better me, which is obviously still a laudable goal.
I have a new reason.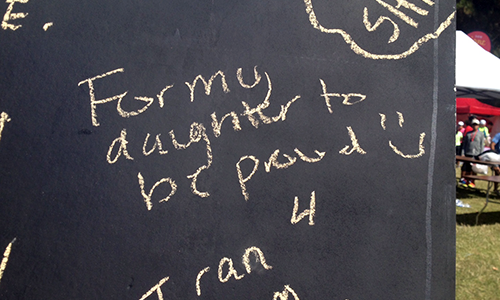 For the first time, I crossed the finish line as a mother. I longed to grab my baby girl up and give her a big hug, which I did after she woke up from a very much needed nap.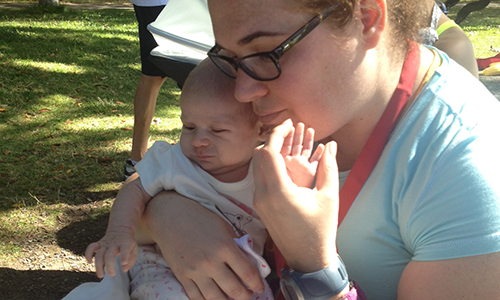 My husband took the photo above and another of me looking forward. I love the one above so much more than that one. I was having a conversation with her at a picnic table behind the race area while another new mom breastfed next to me.
I add all this into the typical race recap because as I sat there pondering how my See Jane Run ambassador shirt didn't fit as well, how my legs look a little more deflated than usual and how my stomach was more prominent than before, I realized that none of that really mattered.
Nearly 10 weeks prior to this race, I had major surgery to give birth to my first child and, despite my complications, she came out perfectly healthy, with 10 fingers and 10 toes.
Some women say there body isn't wrecked, their stretch marks are tiger stripes, etc. I'm saying it's OK that my body isn't what it once was. Especially right now.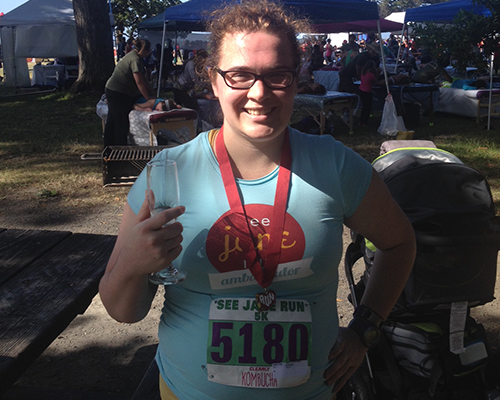 So my tummy is a little more flabby than usual. I'm thicker across the middle. My arms are fatter too. My Lululemon tanks are more stretched out across my chest. Whatever.
I had spent three weeks trying incrementally to get to three miles on my training runs for this 5K. I finally succeeded the Thursday before I ran 3.1. My confidence was shot. I kept feeling as if I'd never run distances again.
Since this run, I've run multiple four milers. Two nights ago I made it to 5.14 before I turned off my Garmin and walked it in because the wind was so bad where I was running.
The See Jane Run 5K was a good run for me. It's propelled me to other good runs.
Why? Because my body remembered. Despite the excess baggage and the mental uncertainty, my body remembered what it was like to run and what it felt like to knock out three miles.
I'm not saying it was easy.
But I got to the finish.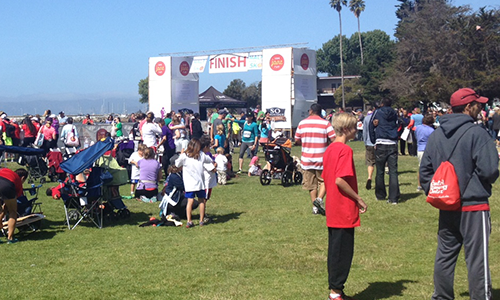 One of the reasons I'm proud to be a See Jane Run Ambassador is because of the company's motto:
"If you can run a mile, you can run a marathon."
The nine weeks before this race and post baby, I was having serious doubts about whether or not I would be able to run distance again. I know that's hyperbole, but I honestly felt as if everything in my life had change. It has, truthfully. But I was amazed at the end of this race when I realized something awesome: My body remembered. By mile three, I felt as if I was only warming up.
For weeks I had run two miler after two miler and just felt horrible. I needed See Jane Run to be a good run. And it was.
I now feel as if I can run a marathon again. Just not this year. I've given up my hopes of running and PRing California International Marathon for 2014. Instead, I'm shifting focus toward one of my favorite half marathons in November and then gearing up to go long next spring by signing up for the San Luis Obispo Marathon and then bricking my training to also run the San Francisco Marathon.
Lofty goals.
Three weeks ago, I didn't have those lofty goals. I'm excited about how I feel now about running.
Something else happened to: I'm learning to be kind to myself about my body. I don't fit into my pre-pregnancy clothes all that well right now. I might not still by the time I start teaching again in the fall either. That's OK. My husband reassures me that I'm as sexy to him as I've ever been. I have clothes that fit, even if I did wear my maternity dress pants to an event at school this week.
I'm learning to accept my body for what it is now. I gave birth 11 weeks ago. It's OK to not be where I was a year ago, before I got pregnant. I'm accepting myself a lot better right now.
All because of See Jane Run.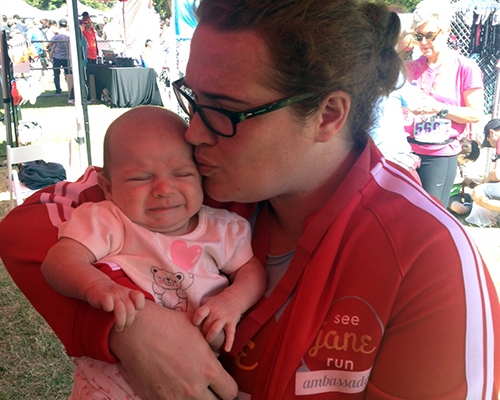 And a certain little person who, despite being completely over me by the time we left the race — too many snuggles and kisses from mommy — had a good time cheering me on with daddy. OK. Maybe I don't know she had a good time. But I like to think so.
She seemed pretty happy in her stroller on the way back to the car.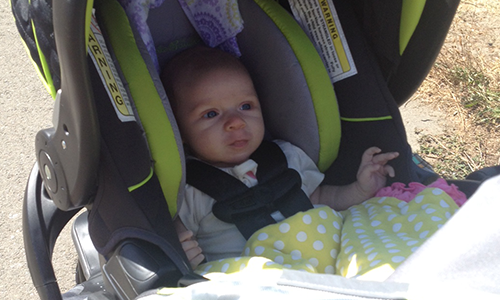 Also, check out the amazing ambassador jacket that I received from See Jane Run! I'm going to wear it to every running event I go to this year, no doubt. I want to wear it all the time now, but it's much too hot.
See Jane Run puts on a Seattle race on July 13 and athletes in the Pacific Northwest can still sign up, for 10 percent off, using my coupon code: SJAMB243. There is also a Wichita, Kansas race on Sept. 13.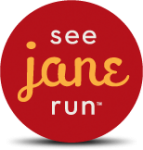 Run with me!
Save 25 percent all See Jane Run races, including the June 21 San Francisco Bay Area run, by using the code SJRAMB243. Use the code to also save 10 percent on online store discounts at seejanerun.com.