Bowing out before the run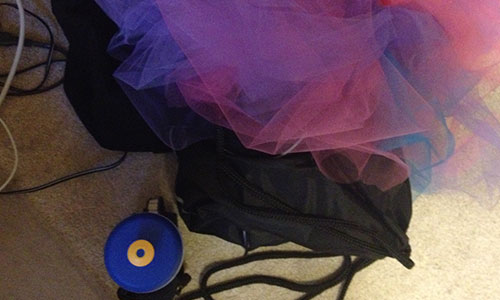 This is as far as my tutu and running gear got on Saturday. It's where it all continues to sit today. Needless to say, if my tutu, race belt and water bottle didn't make it out the door, neither did I.
Instead, I went back to sleep after realizing, nearly at the last minute when my friend was on the way to pick me up, that I just couldn't do it. I couldn't go run on Saturday. I didn't want to. The thought of doing so paralyzed me with fear.
Thanks anxiety. I appreciate it.
Or not. I actually hate your face. If you had a face, I mean. Than I'd hate it.
I won't get started on "how it all went down" rather I'll say this: It's been about three months since my last panic attack. This one was minor in severity to the first one (otherwise known as the "big one" or "the incident") last October. It wasn't as quick as the one three months ago either.
Suffice it to say, my morning wasn't fun. I woke up with a huge knot in my stomach that just wouldn't go away. And it didn't until I fell back asleep after my husband handed me some tissue and sent out the obligatory "Tara isn't coming" text message.
Life. Sucks. Sometimes.
The good news is that people tell me it gets better. The better news is that this is the first time in three months I've even had something like this happen. That's a win. Even if I didn't feel that way yesterday, it truly is.
Saturday marked the first day anxiety has broken into my running in such a way. My last race was the San Francisco Marathon. And while I had moments of "why am I doing this?" and "I cannot do this today" I made it to the start line. To the midway point. And to the finish.
It was easy to diagnose the "trigger" for Saturday, which had nothing to do with running at all. I know it had nothing to go with running because I was able to hop on the treadmill later in the evening and run eight miles, no problem.
But I was smart to know my limit, to not push myself when uncomfortable. My husband kept trying to persuade me, to push me out the door with my friends, to tell me everything would be OK. I think deep down, though, he knew it was a lost battle from the moment I started to breathe heavy. He did what he could.
And I did what I knew had to be done: I laid myself back down. I bowed out before the run.
I knew the damaged I would do if I kept going. I knew what would happen if I got out the door and on the road, or even to the race. I knew it would be all bad. I knew once I lost my composure, I wouldn't be able to get it back.
Part of learning to live with anxiety, and specifically without anxiety medication, is that I have to be the one to pull back for myself. I have to set my limits. I did that on Saturday, which meant there was no 5K. I want to be disappointed about missing what looked like a good time, but I've run too many races lately (and many since October) to know that I never felt this way before one.
Something was different. Something was wrong.
I listened to that gut instinct which I didn't listen to last October, which led to that "more damage" down the road. Because my hope is that if it's been three months since my last panic attack this time, it will be six months in between the next … or maybe they'll stop all together.
I can cross my fingers and hope. But I can also recognize the signs early enough to stop it from happening all together, lean back, relax, breathe deep and remove myself from a situation, temporarily, before it gets too bad. Even if it means giving up a fun run.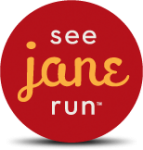 Run with me!
Save 25 percent all See Jane Run races, including the June 21 San Francisco Bay Area run, by using the code SJRAMB243. Use the code to also save 10 percent on online store discounts at seejanerun.com.