Battling the elements at California International Marathon: Part II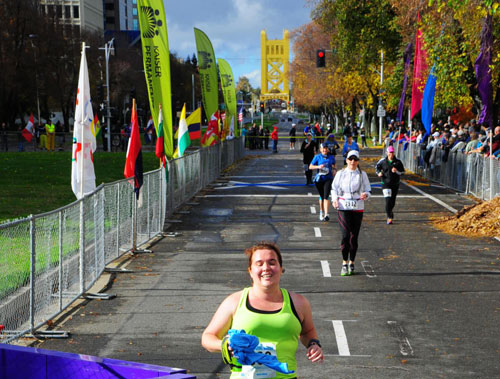 I had planned to do the rest of this race recap yesterday, but in the past 24 hours have started feeling significantly more under the weather than I have been lately. I'm blaming the deluge from the race.
It started, as colds do, with a little itch. It's now a sore throat and general soreness.
But I was feeling really good on Saturday. I fell asleep at 9:30 p.m. and, unlike my last marathon, actually slept really well during the night.
I woke up and immediately got to work "lubing" up, for lack of a better term.
Glide under my sports bra. Aquaphor between my toes, along my arms, etc. Anti-chafe anywhere I could put it. My greatest fear was that I would be running and suddenly realize I was chafing somewhere thanks to the rain.
That definitely should have been a fear, except not in the spots I thought.
My husband and I got out of our hotel, near downtown, at about 5:30 a.m. It took us about 20 minutes to get up to Folsom, two miles from the start line.
It was then that the rain was really coming down.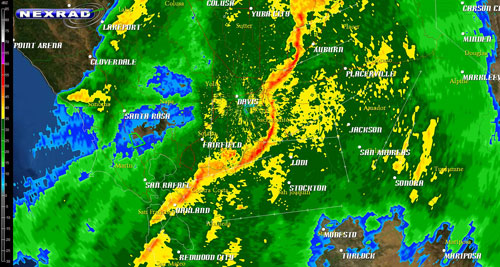 Someone posted the image above to Facebook, showing what we ran through that day. In the morning, when I got to the busing area for the marathon start, it was already pouring. The wind was howling. A local transit line had crews all along the street because a tree fell on the lines. That wouldn't get fixed for another day or so.
I ran across the street toward a line of school buses. There was no escaping it at this point. It was pouring down rain. It was crazy. The wind was blowing so much that it was hitting me horizontally. I threw on the $1.47 poncho.
It kept me dry for about two minutes. That's right. My legs were wet by the time my five-minute wait for the bus was over.
Speaking of the bus … it was warm. But our bus driver took us a very different way than last year. We ended up behind the start instead of in front of it. There were a couple questions on the bus whether she knew where she was going, but we ended up right where we needed to be.
I quickly ran over to the long line of portable toilets.
There was hardly any lines, but people were also sticking around in the stalls rather than getting out. Seriously. I waited five minutes and no doors opened in front of me where there were seven or eight toilets.
Come on people. When one, further down, finally opened, I jetted to it. I didn't care at that moment whether or not someone else was in line. (Sorry folks, put waiting in a portable toilet line in the pouring rain is not cool. Wow. Thanks for being considerate folks.)
I huddled under a gas station cover until about 6:58 a.m. along with everyone else.
At 7 a.m., the race began.
And it was downhill, crazy fun for the first couple miles.
Mile 1: 10:36 — Nice start, my legs didn't feel cold at all. I was still mostly dry.
Mile 2: 10:34
Mile 3: 10:50
Somewhere around this time, my Garmin turned itself off. I got to the three-mile sign and realized the Garmin hadn't beeped. Instead it was stuck at 2.67. When did that happen?
And how was I supposed to get it back on track.
Crap. Less than three miles in. I turned it back on and kept going.
Mile 4: 10:52 — Still feeling good.
Mile 5: 11:11 — It's pouring down rain. But I'm going fairly consistent. I'm actually enjoying the run here. About this time I get to the relay switch, which always brings a good amount of people. (Remember, Garmin was off the entire time, so the real exchange is somewhere at 5.9 or so.)
Mile 6: 6:30 — This isn't right. I only ran .53 miles here to get my Garmin back on track with the signs.
Mile 7: 11:21
Mile 8: 11:58
Mile 9: 11:54 — I felt as if I was being fairly consistent here with pacing. But it appears to be a little more off than I thought here.
Mile 10: 11:41
Mile 11: 12:12
Mile 12: 11:50
Mile 13: 11:47 — My half time was somewhere close to 2:30. I was excited to be coming in pretty strong in this area. I wasn't tired, yet, but that would come soon enough.
Mile 14: 12:25 — And here's where the fatigue actually set in. It came so quickly. The rain was still coming down. I was running through puddles, but also skipping here and there. It was killing my feet. Killing. It hurt so bad.
Mile 15: 13:30 — Slowing down. Lame. But the rain is letting up. Good sign, right?
Mile 16: 12:38 — Gu to pick it back up. Trying to get back into this. Trying.
This is the point where the rain was letting up. I realized then that I was drenched. I mean I was wet in places where I really didn't want to be. Seriously. My underwear? Yes. My sports bra. Yes.
And I still had the poncho on.
The water had absorbed through my clothes and the poncho was basically useless at this point. So I took it off and threw it to the side near the end of this mile.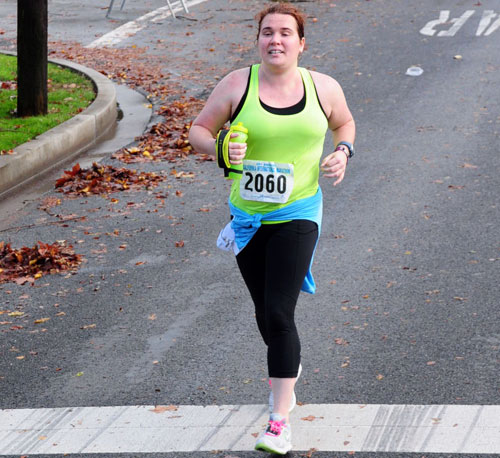 This is about right after I ditched the poncho. When I realized my long-sleeve shirt was also wet, I just took it off. It was a warmish 60-degrees, so I felt as if I could finish in my tank top.
I was starting to get ridiculously tired now.
The wind and water had taken nearly everything out of me.
Mile 17: 12:30 — One foot in front of the other.
Mile 18: 13:16
Mile 19: 13:59
Mile 20: 13:02 — The "wall" party wasn't as exciting as it could be. I'm sure it had everything to do with the weather. There were hardly any people out there. I realized, however, that we didn't even have the start arches at the beginning because of the rain.
Mile 21: 13:28 — This is when I looked down and realized something was very wrong with my right foot. It was rubbing really bad against the back of the shoe, which is something that it has never done before.
Mile 22: 14:21 — I briefly stopped at an aid station to grab a Band-Aid. Except it wouldn't stick. My feet were too waterlogged. Both were completely saturated.
Mile 23: 13:59 — I had to keep going. My foot was killing me. My IT band was hurting too now.
Mile 24: 14:37
Mile 25: 12:29 — Just need to keep going. By now, the feet were really killing me. I'm nearing the end here, and I look as tired as I am.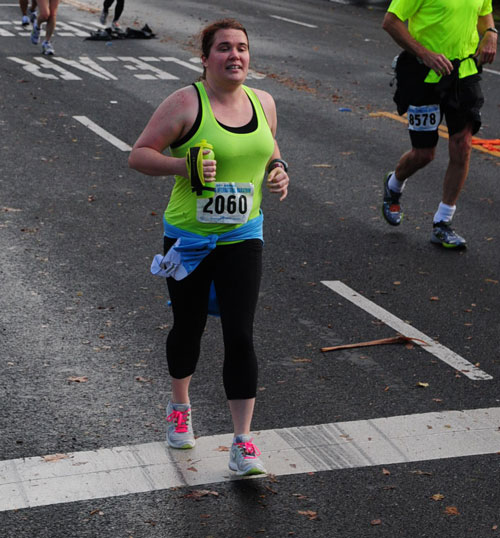 Mile 26: 13:05 — Notice the overcast sky? It didn't seem that dark, but it was.
Mile .31: 3.27
Chip time: 5:24:52
I added four minutes onto my time from last year. I was actually aiming at coming in around 5:15 this time, but the weather and the wet feet kind of killed that for me.
I crossed the finish line and was handed by epic medal and I wandered, now in pain and wanting to take my shoes off, through the end corral.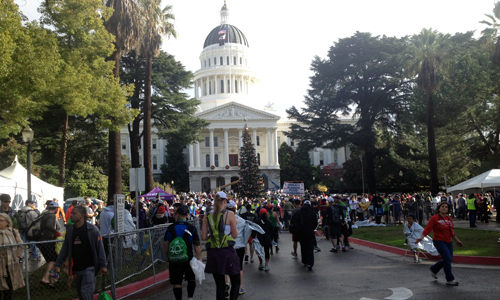 It seemed as if there were more people around this year when I finished, probably again because of the rain. I took a heat sheet and a bottle of water, though I'd been hydrating well along the course too, and walked out.
My husband wasn't yet at the finish line. Apparently he didn't have as high hopes for me as I did. He figured I'd be done around 5:30.
I did shave more than 10 minutes off time from San Diego, but that's not even comparable.
I'm upset that I was doing so well and, yet, it all kind of fell apart after the fact. But I was pretty damaged. My feet hurt. My face had wind burn. And heels were torn apart.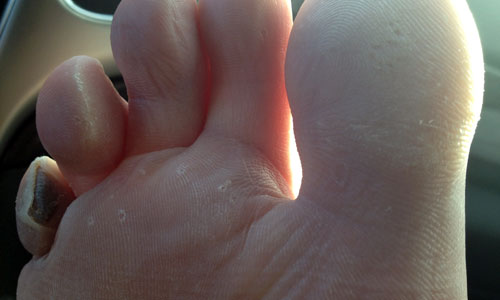 Yes. I put up a photo of one of my feet. Both were completely pruned up. Little blisters everywhere. (That blood blister was there beforehand. It wasn't caused by the race, but the blister on top of it was. I didn't even know that was possible.)
And when I got home, I realized that only Duct Tape could have saved that heel that Band-Aids wouldn't stick too.
The back of my running shoes and my socks were bloody. It was a wet, bloody mess.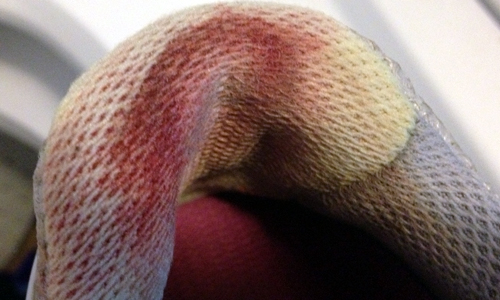 I'm thankful that I was able to get most of it out. It now just looks like a faint pink stain. Sorry to put up the gross stuff, but I've never had that happen in a race before. In San Diego my shoes torn up my feet completely. My Nikes were fine for the first 15 miles or so before this started.
In fact, I don't think this happened until it started to get dry outside. The water was apparently lubricating my feet, along with the Aquaphor and Glide. Then it ran out.
Would it have been better if I had applied for Glide instead of trying a Band-Aid? I think by the time I realized it was happening the damage was already done.
I should be upset by this race. I should be mad that I didn't make goal.
But I'm not.
I ran a good race. The things that came up were unexpected. I was exhausted by mile 15. After battling the rain, I just had little to nothing in me. My foot was killing me the last six miles. And I ran, in the rain, for nearly the entire thing.
And I finished.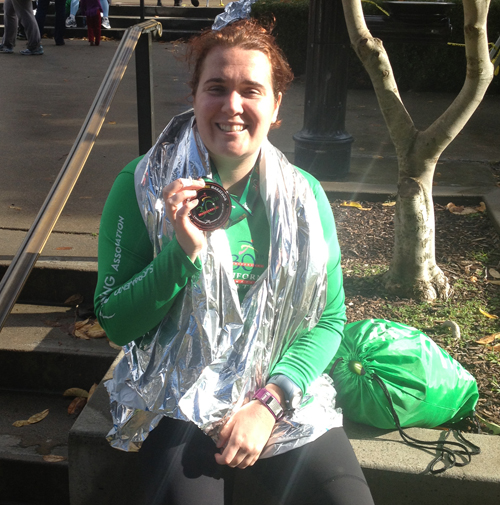 That's a lot more pain on my face than I was expecting. I heard some people say at the expo that they weren't even going to run the race because of the weather. I know more probably woke up and decided against it that morning.
I never doubted I'd be out at the start. I never doubted that at some point I'd get to the end.
I battled through this thing. And I won the battle.
A year ago, I probably wouldn't have thought about waking up and running a whole 26.2 in the mostly pouring rain. Critics say you shouldn't run a marathon your first year as a runner. I believe that now, even though I did it last year.
This year, I realized that the marathon isn't just about running all those miles. It's about realization. It's about finding something deep within yourself to pull you through. This year, I had that in me from the start line. Last year, I doubted myself until mile 25. Only then I knew I could do it.
I know I can do it now, even in the pouring rain. I just want to get better, and maybe achieve that 5:15 goal soon. Then, maybe, work on getting my time to under five hours.
But I'm not disappointed in this race. Not at all.
In fact, it was even a little bit fun. Or at least it was before my feet started getting torn up.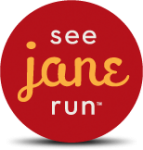 Run with me!
Save 25 percent all See Jane Run races, including the June 21 San Francisco Bay Area run, by using the code SJRAMB243. Use the code to also save 10 percent on online store discounts at seejanerun.com.