'She was always the plan' : Part II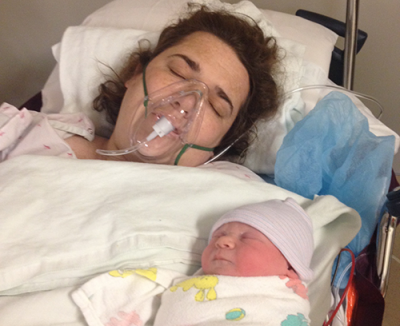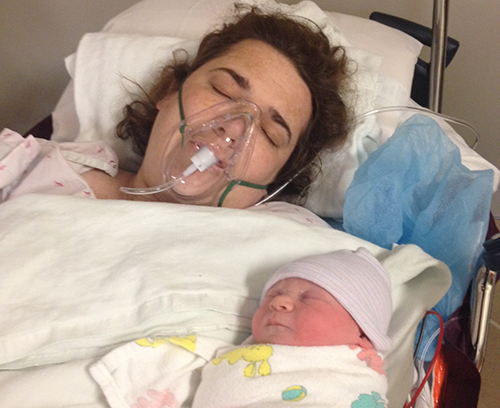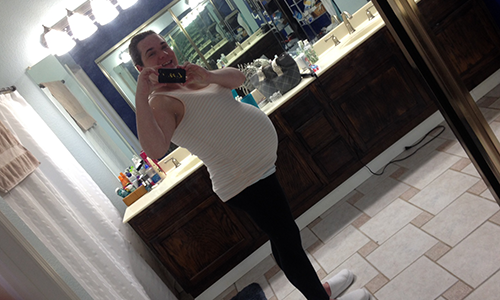 I left the doctor's office with instructions to basically sit on my butt for the weekend and monitor my blood pressure. I went home to the couch and called work to let my division office know I wouldn't be returning. I emailed over the appropriate documents, including a new form for my maternity leave to start.
My original "off" date was April 18. I had intended to work until April 25 when I found out I was pregnant. I look back now and realize how laughable that was.
I spent the next few days moving between feeling excited that within the week my daughter would be in my arms and anxious that she was doing OK in my womb with all that was going on with my own health.
I thought I was living the longest three days of my life.
On Saturday, my husband and I went out to dinner. We called it our "last supper" without a child. We spent the night at home, watching television and relaxing. Come Sunday, I woke up and finally packed my hospital bags. I tried, as much as I could, to tidy up our house so I wouldn't be coming home to dishes needing cleaning, laundry not done, etc.
At noon, I made "the call."
My OB had instructed me to call and see if a room was available. I'm lucky my time was scheduled for 2 p.m. and was only pushed back to 3 p.m. By 2 p.m. we were on the road, since I had to stop at the bank prior to going to the hospital.
By 3 p.m. we were checking in with the Boppy pillow, numerous bags and Goldfish crackers in tow. Neither of us said it, but my husband and I wee both very nervous.
INDUCTION BEGINS
The nurses didn't even ask who I was when I walked in because I was the only induction scheduled for that day. By 4:30 p.m. I was going through the motions of signing paperwork, getting IVs started, changing into a gown and becoming a "patient."
At 5:30 p.m. the on-call OB came in and inserted a suppository to "soften my cervix." Everything started slowing down after that. I had to wait as the medicine did its job.
I had blood pressure checks every 15 minutes.
Because of my swelling, every time the cuff closed, I was in excruciating pain.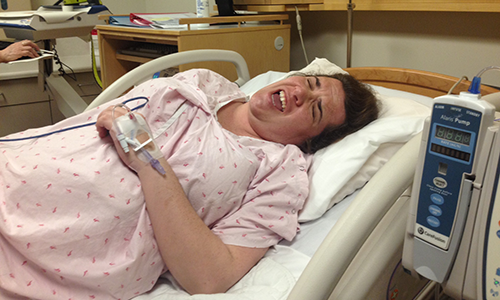 That wasn't a contraction. It was the blood pressure cuff tightening so hard around my arm it hurt like hell. It felt like I was being crushed from the inside out.
A friend stopped by and chatted. My husband and I called my mom and told her not to come that night, nothing was happening. The doctor said the Pitocin wouldn't start until Monday morning.
By 10 p.m. I was dosing off. At 11:30 I woke up and did feel quite right.
I got up, grabbed my IV pole and took a waddle walk through labor and delivery. I figured I just needed to get out of bed for a bit. My husband was sleeping on the couch next to me. I didn't wake him.
When I returned to my bed after a 15 minute excursion, the nurse came in to check my vitals. My blood pressure was skyrocketing.
I don't know the exact number, mainly because my memories from the whole induction/labor period are fuzzy at best. Why? Immediately after that blood pressure reading happened, I was put on a magnesium drip. The magnesium was supposed to prevent seizures that could have happened because of my high blood pressure.
The magnesium, though, also make me loopy and eventually everything felt like an out-of-body experience.
On Sunday night, my blood pressure was so high  I wasn't allowed to leave bed at all. The nurse brought in a bedpan. The indignity of it all had begun. I barely slept. I didn't eat because everyone was expecting labor to begin "soon."
LABOR PROGRESSES
"Soon" is relative. Soon for one person can mean 10 minutes. For another it can mean tomorrow.
In my case, labor didn't really "begin" until sometime late Monday night/early Tuesday morning.
The Pitocin drip was started on Monday morning. For awhile, nothing happened. Or at least it felt like nothing was happening. I felt some minor discomfort. The nurse began turning up the Pitocin every hour. Monday seemed to drag on as the nurse would come in, up the ante, leave and then come back and check the response.
I watched a lot of television before my mom arrived sometime before noon. By the evening hours, the Pitocin was being turned up every 30 minutes because it seemed like nothing was happening.
I should have known then that my body wasn't having this process. I didn't feel she was ready to come out yet. Apparently my body agreed.
It wasn't until Monday night that I started feeling anything significant. And then it all got so weird and distant.
My nurse, who was amazing, kept asking me if I wanted the epidural yet. Let me make it clear: I wanted an epidural. I wasn't going to try to be super woman by delivering my daughter, who my OB estimated would be nearly nine pounds if she wad born to term, without pain intervention. My pain threshold is non-existent.
Apparently I was having contractions, but wasn't in that much pain so I kept saying no. I was told, though, that my body would relax and help baby girl get out if I had the epidural. At 3:30 a.m. I finally did. I held on to my husband as the doctor inserted the needle. I want to say it didn't hurt as much as I thought it would, but I honestly don't remember much about it.
Once that happened, I was again confined to the bed. And my nurse was right, that's when things really picked up. I started getting turned on my side every half hour or so, from one side to the other, to help baby girl move down the birth canal. At 10 a.m. the on-call OB came in to check me. I can't remember how dilated I was, but it wasn't enough.
The Pitocin got turned up again. By noon, I started pushing.
Most hospitals allow women to "labor down" in order to prevent unnecessary pushing, but the ward was full that day. It was a Blood Moon, and that meant everyone was going into labor. The OB instructed my nurse to get me ready to push.
My husband was taking a shower when everything started. He walked out to me on my second push.
I would push, every way you can imagine, holding onto a bar, on my side, with one leg in the air, etc. My nurse tried 20 different positions to get baby girl to come down. More importantly, baby girl needed to turn face up.
NOTHING GOES AS PLANNED

By noon, I was dilated to 10 centimeters and ready to push.
I spent an hour pushing and feeling like I was getting nowhere. I was exhausted then. I hadn't slept in more than 24 hours outside of a few minutes at a time.
There wasn't enough running or yoga in the world that prepares a woman for nearly four hours of pushing. I had a break in between (where my usually reserved husband apparently went down and hit a vending machine when it took his money because he was anxious/annoyed/frustrated for me).
I can't remember much of the second time we started pushing. I know, only because I was told, that I had extra injections of pain medicine inserted into my epidural. I know I was pushing for at least another hour. I know the on-call OB tried the suction twice (my daughter had the mark to prove it). I know an episiotomy was considered, but rejected because where most women have a small amount of muscle that needs to be cut, I apparently had four-times the normal.
The doctor advised my husband and mother that even with an episiotomy, she wasn't sure the baby would come naturally. I don't recall who mentioned a C-section.
I only remember looking up at my husband, who was tearing up at that point, and saying: "I'm sorry."
I know now that he made the decision to go that route. I was exhausted. I felt like I was losing consciousness. Everything around me was lights and noises, but really just a blur.
I was wheeled in the operating room. I was prepped. Thomas was in an adjacent room getting suited up. But apparently, there was a miscommunication. Someone had said I had a spinal block. I only had an epidural.
So when they started to cut, I felt it. I was immediately put under for the rest of the C-section.
MISSED MOMENTS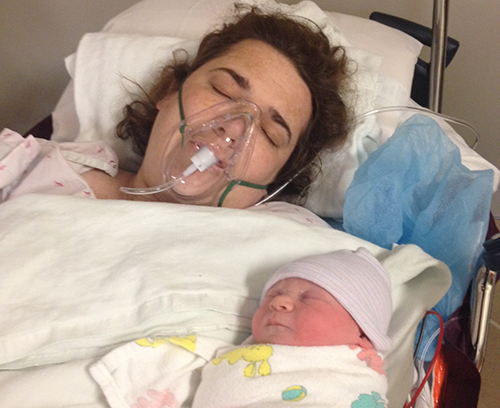 When I was put under, it robbed me of the chance to hear her first cries and see her immediately after she was born. It also took away my husband's chance to see her being born completely.
I've mentioned before how fortunate I am to be married to my husband. He reaffirmed it the day Cecilia was born.
A nurse made a comment about how I couldn't do Kangaroo care for my daughter, because I was in horrible pain, begging for relief. Thomas didn't think twice and started stripping his top half down to hold her close to him. He held her in his arms so tight in the recovery room. He brought her to me so I could kiss her and talk to her.
I've heard that a woman becomes a mother the moment she finds out she's expecting, but for some men it's the moment they see their child. My husband guards his emotions, but he cried when he saw Cecilia. He fell head over heels for her the moment he saw her.
The night she was born I was stuck in bed with a catheter, still on magnesium and slightly loopy. Thomas changed every diaper. He responded to every cry.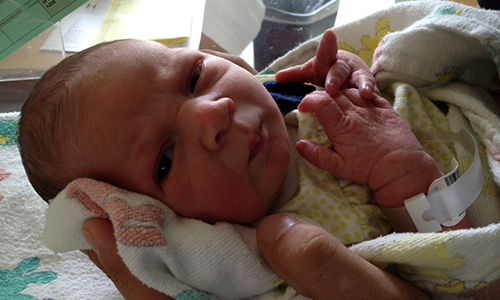 She loves her daddy so much. Even now, at six weeks old, she responds to his voice when he comes home from work. He moves her entire body toward him.
I struggle with how her birth happened. I'll never get to see how my husband reacted when he saw our first born. Those moments cannot be replaced. Everyone said I should be thankful the baby is healthy, but more than that mattered to me. (Consequently, my freelance boss sent me this article today and it is dead on).
I'm thankful none of the worst-case scenario events happened. I didn't have a seizure. I didn't die in childbirth. Cecilia was born healthy, strong and beautiful.
But I'd be lying if I said I wasn't disappointed. My body failed me in many ways.
I felt so much confusion those first 48 hours after she was born. I blamed myself (more so when she wouldn't latch for breastfeeding and still won't to this day, I'm pumping and supplementing because she's a very hungry girl). I was upset. I allowed myself to be upset.
"This wasn't what I planned," I told my husband as I sat helplessly watching him change her for the third time that night.
He looked over at me with sympathy in his eyes. He knew I was hurting, physically and emotionally. He reassured me and told me that sometimes things happen that way.
Then he said the most comforting words I heard nearly the entire week I was in the hospital.
"You followed the plan," he said. "She was always the plan."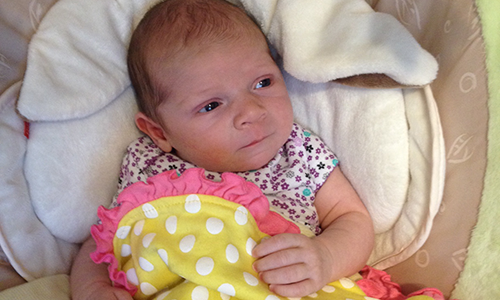 I'm pretty sure I fell in love with him all over again at that moment. Because he was right.
It doesn't matter how she came into this world. She's here. She's amazing. And she was always the plan.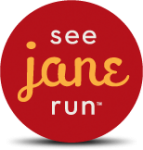 Run with me!
Save 25 percent all See Jane Run races, including the June 21 San Francisco Bay Area run, by using the code SJRAMB243. Use the code to also save 10 percent on online store discounts at seejanerun.com.