'She was always the plan' : Part I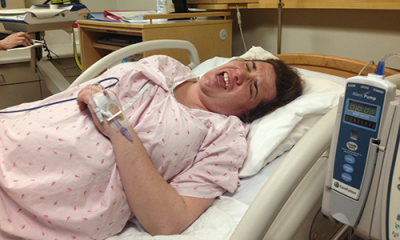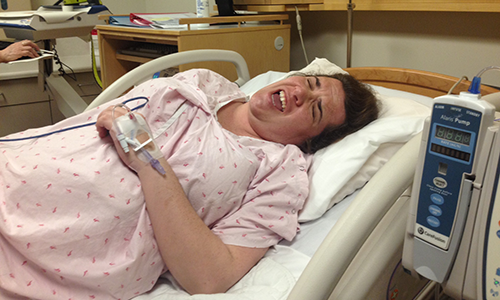 There's a confusing stupor that comes with being awoken after general anesthesia. In the same moment, you are there, waking up, but still very much "out."
More than two days after I was induced to deliver my daughter, I was coming out of that haze very slowly without recollection of what had happened to me in the moments, hours and days before.
"She's here," my husband assured me. "And she's fine."
Then I heard her. It wasn't a cry. It was more of a coo. She was happy. She was in her daddy's arms. I opened my eyes to see my husband holding her close to him, his eyes watery.
I was overwhelmed with pain. I was awakened without pain meds flowing through me. I asked for what seemed like 30 minutes, to please have something because it hurt so bad. The rest is a blur.
I couldn't sit up to hold her initially.
An oxygen mask was secured to my face.
The nurse fought me to keep it on. I finally ripped if off as my husband held my little girl — the baby who in reality shouldn't have been born for three more weeks, who wasn't quite ready to come out on her own — next to me.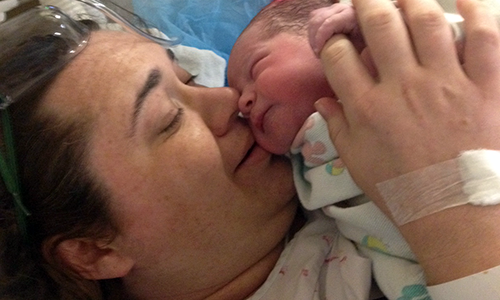 All 19 3/4 inches and 8 pounds of her. Cecilia Carine. Our first child. Our daughter. Her first name chosen by her father. Her middle name an altered spelling of my grandmother's name (and the way her Swedish brother produced it), who I always intended to name my first daughter after. Born at 37 weeks after a medical induction because of mild preeclampsia.
If I said it wasn't what I had anticipated, it would be an understatement.
I had envisioned Kangaroo time with me. I had dreams about her being handed to me after being born, my husband cutting her umbilical cord, delayed cord clamping and a bunch of other things. I didn't realize I had a "birth plan" until my birth plan was thrown out the window.
As much as I was overwhelmed by the love I felt for this very small person, I spent the first days with her torn apart emotionally about how I should feel about her debut in this world.
The pain runs deeper because Cecilia, even at five weeks, won't breast feed. Another one of my plans ruined. Instead I've been pumping constantly to give her the benefits without having her recoil when I introduce a breast to her (yes, she does that).
I've had days where I feel like my body, the body that has pushed me through five marathons and even more half marathons, failed me at the eleventh hour. The pain fades with every milestone. And each day I become more and more smitten with my baby girl.

A NOT-SO-SUDDEN PROGRESSION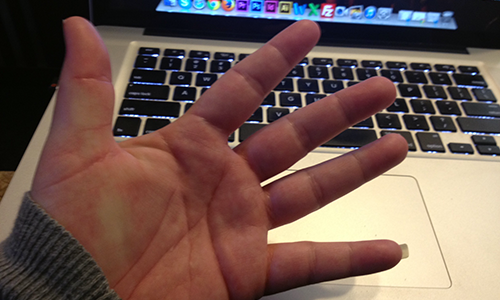 For all intents and purposes, I had a very healthy pregnancy. I had no morning sickness the first trimester. Instead I had severe nausea which meant that the first 10 weeks I lost 15 pounds.
My clothes fit really, really well that first trimester. I ate incredibly healthy too, particularly because I was worried about fitting into my bridesmaid dress at 19 weeks pregnant for my friend's December wedding. By January, I had gained only 20 pounds, putting me only five pounds over my initial pre-pregnancy weight.
As I started teaching again, I noticed that with each passing class period my shoes were fitting more and more tightly. Then my wedding ring and college class ring started to get tight.
My arms and legs started to swell. My running had taken a pretty significant hit in the first trimester with all the nausea and fatigue. When my second trimester "feel good" period came, I hit the treadmill every couple days until my legs started looking more and more like balloons.
It was not a good look for me.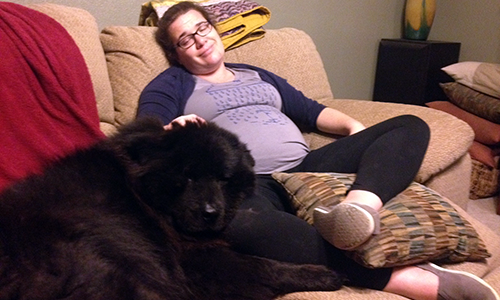 By week 27, I had stopped running mainly because baby girl decided to jump on my bladder whenever I got going.
As each week turned over (on Sundays) I noticed my hands, feet and legs were getting worse and worse. I called my insurance's advice line numerous times. At 27 weeks I was admitted for observation because I started to see "floaters" and had a head ache that didn't go away with over-the-counter medication.
At 32 weeks my doctor said we'd start doing "nonstress" tests every week for baby girl because of my history of diabetes, even though I didn't have gestational diabetes. That weekend, I was back being monitored overnight at the hospital. My husband had to take a Monday off because we were there overnight for testing for a potential pre-eclampsia diagnosis. I did a 24-hour urinalysis. It came back elevated, but fine.
At 36 weeks I had a non-stress test and my blood pressure was so high my OB ordered me to go to the hospital immediately.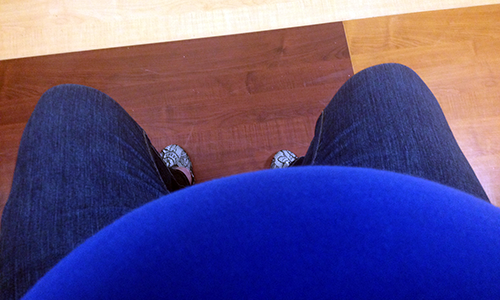 My mom came to get me and we ventured to the hospital, about 30 minutes (in traffic) away from where I live. I spent more than four hours being monitored. My blood pressure was somewhere around 165/90 or something like that. I can't really remember. When it stabilized I was allowed to go home, with more tests to be completed.
I did another 24-hour urinalysis.
On Tuesday and Wednesday, I went to work. My students were finishing a 12-page issue of the newspaper. I didn't want to miss it. I felt pretty miserable. In retrospect, I shouldn't have been there. I look back on it now and can't believe I worked through the week. I left school immediately Thursday after pages were sent to the publisher and went to my doctor for another nonstress test and a follow-up appointment from the hospital visit.
What I already knew: My test results showed that the protein in my urine had doubled in a two week period. That meant nothing good. I tried to mentally prepare for the worst, even though I didn't know what "the worst" was. I knew one thing, baby girl was likely coming sooner than my husband and I expected.
THE DECISION
When I laid down on the bed for the non-stress test, the OB nurse did an ultrasound immediately. I thought that was a little weird. I asked her what it was for.
"I'm checking the baby's size and position," she said.
Baby girl was head down (she had been since 25 weeks). The non-stress test showed no problems for baby. I, on the other hand, was feeling really, really bad. I felt like my skin was crawling.
My appointment with my OB was scheduled for about 30 minutes after my test time. But the nurse led me into an examination room.
And I waited.
And waited.
And waited.
For about 40 minutes after my appointment time, which is really uncharacteristic for my OB's office. When my OB finally came in, she asked me whether my husband was with me. That's when I knew this likely wouldn't be good.
"We're going to induce you at 37 weeks," she said, matter of factually.
I thought about it for a minute, then it really hit me.
"That's Sunday," I said.
"Yes," she said.
I left the office with paperwork, a number to call come Sunday and a lot of anxiety about what was going to happen. I also was ordered to be done with work as of that day, which meant no newspaper delivery with my students the next day. I had to stay off my feet the whole weekend, until Sunday.
We hadn't even packed our bags yet …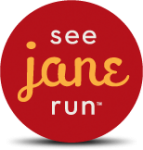 Run with me!
Save 25 percent all See Jane Run races, including the June 21 San Francisco Bay Area run, by using the code SJRAMB243. Use the code to also save 10 percent on online store discounts at seejanerun.com.