A new member of the '52 Club'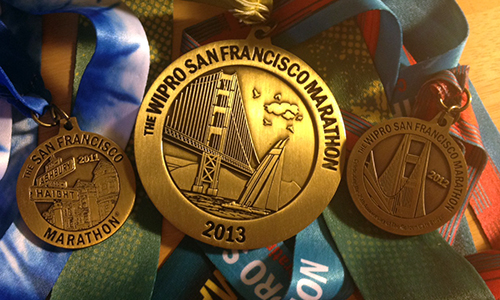 "Worth the hurt" is the motto for the San Francisco Marathon. Today, I know why.
My whole body hurts. It's not just my super angry IT band and left hip. It's my lower back, my shoulders and my core. When I finished my 26.5-mile jaunt (that's what the Garmin tallied) yesterday, I sent a message to one of my running buddies.
"I'm never doing this one again," I wrote.
She's pretty sure I will.
After resting my legs all week, which was it's own cruel punishment, I pounded the pavement of San Francisco. I ran my second fastest marathon at 5:15:46. I'm still a little impressed that it went so well. I told my husband to expect me around 5:30.
"Or later," I said when he dropped me off near the Embarcedero, which happened to have a full line of portable toilets without any lines outside of the security checkpoint. (This year, there were security checkpoints in place where runners were searched in light of what happened at April's Boston Marathon).
I timed everything so well on Sunday morning that I had maybe at 15 minute wait in my corral before hitting the streets.
Immediately my leg started hurting, but it didn't develop into a full-on "why are you doing this???" pain until about mile 18, which is where I normally hit "the wall." Except my wall wasn't a wall as much as a lake that I didn't want to see and a park that I just wanted to escape after six miles.
In any case, I'm completely satisfied with my time. I don't feel like the last two races were regressions at all. I'm proud of what I did out there in San Francisco, even if some of my miles had the 13-minute mark in front of them.
My finish also means I truly earned my "52 Club" sweatshirt. When I asked my husband to grab me a long-sleeve shirt from upstairs before he went to work this morning, he brought it to me.
"I'm awarding you the sweater," he laughed.
My three medals above show my progression from 2011 ("I'll run the second half because it's less hilly") to 2012 ("I'll run the first half to complete the Half-It-All Challenge") to this year ("Why shouldn't I run the full marathon?).
A full race report is in the works. I'm just happy to have survived and not done any significant damage to my leg and hip.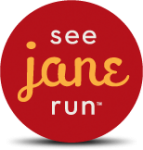 Run with me!
Save 25 percent all See Jane Run races, including the June 21 San Francisco Bay Area run, by using the code SJRAMB243. Use the code to also save 10 percent on online store discounts at seejanerun.com.