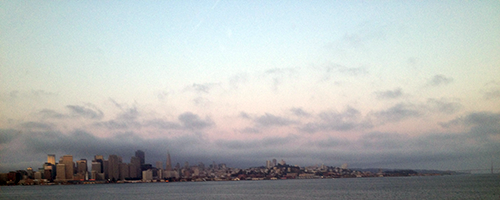 I was hoping that if I put off my race report, I could report that within days of running one of the toughest marathons in the country, I was back up and running.
The truth is I'm still nursing a very sore left hip. My toes still have blisters. And I only started being able to cross my legs again. I started hurting on the way home. I didn't stop hurting until sometime on Wednesday.
I haven't been as sore as I was this week since I ran my first marathon in 2011.
Five days after crossing the finish line, I'm not afraid to admit something I didn't want to before: I was absolutely petrified to run this race. It sparked every bit of my anxiety. I had nightmares about getting to the start line and not having pants on.
Why? My thigh wasn't at 100 percent. It wasn't even at 80 percent. My cranky IT band wouldn't settle down. And it's a marathon. My fifth marathon. And, if everyone was right about San Francisco being a tough place to run a marathon, it was going to be a really difficult one.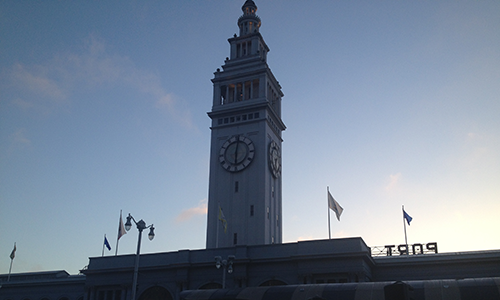 I even told my husband that I'd be fine if he didn't wake up, I was going to go back to sleep. If we hadn't of stopped to take a breather at Treasure Island, where I used the portable toilets, put on sunscreen and got myself generally situated, I think I would have needed to breathe into a bag in my corral.
As it was, my husband dropped me off near the Embarcadero with only about 30 minutes to spare. My corral was literally shut behind me as we were all shifted down to the start. The daybreak revealed two things to me: 1) It was going to be a rare, sunny day in San Francisco. 2) It was going to be a "26.2" or bust kind of experience for me.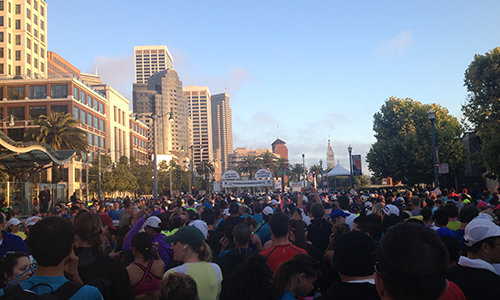 At around 6:30 a.m., we began, passing the finish line to get to the start.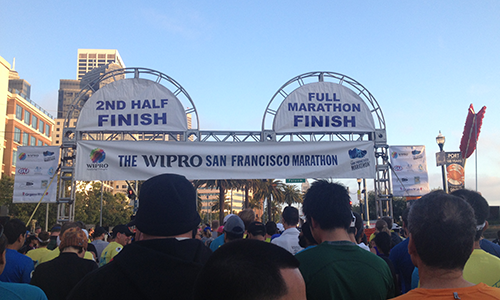 Mile 1: 10:41 — The flattest part of the race is at the beginning and the end. This was the first time I'd run in more than a week. Yet, my hip had a little nagging pain in it. My whole plan for this race was that if I was truly in a lot of pain, I'd cut out at the half marathon point and call it a day.
Mile 2: 10:31 — Moving into the Marina District and up to the first hill, which is essentially just an up and down. I knew there was no way I could do a graduated run up the hills on this day. So I paced myself, I stopped and walked when I felt as if my leg was really going to suffer.
Mile 3: 11:26 — I started seeing the Golden Gate Bridge about now. I think most runners are really, really excited about this part. I hate saying this, but I'm not a fan on the bridge. There are slippery parts to it, most of which have covers, but it's also a little isolating being on the bridge. The runners are so low on the span, too, that we often can't see anything. But the bridge doesn't come in this mile. It comes later. Gu in this mile.
Mile 4: 10:24 — I felt the Gu really perking me up. I know this is one of my final "flat" miles, so I try to push myself though here.
Mile 5: 10:45 — I nearly forget about my leg here, but when realizing that I need to climb one of the biggest hills in the race, I realize that my thigh is in more pain the beginning. And … if I manage to make it through this marathon, I still have 21 miles to go.
Mile 6: 12:47 — Up the hill and onto the bridge.
Mile 7: 10:45 — This time I actually feel the gradual incline of the bridge, it goes up and goes down.
Mile 8: 11:19 — I'm steadying my pace as we get into Marin County. I'm enjoying the experience on the bridge today, but I also know that I'm not even done with the first half yet. I start to kind of freak out about the whole thing, but I bring myself back down. Gu here again, with a lot of water. It's sunny on the bridge. And warm. I'm starting to get dehydrated.
Mile 9: 11:08 — The little cups of water are just WAY to little in this race. Off the bridge now and back up a hill.
Mile 10: 11:46 — Another large hill. I slow down and stopped to refill my water bottle. I stopped at the wrong booth, though, and got a chalky-tasting energy drink.
Mile 11: 11:29 — All downhill here. The problem with the downhills in this race were that my leg just wasn't having it. I felt I was floppy and uncoordinated on the downhills, especially near the end of the marathon.
Mile 12: 12:40 — Running through the neighborhoods toward the park.
Mile 13: 12:33 — The miles into the park are rolling, by the time I hit the park, I'm exhausted. I'm slowing down. I'm considering not finishing the marathon. My leg is starting to throb a little. Thirteen more miles of this? Maybe not so much.
Half marathon: 2:31:03

Mile 14: 10:44 — But I don't stop. I keep going. The next few miles are a gradual uphill through Golden Gate Park, past the start for the Second Half Marathon, which was already underway.
Mile 15: 11:55 — I'm late in the marathon group, so there's only marathoners for the first couple miles here. There's a nice, steady stream of people.
Mile 16: 12:40 — I forgot a Gu somewhere, so I do one here.
Mile 17: 13:53 — This is when it gets hard. Marathoners spend six miles in Golden Gate Park. Six miles in the middle of the race. Six tough miles where you just want to get out of the park. I was tired. My body was already aching. I just wanted out of the park. I wanted me leg to stop hurting too.
Mile 18: 11:54 — And yet, I had to get around Stow Lake. I've only ever been around Stow Lake while running this race. I'm sure it's beautiful and tranquil, but when I saw it I just wanted it to be over. Unfortunately there's a loop around the whole thing. At one point, when you think you're done, you see other runners and say: "Wow, they're just starting out!" Then you realize that's an area you HAVEN'T run yet.
Mile 19: 13:01 — We run past the 1st Half Marathon finish. I hate everyone right now.
Mile 20: 12:02 — Finally out of the park. FINALLY. A couple more uphills. Gu! Make me feel better please Gu!
Mile 21: 13:35 — And then we start the downhills. I would normally go at these aggressively. But I really, really slowed down.
Mile 22: 12:49 — It was literally one tiny footstep in front of the other.
Mile 23: 13:15 — Finally back into the less hilly part of the course. Another Gu. I was considering calling Thomas here, just to let him know where I was and that I likely wasn't finishing in 5:30, which is when I told him I would probably come in. But … instead I suddenly realized I had to go to the bathroom. I only make marathon bathroom stops if I see an open stall. I did here, so I got in and out as fast as I could. This is also where I realized my leg really, really hurt. There was no "I'll be fine tomorrow." I feared that if I stopped running, I wouldn't be able to walk either.
Mile 24: 12:13 —Battling a little here, but overall finishing stronger than I did in the San Luis Obispo Marathon.
Mile 25: 11:57 — I'm exhausted. Just trying to put on foot in front of the other. Gu. I needed one at that point.
Mile 26: 11:49 — But the finish line isn't anywhere near me. What gives? I had realized how far off my Garmin was from the actual course until then.
Mile .51: 5:36 — That extra .31 was torturous for me. I should have just been done. In fact, mt 26.2 time was 5:12:40 which wasn't too far off my SLO Marathon time (only about 20 seconds), but this course was difficult. And long. I thought I tried to run the tangents good. (Other people were pissed about the course length, missing Boston qualifying because of it, etc. I'm not as concerned about that, obviously. I ran a good race despite my leg constantly throbbing.)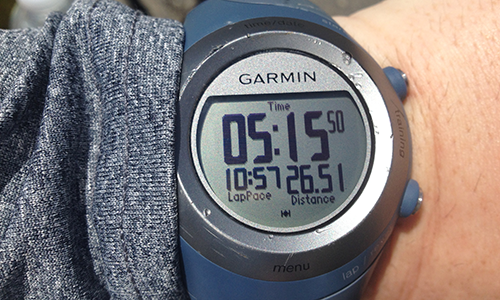 I'm incredibly proud of that time. It was a tough marathon. I felt like I did my best running on a daunting course with a bad leg.
The finishers shoot wasn't too crowded (with only about an hour left before the official end of the marathon). I collected my medal, a space blanket (even though it was warm), and headed down the shoot. I was handed a blueberry score from Panera. I also got a four-pack of King's Hawaiian rolls, which I are later with some chicken my husband grabbed at a Safeway in San Francisco.
My husband had sent me a text message around mile 22 asking me if I was still alive. He found me at the finish line soon after I finished. I was sitting on a curb.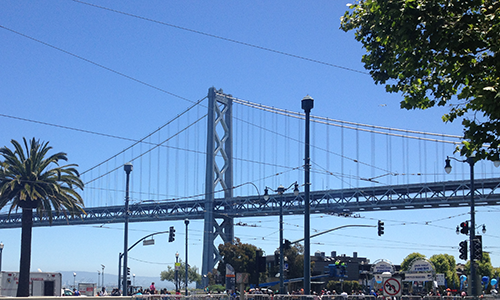 There's the finish line under the San Francisco Bay Bridge.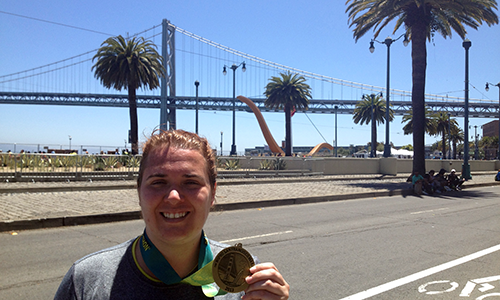 Since San Francisco now charges to park on Sundays (lame!), Thomas and I headed back across the Bay Bridge and back into the East Bay en route to our home in Tracy. I just wanted to go home, take a shower and eat something.
I was more than happy just to stare at my race medal (I can't be the only one who does this) and take a breather for the rest of the day before the True Blood season premiere.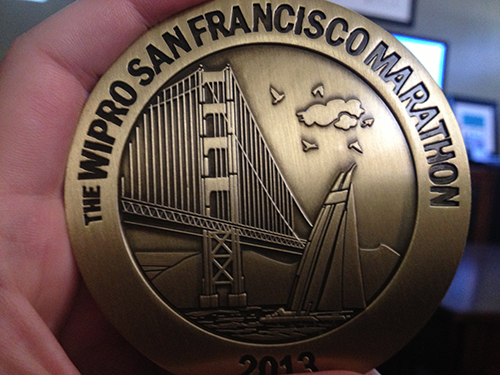 I've received a "coaster" medal before, but this one is awesome. I earned it for those 26.51 miles on that course. I didn't even feel bad about hanging it in front of my PR SLO Marathon medal.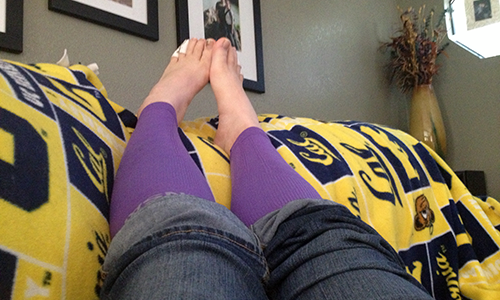 The rest of the day, my legs were elevated and compressed. I swear my compression socks are the only reason I can walk after a long run. I love them more than I can relate.
That said, I wish I had a body "compression suit" for my stubborn little hip. It still hurts today. I've done some yard work on it, but I haven't done any pounding. The problem is that I know it's not broken. I now what a break feels like. I can put pressure on my leg. When my arm was broken, I'd recoil in pain the moment I put pressure on my arm. This isn't a break.
It's likely a bad strain. One that I'm reluctantly saying off of for at least another day. I'm itching to run again. But after five runs in a seven week period, I'm also willing to let my hip rest for a bit to put myself back together for September's flatter Half Moon Bay International Marathon and, possibly, a half marathon in August.
The rest of my summer is about training, not racing. I'm looking forward to some downtime where a start line, and a finish line, isn't in my future for a bit.