A beginning
I've written blog posts before. But not like this.
For some time I've toyed with the idea of starting a running blog. But I didn't. Why? I felt too amateur to do so. I've only been running for 19 months.
I started running to get off my diabetes medication. But I ran my first 5k in Nov. 2008.
The next one I ran I knocked 10 minutes off my time. That was April 2010.
I ran my first 10K on Thanksgiving Day 2010.
I was scared out of my mind. But I ended up registering for a half marathon the next June.
I was ahead in my training, so I ran my first half marathon in Oakland on March 27 at the Oakland Running Festival.
I've run three more since. I'm training for a marathon I hope to be able to compete.
To get there, I'm running three half marathons in October (I hope).
This is my journey.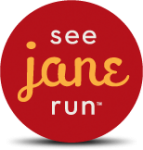 Run with me!
Save 25 percent all See Jane Run races, including the June 21 San Francisco Bay Area run, by using the code SJRAMB243. Use the code to also save 10 percent on online store discounts at seejanerun.com.