Prepping for a long run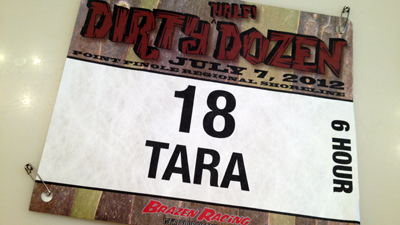 A couple months ago I signed up for a six-hour Brazen endurance run thinking to myself "six hours doesn't sound so bad." That was before the horrible marathon in San Diego. That was also before I started hitting my stride a couple weeks ago and ran nearly 40 miles in one week. Some good. Some bad. All running.
Saturday is the day. The six-hour endurance run begins at 7 a.m. My brother will run a 5K at noon as part of it. I'm hoping for over 20 miles. Each pass around is 3.37 miles, which means I need to at least do that six times (for a little over 20 miles). My second goal is to, maybe, go the marathon distance again. I'm not completely sure I'll get there, but I am going to try.
Today, Matt from the Mountain House Runners was nice enough to pick up my race packet for me. I was super stoked to get it early since we always tend to run late on race day. I'll say, it's a pretty sweet deal for the entry fee that I was given an awesome zip up hoodie with this year's logo and all.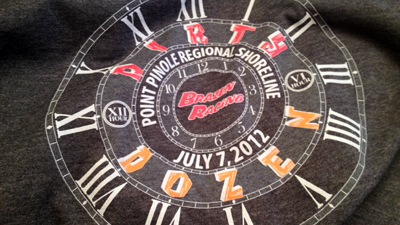 The back has the clock that made up last year's medal. I ran the 10K last year as part of this event because it was at 11 a.m., which meant I could sleep in and go. So I have one of last year's 10K medals, but I also saw the endurance medal, which was pretty awesome. That's not what made me sign up. I haven't run a Brazen race in awhile. I wanted to do something with them again.
The endurance run seemed like a good idea. (I laugh now.)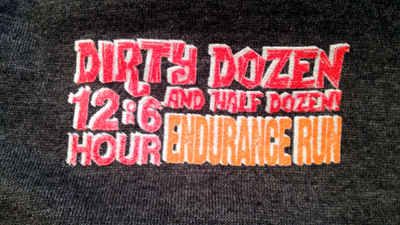 The front has the logo that's on the Brazen website for this specific run. The zip up is high quality too. I think I'll get a lot of use out of it.
As I gather my race items, though, I'm trying to think about all I need to get me through six hours of running. I know some things for sure.
There will be two aid stations, each stocked with all the conveniences that I'm accustomed to at Brazen races. That means fruit, gummy bears, oranges, water and, likely, a sport drink. I know the stations will be well manned, if only because there will be people out running a 12-hour race too. I also know there are bathrooms along the course. I remember last year there being three, one near the start, one about a mile in and one closer to the end.
So there's not a lot of questions about that.
But I wonder, too, what I'll need to make it through.
I've started gathering items to pack away for my husband and brother to provide to me while they "crew."
The first is sunscreen. A second is body lubricant/glide.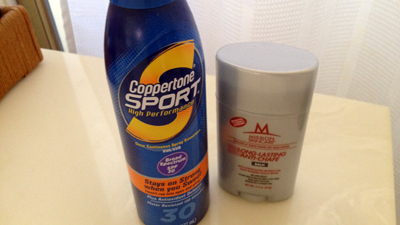 I'll likely need to reapply the sunscreen numerous times. The spray bottles are great because you don't have to worry about missing certain areas. I can just have someone spray me all over. It will be quick too.
The lube/glide will be for those areas that need reapplying after awhile. This includes my fat little right arm, which always seems to chafe. I don't need anything for my legs because I'll be wearing capris. I also have some powdered Glide for in between my toes.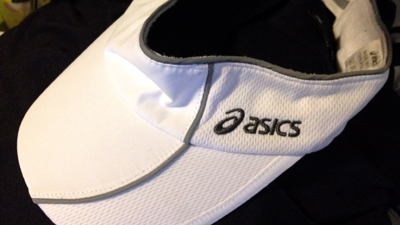 I don't typically run in a hat, but I figured I'd pack my visor that I picked up at the Big Sur Half Marathon last year so I wouldn't be too hot. This is also about sun protection. Most of the trail is covered and nice, but we do hit the sun here and there.
I'm also planning on taking a stock pile of my Gu supply.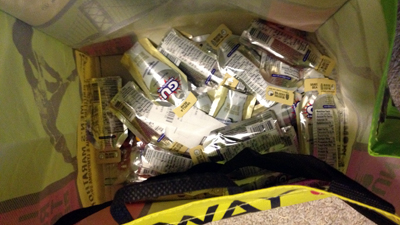 True story: I usually keep that much Gu in a bag in my closest. I once realized I ran out of Gu the night before a run. That run happened to be the Big Sur Half. It was too late to go buy any new Gu. I had no options. So I ran without. And it was a horrible, horrible run. I was miserable the entire time. And hungry. Finally, at about mile seven, the volunteers were handing out Gu on the course. But they didn't seem to have any Vanilla Bean, which is kind of my favorite.
So I stock up. All the time.
I know, though, that Gu wouldn't get me through six hours.
I'm also bringing something more substantial. I'll pack some natural fruit rolls. Some chocolate covered raisins. And my favorite type of Luna bar.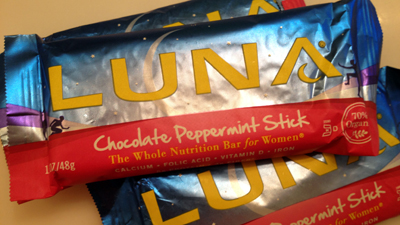 Love those.
I'm nervous about this run, but excited at the same time. I think it will be a nice, low key way to get in some distance. I also think it will be a fun time.
Six hours seems like a really long time, though.
I hope I can make it.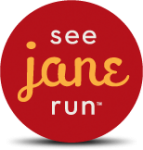 Run with me!
Save 25 percent all See Jane Run races, including the June 21 San Francisco Bay Area run, by using the code SJRAMB243. Use the code to also save 10 percent on online store discounts at seejanerun.com.