On the wings of the goddess of victory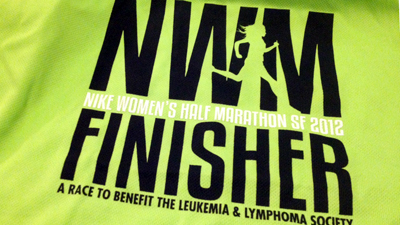 The Nike Women's Half Marathon is not one of those races that is easy to get a personal record on. Why? There are so many people running. There are many others walking. The first three or four miles are spent weaving through people until we hit the hills, then it evens out a little bit.
So my expectations, especially after my horrendous experience at the Rock 'n' Roll San Jose Half Marathon, were pretty low. I ran a 2:36 in San Jose. Not great. My body hurt. I hate the entire experience.
Nike was the complete opposite of that.
I loved every minute of it, even the beginning with a new corral system.
And I finished 13 minutes ahead of my time from last year. I figured I'd do better than last year no matter what because I at least new what to expect this year.
The whole experience was positive, though.
I woke up early for the 7 a.m. Union Square start. It was dark when we left our home in Tracy. It was still dark when we neared the city. I stopped at my predesignated race bathroom pit stop before heading into San Francisco.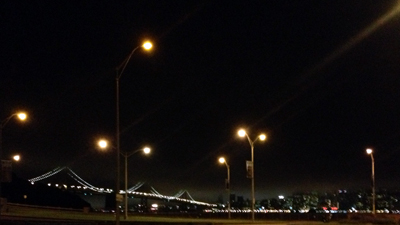 Know where this is? I think it's one of the best kept secrets if you are coming in to run from the East Bay. There are three portable toilets here, no lines. Stopped here saved me during the 1st Half of the San Francisco Marathon. The lines at the Embarcadero were just way too long for me to even consider going to the bathroom at the race start.
My husband dropped me off about a block from my corral opening. The first thing I noticed: There were a ton of people waiting for the bathrooms. Great, I thought, a repeat of last year. I was glad I went before I got into the city.
I walked up to the middle of my corral and was surprised to find another set of portable toilets with lines only three deep. Seriously? How is no one finding these? I jumped in a line with 15 minutes to race time and was out by the time the gun went off to let the first corral go.
I even had time to head up toward the front of my corral, which it seemed like a lot of people were avoiding.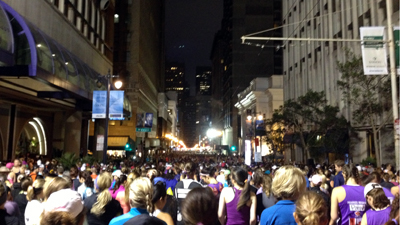 It was still pretty dark at the start. I didn't start seeing a glimmer of the light until I was about to cross the start line, 16 minutes after the first people began.
It was kind of beautiful, though, to see the shadows on the ground.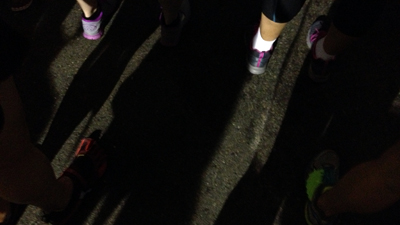 There was really that much space between me and the next person. It was nice not to be on top of one another, a huge change from last year.
It didn't seem long until the announcer was telling us that it was time to head out. And, just as quickly as I got there, we were off and running.
Mile 1: 10:50 — A downhill at the beginning, not too bad. Bobbing and weaving a lot. My Garmin actually had me pacing closer to 12-minute miles. I should have known than that something was wrong with it.
Mile 2: 11:04  — Continuing running through and around people. We're down at the Embarcadero now, with a slight wind coming up from the San Francisco Bay. But it was getting a little warm already.
Mile 3: 11:38 — A slight hill near Ghirardelli Square. I actually heard a woman say: "Wow, my friend said the hills were bad, this isn't bad at all." I laughed a little, if only because I knew what was coming up soon.
Mile 4: 12:32 — On the first hill, slowing down a little, but not feeling horrible. I was worried about my legs. They started getting a little tired here.
Mile 5: 11:08 — Now a downhill and run through Crissy Field. I love running along here. It's a beautiful area, plus there is a huge cheering area at the Marina Safeway. This is probably my favorite part of the run. I picked it up here because I was so pumped…and I knew what was coming up.
Mile 6: 12:03 — Not bad as I continue through the area near Golden Gate Bridge. It's getting harder to stop at water stops because it seems like everyone is stopping near the end now. There are just a lot of people in this race, so everything takes time.
Mile 7: 15:11 — THIS. HILL.SUCKS. I hate it. It's in both this race and the 1st Half of the San Francisco Marathon. When you run on a hill this step, it really feels as if you are running in place.

That's the elevation chart from my Garmin. The biggest, most challenging hill is starts near mile six. And it seems to take forever to climb.
Mile 8: 11:42 — Back down the hill a little here. Not a bad mile. Not my best. Just kept running.
Mile 9: 14:00 — The second big hill here. I forgot about it completely. I thought I was going to start a downhill, then turned a corner and realized how wrong I was.
Mile 1o: 12:13 — I think mile 10 is always my favorite mile during half marathons. It is in this one because the downhill here is significant, but you can get caught up running way to fast. That happened to me last year. This year, I paced nicely down the hill.
Mile 11: 11:43 — Into the park, feeling my fatigue.
Mile 12: 12:45 — I walked here for longer than I wanted to. I think I was just tired. I finally picked up a slow jog. And yet, it didn't seem as if I wasn't running at all. (A theme in this race, I think.)
Mile 13: 10:44 — I realized it was nearing the end. I picked it up and gave it all I could. We exit the park and then, immediately, hit the finish line. So it's quiet, then it gets all crazy (especially with people running across the intersection).
Mile .26: 2:24 — RUN. FAST. NOW! I don't know why I picked it up so much, but it felt good. You can't tell from my race photos, but I was so happy to be done.
Garmin time: 2:40:01
Chip time: 2:40:51
And then, the line for the Tiffany necklaces.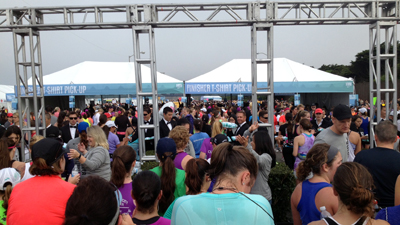 I'm told that once upon a time, they would just hand you the necklace upon finish. Now they scan each bib and make you walk through this area before a handsome firefighter hands you a necklace.
(An aside confession: I'm a little on the heavier side again now and hate, hate, hate my back fat. But I realize when I run races with a lot of women that nearly every woman has back fat that is unflattering in athletic clothes. Even slim ones. I don't know why that makes me feel better, but it kind of does.)
Back to the necklace. I waited for nearly 10 minutes trying to make my way through this mess. It just kind of seemed like my line had a log jam.
Then it happened.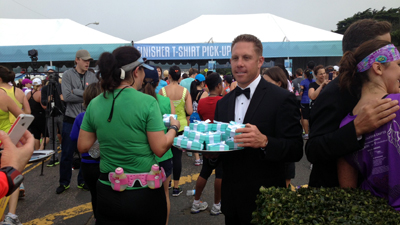 Hello handsome firefighter. Thank you for handing me a beautiful necklace. By the way, when I took this photo a woman behind me scoff and said I was holding up the line. I found it funny because the woman to the right of me is getting her photo taken with a firefighter. The woman to the left to me, you can see her phone, just finished doing the same thing I was.
My next line was my finisher T-shirt pick up. Last year I loved the yellow. This year I loved the florescent lime green. Great for running at night. Great for being seen in general (it's at the top of this post).
It took forever to get through the finish area. After getting a banana and a bagel, I only took one of both, and some water I dunked under a barrier to get out of the mess. I finally went and sat down looking at Ocean Beach, ready to open my prize/medal.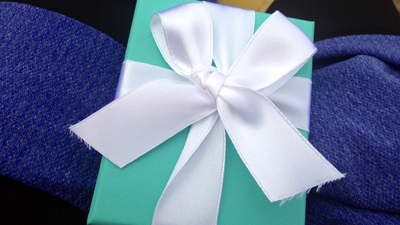 I always hate untying the bow. It's so perfect. I wonder how long it takes to tie 20,000+ Tiffany boxes with ribbon. I would imagine Tiffany works on this for quite some time.
I opened the box up and was confused at first. The pendant is dog-tagged shaped with what looked like cryptic writing in the background. Upon closer inspection, I realized the figure was actually running in front of the Golden Gate Bridge.
Perfect, since this is the bridge's 75th anniversary.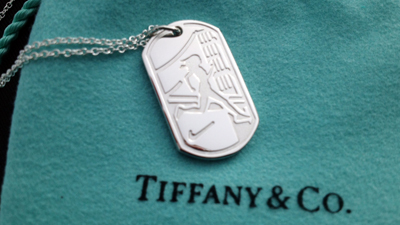 Beautiful. I honestly love it so much more than my one from last year. I've been wearing it all week. Love.
Last year, I was thankful to run this race. This year, the wings of the goddess of victory led me to another 13.1 this year. It's tough to get into this race, but I'm so glad I did. And there's never a guarantee for next year.
But it was an amazing journey. I'm crossing my fingers than I'll be able to run it again in 2013.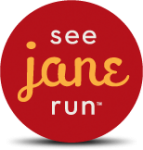 Run with me!
Save 25 percent all See Jane Run races, including the June 21 San Francisco Bay Area run, by using the code SJRAMB243. Use the code to also save 10 percent on online store discounts at seejanerun.com.