Joining the #StayFreshTeam: A ShowerPill review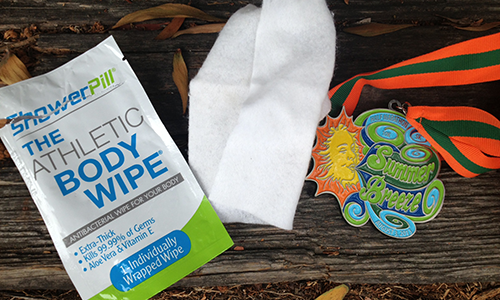 My race report is still to come from this weekend's Summer Breeze Half Marathon, but the run was my first race in more than a month and it gave me a chance to finally use and review the ShowerPill.
Dubbed "the athletic body wipe" the ShowerPill is a thick, largish wipe that kills 99.9% of germs on the body after getting in a good, sweaty workout. The cloth, though, also contains Aloe Vera and Vitamin E which makes for a nice, clean feeling without damaging the skin.
I normally carry some type of wipe in my gym bag with me. Usually it's something I get at Target in the travel section.
I started doing so after reading reviews of the Oakland Half Marathon online and former participants mentioning a lack of toilet paper for slower runners in the portable toilets. I carried them with me, in my waist water bottle pouch, that day. Nowadays I just keep them in my bag until after a race.
I use them to try and freshen up.
My husband hates it when I use the wipes, though, because they smell. It's not a horribly bad smell. It's more of a flowery, fragrant smell that just kind of lingers, even when you buy the "baby powder" fresh version.
And the cloths were small. Too small to actually use on more than one arm.
Enter the ShowerPill.
I found out about the product on Twitter and asked if the ShowerPill would be a good option for the days I run and work out when I'm at school. I don't have access to showers or anything in between meetings and labs, but I have, in the past, gone for quick runs, especially when the fall and winter comes and it gets dark earlier.
The folks at ShowerPill were nice enough to send me some free samples.
I packed them into my gym bag, but didn't have a chance to use them until this weekend after the Brazen Summer Breeze Half Marathon.
After 2:19:15 running, I needed clean off. I usually do after a race.
Good thing I had a ShowerPill packed away. When I found my way back to the car (which thankfully was parked close since my husband took out the kayak and the marina saved spots specifically for boat launching) and started wiping down.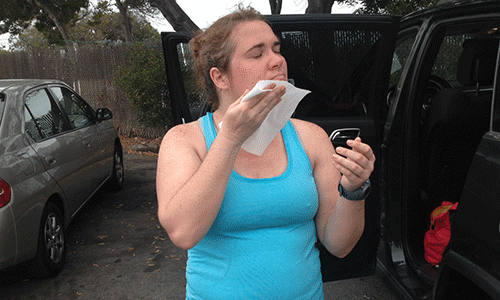 My husband took some nice rapid fire shots of me getting clean. And then I learned how to make .gifs via Photoshop. So I had to share this gem. It looks like I'm in pain. I assure you, I'm not. I just have a hard time having anything touch my face, I always have.
I'll save the images of me cleaning off the rest of me (arms, arm pits, etc.) because that's just too much information.
And you know what? I felt so much better afterward. I didn't smell like baby powder. I didn't have to go through multiple wipes just to get clean. My face wasn't irritated afterward either.
The ShowerPill was also large enough that I felt like it was really cleaning me off.
Even better, I didn't have to ride the nearly hour-long ride home smelling bad or having to worry about my sticky sweat getting all over my car seats. This one is especially important since the car I'm driving right now had cloth seats. It's nice not to have to open the windows and "air it out."
My husband and I were even able to make a stop, which we don't normally do because I'm not the best-smelling person after a run, and I was able to sit at a restaurant without feeling self conscious or gross. I was sold, seriously though, when I felt fresh when I got home still and didn't feel the need to run and get in the shower immediately. (Confession: I did get in the shower after a bit, though, to wash my hair. I didn't expect the ShowerPill to do that.)
The ShowerPill is also reasonably priced at $9.99 a pack for 1o. That's $1 each. It's well worth it.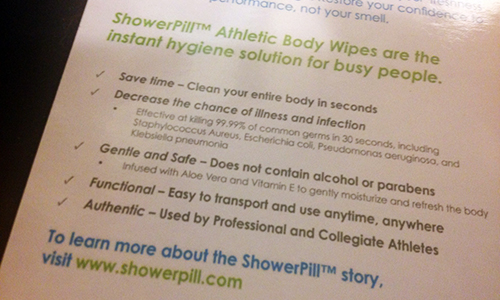 You can purchase the ShowerPill at Amazon.com. You can also enter to win a one-year supply of ShowerPills (which, if you're like me and work out a lot, you know will come in handy) here after liking ShowerPill on Facebook. You can also follow ShowerPill on Twitter.
I'm all about trial and error of products before jumping in. I've spent way too much money on things billed for athletes and runners that just don't work for me. But I'll be ordering a couple packages of ShowerPill wipes to use after a good run or other workout.
Disclosure: I was sent three ShowerPill wipes from ShowerPill, but was not compensated for this review nor was a review promised to the company. These opinions are solely my own.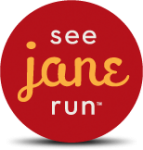 Run with me!
Save 25 percent all See Jane Run races, including the June 21 San Francisco Bay Area run, by using the code SJRAMB243. Use the code to also save 10 percent on online store discounts at seejanerun.com.