A runner's mailbox full of goodies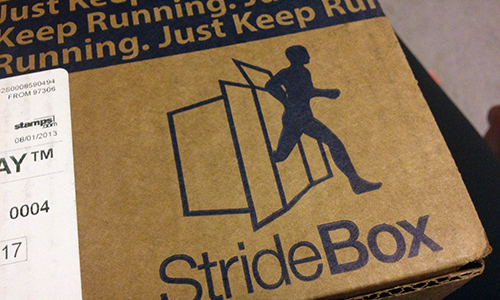 Don't laugh, but I love getting things in the mail. I used to love it as a child too. Anytime something came for me in the mail, it felt like Christmas. There was a very excited moment where I would open it up and check it out.
I'm still that way. Except I usually get bills now. Lots and lots of bills.
Adulthood is a bummer sometimes.
So when I get running-related items in the mail, I am usually just as giddy as I was as a child. One of my particular favorites is getting my Runner's World magazine every month. I recently stopped my Running Times subscription, just because I was never getting to actually read both magazines, so Runner's World is my one predictable "prize" in the mail each month.
Or at least it was. In July, I signed up for StrideBox, a monthly subscription box that sends different items that are of interest to runners. There's usually a gear item, a fueling source and some snacks. And stickers. You have to love the stickers. Plus, it's only $15 a month. It seemed like a good deal, so last month I signed up and kind of kicked myself for not doing so earlier this year at the Rock 'n' Roll Portland Half Marathon.
Earlier this week, I got my first shipment.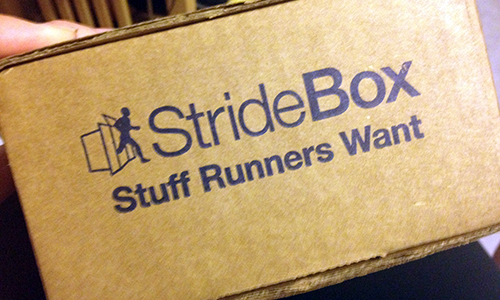 The package fit inside my small-ish secured mailbox, which is already a win. I'm always worried that the mail person will just leave stuff on my doorstep when I'm not home and someone will take it.
The box included a lot of goodies.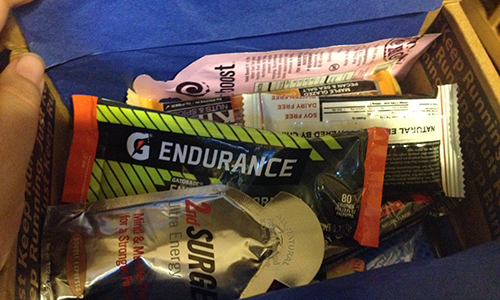 Behold the "loot" upon my first opening. There's much more jammed into the box that's not shown, including StrideCool towel, which I have yet to try out. It's been getting cooler again here. I even wore a long-sleeved shirt on my 6 a.m. run, so I'm hoping to have a warm-run day and be able to use it.
The box for August included:
Package of Island Boost Passion Fruit flavored
Gatorade Lemon Lime Endurance Formula
Gatorade Endurance Chews in Fruit Punch and Orange flavors (two packs)
2nd Surge Ultra Energy Gel in Expresso Flavor
Maple-Glazed Pecan and Sea Salt Kind Bar
Apple Cinnamon Chia Bar
All of that for $15. I added up the price list and saw the towel was valued at $10. The Island Boost is somewhere around $2.50. The Kind Bar is anywhere from $1.50 to $2.
So you get a lot of goods for a really inexpensive price.
I tried the Chia Bar first.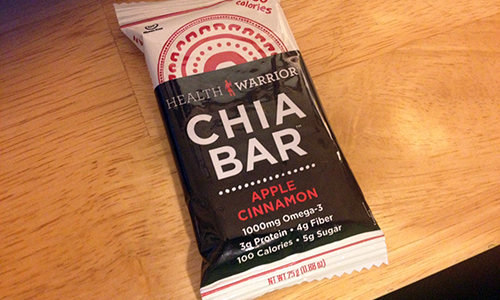 It was actually really, really good. I've never tried a Chia Bar before. I wasn't too keen on the texture, but I generally have issues with certain food textures. Plus, it was only 100 calories.
Yesterday, I ate the Kind Bar.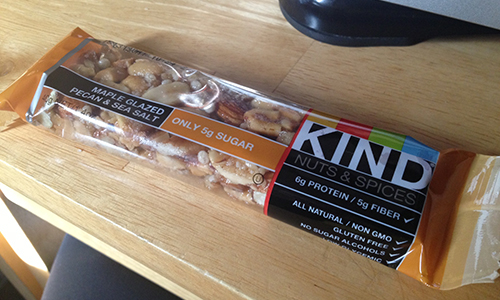 I'm familiar with Kind Bars. I really love the apple cinnamon ones. I started purchasing them earlier this year because for some time I couldn't digest certain foods thanks to the missing gallbladders. The Kind Bars were just that, kind on my stomach.
I'm most excited about the different fueling options. My stomach has started to act up again, especially since I've been running in the morning. Last week during my half marathon, I suddenly had a very upset stomach with my usual Vanilla Bean Gu. I didn't feel better after the race for hours. It just made for a very uncomfortable day.
I'm hoping to try the Island Boost during my long run this weekend. It's supposed to be good for sensitive stomachs.
Since I ran out of my Gatorade powder, I'm glad to have the pouch for my long run too.
But who am I kidding, I'm most excited about getting a new little box of goodies to try out every month. I've tried, unsuccessfully, to get involved in "swaps" on different blogs. I think I just have bad luck, but both that I signed up for didn't come to fruition. (And one of the blogs was one that had done swaps previously, I just signed up in a month where hardly anyone else did. I don't know.)
At least for now I've have a box of goodies waiting for me in the mailbox as well as my Runner's World magazine.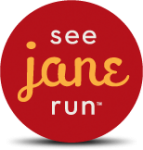 Run with me!
Save 25 percent all See Jane Run races, including the June 21 San Francisco Bay Area run, by using the code SJRAMB243. Use the code to also save 10 percent on online store discounts at seejanerun.com.